Harleen Quinzel, better known by the name Harley Quinn, is a crazy and often dangerous enemy of Batman and Robin. In Season 3 of Teen Titans Go!, she started making many episode appearances, although they are little more than cameos.
History
With a bright intellect and knack for gymnastics, Harleen Quinzel's future was looking pretty good. She had many career options before her, such as biology and psychiatry, but she eventually settled on criminal psychology. Taking this road brought her into contact with the maniacal Joker, who slowly seduced her while in Arkham Asylum. Eventually, Harleen's love for the Joker was so strong that she killed a guard and freed him from his cell. Envisioning his therapist as a good partner, the clown later shoved Harleen into the same vat of chemicals that he had fallen into. Now they could be two psychopaths together.[1]
After a violent crime spree across Gotham City, Harley Quinn was eventually captured by the Black Canary and locked away in Belle Reeve prison. She managed to avoid execution thanks to her enlistment in a secret force, the Suicide Squad.[2]
So far, Harley Quinn has yet to make a prominent appearance in Teen Titans Go!. Apart from her picture featured in a few episodes, she made her first in-person debut in "The Titans Show" when she stood among Batman's Rogues. Harley also made a big-screen appearance in Teen Titans Go! To the Movies, but again, just as a cameo.
Characteristics
Taking inspiration from the similarly named "harlequin" (basically, an Italian Renaissance jester), Harley Quinn wears a tight-fitting, red and black jumpsuit. The two colors are separate but complimenting throughout the outfit, with dividing color lines running down her chest and waist. One of Harley's boots is red—the other is black—and she has diamond patterns on her hips and shoulders. In addition to white cuffs and a white collar, her face is also a very pale color, having been bleached by the Ace Processing Chemicals. To help conceal her identity, Harley Quinn wears a mask similar to Robin's. And finishing up her harlequin look is a red and black jester hat with two bells dangling on either side.
Powers and Abilities
Powers
Weapons and Equipment
Skills
Appearances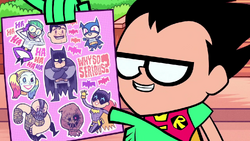 Movies
Video Games
Trivia
Gallery
References
Community content is available under
CC-BY-SA
unless otherwise noted.