"Head Fruit" is the forty-second episode of the second season of Teen Titans Go!, and the ninety-fourth overall episode of the series.
Synopsis
When Beast Boy's head starts to rattle, Robin suggests that he should find a hobby so that his brain will stop shrinking. Beast Boy and his brain agree to take up gardening.
Plot
The episode starts with Beast Boy dancing and shaking his head around to the annoyance and curiosity of his friends. Raven asks Beast Boy what that sound was he was making. Beast Boy is happy to answer them, and tells them it's his new song he's working on, and attempts to dance and play it over again only to be stopped by Starfire who says not "that sound", and precedes to shake his head which makes a "rattle song". Starfire confirms that was the sound she was wondering about. Beast Boy realizes what she meant and tells them it was his sweet "rattle".
Robin is confused by what he means, and Beast Boy goes on to dance and play his song again, rattling his head. Cyborg asks Beast Boy how long his head was rattling for, and Beast Boy responds saying it was about a couple weeks. Robin is suspicious and examines Beast Boy. Robin then asks Cyborg for a hand, and he grabs Beast Boy and shakes him around like a maraca to both Cyborg and Beast Boy's enjoyment. Robin scolds and tells Beast Boy that his brain has shrunk due to years of neglect. Starfire gasps and tells Beast Boy that he must not neglect his brain, how it craves information, and needs to be challenged. Beast Boy tells Starfire that he and his brain doesn't do that, as they do not get along, and he's always getting him in trouble. Cyborg asks him how his brain gets him trouble.
Beast Boy sighs and asks them if they know how they always tell him to get his head out of the clouds and how his head wanders. Beast Boy goes on to say all that is his brain's fault, and how his brain loves wandering so much that if he got the chance, he would wander and never come back. Robin is unfazed by his story and tells Beast Boy that brain neglect is not acceptable, and how he should use his head. Beast Boy signs again and says he'll give it a try. Soon after, Beast Boy walks toward the kitchen door where he comes with an idea to slam his head onto it to open the door.
He starts using his head to reach the refrigerator and bangs open the door with it to get a can of beans, which he crushes open with his head again. In the next scene, Beast Boy comes down the Titan's bedroom hallway and hits his head onto his bedroom door to open it. In the bathroom, he hits his head to turn the shower water off, hits his head to flush the toilet, and hits his head to open a tube of toothpaste and turn on the sink water. Back in the kitchen, Beast Boy is cooking an egg in a frying pan using his mouth, and then slams his head on the handle which causes the egg to fly up in the air and fall on his head burning him, but is relieved when he smashes a window to the Tower and cools his head off with the wind. After, he uses his head to slam the keyboard on his laptop causing illegible text.
The next day, Beast Boy walks into the kitchen to meet his four friends who are already sitting and having breakfast, only to be shocked to see him with large lumps all over his head. Robin with concern asks what happened, to which Beast Boy says he's been using his head as they said, and how he doesn't like it and it hurts. Despite the pain, Beast Boy is still happy he has his head "rattle". Raven corrects Beast Boy with his head antics, telling him that's not what "using your head means". Cyborg kindly offers Beast Boy to try some math, which Beast Boy replies "gross". Raven tries offering reading, only for Beast Boy to grunt in dissatisfaction.
Starfire happily offers a "brain teaser" while holding a rubrics cube, which Beast Boy defensively says he can't tease his brain since it already hates him. Robin as a last attempt, suggests having a hobby, which Beast Boy doesn't know what that is and asks. Raven explains to him that a hobby is an activity that is a little fun for him, and a little challenging for his brain. Beast Boy hesitantly thinks about it, and tells his friends that they'll talk about it and leaves the kitchen. In Beast Boy's room, Beast Boy is on the floor watching his clock back and forth and goes on to try and talk to his brain by asking it what's up. Beast Boy tells his brain he brought him something to read, and pulls out a book and shoves it inside his head through his ear. In seconds, the book is pushed back out with the sound of rattling heard.
Beast Boy becomes frustrated and tells his brain not to be like that, and how the other Titans thought they should do a hobby together. The brain goes on to insult Beast Boy calling him stupid, only for Beast Boy to correct him saying he's his brain and goes on to take the book he had and slap on his face repeatedly. A slice of pizza is pushed out of his ear which causes Beast Boy to stop and happily taking it saying his brain "knows him so well", and he accepts his brain's apology. He eats the slice of pizza and with renewed energy goes on to try and think of hobbies they can do together that won't involve math, science, reading, philosophy, debates, physics, chemistry, attention to detail, cleanliness, too much physical exertion or meat. Beast Boy says he wouldn't mind if it involved digging holes, and his brain talks to Beast Boy recommending gardening for Beast Boy to ask it back, and for it to rattle in agreement.
Beast Boy says it's perfect and tells his brain let's make some plants. Beast Boy dresses in a gardening outfit, happily skips around outside, and finds a weed that he pulls up from the ground with his gardening shovel. Thereafter, he starts to hoe some dirt, and after being tired, he sits on the amount of dirt which had fire ants on it, and they all climb on Beast Boy giving him pain. Next, Beast Boy feeds a bird some birdseed and gets swarmed by a lot of birds picking him clean of his bird food. Beast Boy takes his accumulated sweat in a bucket, and pours it over a sprouting seed, only to rise up a little and disintegrate from the heat. Following that, Beast Boy is casually walking through the grass and spots two beautiful roses and goes to smell them only to be swarmed by bees.
Back in the Tower, Starfire asks Beast Boy who just came into the living room how his hobby was going. Beast Boy replies that it's like a job without the pay, and they are terrible. Raven tells him he's doing it for his brain, with Beast Boy sarcastically replying "oh yeah that guy". Shrugging that off, Beast Boy offers his friends if they want a small tomato or a rotten strawberry. Robin walks up to Beast Boy and tells him that it may seem like a lot of effort for no reason, but asks him if he can hear anything. Beast Boy deadpanning says no, which Raven says exactly, his rattle is gone.
Beast Boy whines and says he liked his sweet rattle and attempts to shake his head, only to fall back and fall. He asks what happened, and Cyborg tells him his brain got bigger and how it will take time to learn to balance the new weight. Beast Boy is unsure, and says if his brain gets too big and strong, what will he need him for, only to stumble around more and fall down on his face. Subsequently, Beast Boy comes in a panic the next day to the living room and in panic tells the Titans to look, and he turns his head to reveal a tree limb sprouting out of his ear. Robin is not bothered at all by it, and says its cool, and for Raven to say she wishes her head had one.
Beast Boy ignores them all and says this is not normal. Cyborg simply tells him that his brain wants to get in on that gardening action too, and for Starfire to congratulate him saying he and his brain are becoming friends. Beast Boy cries and says he doesn't want his brain planting stuff in his head and how he does not trust him. Beast Boy yanks at the limb to pull it out, only for Robin to slap him and stop him, and tells him that he should take this tree limb as a sign of his bond with his brain becoming stronger and it's a good thing.
Three weeks later, the tree limb is now a full-grown tree hanging out of Beast Boy's ear. Beast Boy's exclaims how is this a good thing. Cyborg tells him he'll tell him how, and reaches for a piece of fruit off Beast Boy's tree and says "head fruit!" and takes a bite out of it. Cyborg in satisfaction says that is some ripe and juicy head fruit. Starfire while holding a pitcher says then he must try some of the fresh-squeezed head fruit she has made that taste a "little of the Beast Boy", and pours Robin a glass who remarks its refreshing and not "too Beast Boy this time". Raven jumps up in the excitement and asks everyone who wants to climb Beast Boy, with Starfire happily saying she wants to. The four Titans then proceed to jump into Beast Boy's tree leaves, where Cyborg has a swing he's made.
Robin in serious mode, tells his team now is not the time for fun and games, and they need to call of a team meeting to the relief of Beast Boy who thanks him. Only for Robin to say up in Beast Boy's treehouse that is located in Beast Boy's tree. Robin explains to the other three Titans in the treehouse that he called for the meeting so he could tell Starfire someone she knows has a crush on her. They all laugh and Starfire giggles wondering who it could be. Beast Boy is fed up and angry, and tells everyone to get out of his head tree and shakes his head violently, causing the Titans to drop out back on the Titan's living room floor. After they fell, Beast Boy goes on to speculate that his hobby has strengthened his brain too much, and how it is waiting for the perfect moment to escape and never come back. Robin sarcastically replies that with his attitude, he wouldn't want to come back either.
Beast Boy says he's had enough of this and stands up, just to fall down, and whines he can't get back up. Night passes, and it is a new morning, and Cyborg walks out into the hallway calling dibs on the head swing in Beast Boy's head. Starfire says she'll gather the head fruit so she can make a healthy and hearty breakfast. Robin says he'll head up to tree house and before he can finish his sentence, he notices Beast Boy on the floor comatose and the tree has busted out of the ceiling. Raven asks what is wrong with Beast Boy, and Cyborg does a scan, there is nothing in Beast Boy's head. Robin is shocked, and questions that his brain wandered, for Raven to confirm and say the tree was the brain's way out. Raven also comments on how no wonder the brain wanted Beast Boy to take up gardening, and Robin comes to the realization of how Beast Boy should not have trusted his brain, and neither should they have. Raven remarks the head fruit was so good though, for everyone to agree that it was in momentarily awe.
Cyborg questions where his brain might have gone and Robin states its where his brain always wanted to be, which was in the clouds. Robin hops on the trunk of the tree and tells his teammates to follow him. Robin climbs the tree dramatically, while the other three Titans fly up. Once Robin reaches the top and is amazed at the beautiful scenery, and comments on how it was no wonder the brain wanted his head in the clouds. Starfire spots the brain who is relaxing. Robin goes on to say let's get that brain back to earth and commands the Titans to catch it. Beast Boy's brain runs off and Robin is the first to try and grab it only for it to slip out of his hands and fly through the air. Cyborg backs up without looking and says he's got the brain, to sadly fall of the edge of the cloud. Starfire then zooms towards the brain and chases him up a trail of clouds, and the brain hides in the clouds and runs off again.
Raven tries herself and uses a butterfly net to capture the brain, but fails when the brain impacts into her face and causes her to fall on her back. The brain runs off again and is cornered near the edge by Starfire and Raven. The brain looks down and then decides to fall off on purpose only to fall on a bird and it flies away with him yelling "freedom!". Raven says "uh oh", and Starfire is disappointed they lost Beast Boy's brain. Cyborg remarks this is really bad and asks what they should do.
Robin says that a brain is irreplaceable for most people, but he feels Beast Boy is going to be alright without it. Back in the Titans Tower, they cut off Beast Boy's tree from his ear, and Robin takes a maraca and shoves it in Beast Boy's ear giving it the "rattle" sound again. Beast Boy is awoken back to good as new and is under the impression they got his brain and rattle back. Robin doesn't tell him and the truth and simply says "we sure did, and everything is back to normal". Starfire apologizes to Beast Boy, saying they were wrong, and Raven comments they should have listened to him. Cyborg adds that is why they call him the smart one. Beast Boy responds with "that's what's up!" and start his rattle song yet again one last time.
Characters
Songs
Trivia
This episode aired two years after "Double Trouble" and "The Date".
This marks the first reappearance of the Seagull since "Love Monsters", unless one counts the one in Bizzaro World seen in "Robin Backwards".
This is the first episode which mentions Aqualad's real name, "Garth", and Superman's alias "Clark".

This also makes it the first time that a superhero other than any of the Titans have had their real names mentioned.
Also, this is the third time a character other than the Titans mentions their real name, the previous ones being Dr. Light in "Caged Tiger" and Ravager in "Cool School".

In Beast Boy's treehouse, Robin says that he's called for a secret team meeting to tell Starfire that someone she knows has a crush on her. Starfire simply giggles and replies "who could it be?", instead of being creeped out as usual.

It may be that she did not catch on it was Robin himself he was referring to, and she didn't know any better.
Continuity
References
Errors
When Cyborg is about to eat the Head Fruit, his hand disappears for a split-second.
Running Gags
Beast Boy literally using his head to perform tasks.
The Titans messing around in Beast Boy's head tree.
Beast Boy hitting everything using his head.
Transcript
The transcript for "Head Fruit" can be found here.
Gallery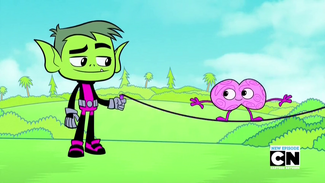 The image gallery for Head Fruit may be viewed here.