"Hey Pizza!" is the eleventh episode of the first season of Teen Titans Go!, and the eleventh overall episode of the series.
Summary
Cyborg and Beast Boy want to get a pizza in over 30 minutes so that their pizza would be free of charge, but the delivery boy is seemingly unstoppable. It is becoming a bit of a challenge, and an all-out war of wits between them starts. Meanwhile, Robin struggles to decide whether to build a senior center or a pool.
Plot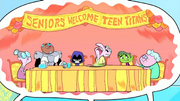 It is an immensely hot day, both outside and inside Titans Tower. Beast Boy and Silkie are sweating profusely, so they find something cold to put on themselves, but they end up melting. They then head outside, but it's so hot they can barely move, and they slowly trudge forwards. Beast Boy opens up his umbrella to give him and Silkie some shade, but it catches on fire and smolders into ashes. He then uses a hand fan, but it suffers the same fate, just as Silkie begins to dehydrate. Beast Boy and Silkie take a dip in an inflatable circular portable pool, and Silkie gets re-hydrated. However, the heat boils the water, burning Beast Boy and Silkie, before evaporating altogether.
Raven is watching Cyborg fix the air conditioner. She does it herself, just as Robin walks in. Robin comments on how Cyborg did his job well and tells the Titans that they are building a Senior Center. However, his opinion changes when Starfire remarks that she purchased a bikini "on the line" and wants to wear it at a pool, prompting Robin to build the pool. Beast Boy flirtatiously asks Raven (as he wiggles his eyebrows at her) if she is going to buy a bathing suit too. Raven lets him know that her leotard is her bathing suit. Beast Boy scans Raven and her cloak and calls it "hot".
Cyborg and Beast Boy are watching television when they see an ad for Zippy's Pizza, which tells them that if a delivery takes more than 30 minutes, it's free. They decide to delay the pizza so that they can get it for free. Yet no matter how much they try to delay Zippy, despite robot-sharks, laser barriers, missile barrages, and the fact the tower is 45 minutes away from the Pizzeria, he always gets there in time. They resort to an orbital laser cannon and destroy the place, realizing what they did seconds later only to be relieved when the delivery guy is fine.
Later, at the opening of the Senior Center, when Zippy arrives, an old man tells him that it has been 31 minutes, which means Zippy is late, and therefore the old man gets free pizza. This causes Cyborg and Beast Boy to have an extreme nervous breakdown after their many failed attempts to get free pizza.
On the other hand, Robin says he is sorry for not building the pool to Starfire. She says it is alright because she sees the seniors are happy, and that she will still model the bikini for him. Robin gets nervous as Starfire goes to a curtain. She comes out in her regular outfit, confusing Robin. It is revealed that she bought it for Silkie, as he wears it and poses, which makes Robin regurgitate as the episode ends.
Characters
Trivia
Despite "Legendary Sandwich" being the first televised episode, this was the very first episode produced.
This is the first episode Beast Boy utters his catchphrase, "That's what's up!"
This episode aired before "La Larva de Amor" in the UK.
This is the first time the thermometer has displayed a temperature other than 72-73 °F, being 109 °F in this episode.
Starfire having no problem with the heat is most likely due to Tamaranians being resistant to weather, as she had no problem with the cold in the original series.
Raven is only present at the beginning of the episode but absent for the rest of it. This marks the first time where the main character is absent for that long.
It's revealed the Titans Tower computers are capable of hacking into the Jump City traffic lights and railway crossings.
It should be noted the Titans actually have a swimming pool at the base of the island, which is seen in "La Larva de Amor", although it's significantly different than a community pool.
It is revealed that Silkie enjoys feeding on pizza.
The title of this episode is based on the catchphrase the delivery man says when he delivered the pizza.
This is the second episode that had two plots mixed into it, the first one being "La Larva de Amor".

Beast Boy and Cyborg trying to get free pizza.
Robin deciding rather he should build a Senior center (because it's the right thing to do) or a community pool (just to see Starfire in a bikini).

The various places the Titans keep their money is shown in this episode:

Cyborg has an ATM in his chest.
Silkie carries money in his stomach.
Beast Boy has a piggy-bank.
Robin has a wallet.
Raven has a chest full of demonic spirits and haunted money.

The amount of money Beast Boy and Cyborg spend on mounting the defenses to keep out the pizza deliverer would greatly exceed the price of the pizza itself.
Despite Silkie being male, Starfire bought him a bikini, probably because she didn't know that humans wear those instead of pets. She later wears her swimsuit in "Real Magic", "Two Parter", and "Squash & Stretch", which is a two-piece purple strapless swimsuit, so she seemingly understand by then.
In the Romanian and Spanish translations of this episode, Beast Boy describes Raven's "bathing suit" as "sexy" instead of "hot".
Continuity
"Lil Alfred's Toy Cave", the building that the missiles hit, also appeared in "Driver's Ed" when the T-Car crashes into it during the car chase with Robin.
This is the second time Cyborg's head has been detached from his body. ("Laundry Day")
References
When Beast Boy and Cyborg pay for the pizzas, the money has Lex Luthor on it.

This would mean that Luthor is deceased, as only dead figures are eligible for being on bills. However, it should be remembered that Luthor has immense political power and was probably able to strong-arm the government into putting his face on money.

A store called "Lil' Alfred's Toy Cave" is blown up by Cyborg's drone in Jump City. This is an obvious nod to Bruce Wayne/Batman's famed butler Alfred Pennyworth. The shop's sign shows Alfred sitting in a mini 1960's era Batmobile. This shop is now known to be a hidden running gag in the series.
The missiles Beast Boy and Cyborg use to attack the Pizza Delivery Boy resembles "Bullet Bills" from the Super Mario series.
Errors
Raven appeared to dislike being with old people, even though she is shown to love them in "Salty Codgers".
In the beginning, Raven tells Beast Boy that her cloak is her bathing suit, but in future episodes such as "Two Parter" and "Squash & Stretch", when she goes swimming, she wore a black strapless one-piece swimsuit with a purple line at the top of the trim, so either she was lying or she has something similar.
In the scene with the pizza timer, it needed one more slice of pizza to be complete. In the next scene, it needed two more pizzas (which means that Beast Boy and Cyborg wouldn't need to pay for the pizza).
Cyborg and Beast Boy technically blow up the Zippy's Pizza restaurant, yet in future episodes, they order pizza from the same place. It may have been rebuilt since then.
Even though the Titans have a backyard pool, Beast Boy and Silkie make their own blow-up small pool.
Even though Cyborg's body is made of wires when his head got detached from his body, it seemed more like a screw.
Running Gags
Robin experiencing guilt over his decision not to build the Senior Citizen center, before remembering he wants to see Starfire in a bikini.
Cyborg and Beast Boy continually ordering pizzas and trying to get them free by stopping the delivery guy from reaching the tower in under 30 minutes.
Grim Reaper appearing hidden in many places near the seniors.
Transcript
The transcript for "Hey Pizza!" can be found here.
Gallery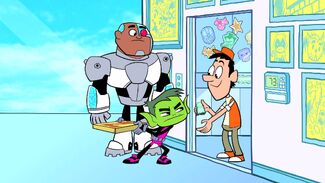 The image gallery for Hey Pizza! may be viewed here.
v - e - d Episode Guide
Season 1: April 23, 2013 - June 5, 2014
Legendary Sandwich • Pie Bros • Driver's Ed • Dog Hand • Double Trouble • The Date • Dude Relax • Laundry Day • Ghostboy • La Larva de Amor • Hey Pizza! • Gorilla • Girl's Night Out • You're Fired! • Super Robin • Tower Power • Parasite • Starliar • Meatball Party • Staff Meeting • Terra-ized • Artful Dodgers • Burger vs. Burrito • Matched • Colors of Raven • The Left Leg • Books • Lazy Sunday • Starfire the Terrible • Power Moves • Staring at the Future • No Power • Sidekick • Caged Tiger • Second Christmas • Nose Mouth • Legs • Breakfast Cheese • Waffles • Be Mine • Opposites • Birds • Brain Food • In and Out • Little Buddies • Missing • Uncle Jokes • Más y Menos • Dreams • Grandma Voice • Real Magic • Puppets, Whaaaaat?

Season 2: June 12, 2014 - July 30, 2015
Mr Butt • Man Person • Pirates • Money Grandma • I See You • Brian • Nature • Salty Codgers • Knowledge • Slumber Party • Love Monsters • Baby Hands • Caramel Apples • Sandwich Thief • Friendship • Vegetables • The Mask • Serious Business • Halloween • Boys vs Girls • Body Adventure • Road Trip • Thanksgiving • The Best Robin • Mouth Hole • Hot Garbage • Robin Backwards • Crazy Day • Smile Bones • Real Boy Adventures • Hose Water • Let's Get Serious • Tamaranian Vacation • Rocks and Water • Multiple Trick Pony • Truth, Justice and What? • Two Bumble Bees and a Wasp • Oil Drums • Video Game References • Cool School • Kicking a Ball and Pretending to Be Hurt • Head Fruit • Yearbook Madness • Beast Man • Operation Tin Man • Nean • Campfire Stories • And the Award for Sound Design Goes to Rob • The HIVE Five • The Return of Slade • More of the Same • Some of Their Parts

Season 3: July 31, 2015 - October 13, 2016
Cat's Fancy • Leg Day • Dignity of Teeth • Croissant • Spice Game • I'm the Sauce • Hey You, Don't Forget about Me in Your Memory • Accept the Next Proposition You Hear • The Fourth Wall • 40%, 40%, 20% • Grube's Fairytales • A Farce • Scary Figure Dance • Animals, It's Just a Word! • BBBDAY! • Black Friday • Two Parter • The True Meaning of Christmas • Squash & Stretch • Garage Sale • Secret Garden • The Cruel Giggling Ghoul • How 'Bout Some Effort • Pyramid Scheme • Beast Boy's St. Patrick's Day Luck, and It's Bad • The Teen Titans Go Easter Holiday Classic • Batman v Teen Titans: Dark Injustice • Bottle Episode • Finally a Lesson • Arms Race with Legs • Obinray • Wally T • Rad Dudes with Bad Tudes • Operation Dude Rescue • History Lesson • The Art of Ninjutsu • Think About Your Future • TTG v PPG • Coconut Cream Pie • Pure Protein • Open Door Policy • Crazy Desire Island • The Titans Show • Booty Scooty • Who's Laughing Now • Oregon Trail • Snuggle Time • Oh Yeah! • Riding the Dragon • The Overbite • The Cape

Season 4: October 20, 2016 - June 25, 2018
Shrimps and Prime Rib • Halloween v Christmas • Booby Trap House • Fish Water • TV Knight • Teen Titans Save Christmas • BBSFBDAY! • The Streak • The Inner Beauty of a Cactus • Movie Night • BBRAE • Permanent Record • Titan Saving Time • The Gold Standard • Master Detective • Easter Creeps • Hand Zombie • Employee of the Month: Redux • The Avogodo • Orangins • Jinxed • Brain Percentages • BL4Z3 • Hot Salad Water • I Saw You Dance • The Story in Your Eyes • Playing Hard to Get • The Night Begins to Shine • Lication • Labor Day • Classic Titans • Ones and Zeroes • Career Day • TV Knight 2 • Justice League's Next Top Talent Idol Star • The Academy • Costume Contest • Throne of Bones • Demon Prom • Thanksgetting • The Self-Indulgent 200th Episode Spectacular! • BBCYFSHIPBDAY • Beast Girl • Flashback • Bro-Pocalypse • Mo' Money Mo' Problems • TV Knight 3
Season 5: June 25, 2018 - April 4, 2020
The Scoop! • Chicken in the Cradle • Kabooms • Tower Renovation • My Name is Jose • The Power of Shrimps • Monster Squad • Real Orangins • Quantum Fun • The Fight • The Groover • Justice League's Next Top Talent Idol Star: Second Greatest Team Edition • How's this for a Special? Spaaaace • BBRBDAY • Slapping Butts and Celebrating for No Reason • Nostalgia is Not a Substitute for an Actual Story • Business Ethics Wink Wink • Genie President • Tall Titan Tales • I Used to Be a Peoples • The Metric System vs Freedom • The Chaff • Them Soviet Boys • Little Elvis • Booty Eggs • TV Knight 4 • Lil' Dimples • Don't Be an Icarus • Stockton, CA! • What's Opera Titans • Forest Pirates • The Bergerac • Snot and Tears • Campfire! • What We Learned at Camp • Communicate Openly • Royal Jelly • Strength of a Grown Man • Had to Be There • Girls Night In • The Great Disaster • The Viewers Decide
Season 6: October 4, 2019 - present
Butt Atoms • TV Knight 5 • Witches Brew • That's What's Up! • Crab Shenanigans • Brobots • Brain Flip • Beast Boy on a Shelf • Christmas Crusaders • We're Off to Get Awards • Bat Scouts • Walk Away • Record Book • Magic Man • Titans Go Casual • Rain on Your Wedding Day • Egg Hunt • Justice League's Next Top Talent Idol Star: Justice League Edition • Mission to Find the Lost Stems • Drums • Guitar • Bass • You're The One
Top of the Titans: April 27, 2018 - July 20, 2018
Raddest Songs • Best Love Songs • Beast Boy & Cyborg Songs • Dance Party • Best Rivals