"Hose Water" is the thirty-first episode of the second season of Teen Titans Go!, and the eighty-third overall episode of the series.
Synopsis
Starfire and Cyborg's inner child awake because of a baby bird. Is it a good thing? Or is it bad for them and everybody else?
Plot
The episode begins with Beast Boy playing video games. Cyborg attempts to show him a cute little bird chick, but it fails to impress him. Meanwhile, Raven is equally unimpressed with the colorful eggshell that Starfire shows her. Both Titans find themselves disappointed because they feel that their friends dismissed the beauty and joy of life. Cyborg notices that his little bird fits perfectly in Starfire's eggshell and after testing his theory, the bird pops back out. When Starfire sees Cyborg's little bird break out, she thinks that the bird did come out of the eggshell she was holding. Cyborg explains to her that birds do not come from all eggs, but Starfire suggests they free all the imprisoned birdies from every egg they find, just to be sure.
Meanwhile, in the kitchen, Robin is interrogating an ordinary egg because he is lonely. Suddenly, Starfire interferes as she smashes the egg, thinking it could have a bird inside. Afterward, Cyborg opens the refrigerator to get the egg carton, and he and Starfire proceed to break every egg in the container, to Robin's great discontent and confusion. Raven and Beast Boy enter, and Raven asks about all the "egg-citement", prompting an egg-pun competition with Robin. Robin explains to her that Starfire and Cyborg were just "egging each other on" and then excitedly exclaims that he's the one who makes puns around the tower. Starfire and Cyborg claim that they find it most enjoyable to play with birds and break things. The two of them begin to break various objects and furniture in the tower, even using a wrecking ball to smash the Tower in half.
Eventually, they build a fort made out of couch pillows and announce that Robin is not allowed inside. Cyborg and Starfire are having a tea-party inside the fort, but Robin decides to talk with them about their innocent childish behavior. He warns them that if they don't stop acting like little children, they will end up "unborn" as bird eggs due to their immature attitudes. In an attempt to avoid this, Robin tries to stop them from exiting the Tower, but they trick into looking away while they escape the tower and continue their fun outside. Robin next finds them in the bathroom face-painting each other's faces. Robin quickly erases their Joker-like face-paint. However, he discovers that their inner child experiences have already made them even much younger. Cyborg and Starfire don't believe him, and just as they are about to go back outside and drink some hose water, Robin tries to stop them again so he can examine them more under isolation. Yet Starfire tells him to catch them first, as they run around the living room. When Beast Boy and Raven enter, wondering about all the noise, Robin explains the situation to them, but Beast Boy remarks that it's more like a game of "Hide and Seek".
Suddenly, Cyborg and Starfire find themselves transformed into eggs, proving Robin's theory correct. The elevator rings, and Stork appears to pick up the newly transformed eggs but shouts that he won't let Stork take them without a fight, and he, Beast Boy, and Raven attempt to charge at him. However, the Stork simply hypnotizes them all to sleep and takes the eggs containing Starfire and Cyborg.
A few hours later, Raven, Beast Boy, and Robin wake up and find no sign of Cyborg or Starfire around. As they drink coffee in the kitchen, Robin finally realizes that something's missing. They find Stork flying away in the air with the eggs and pursue him in the T-Plane. After the chase, they end up in a wonderland full of candies, toys, and activities for children. Stork drops their friends' eggs in the land, and Robin suggests that if they want to rescue Cyborg and Starfire from the land where all the babies come from, they have to destroy it all. He charges the T-plane at top speed until crashing. They emerge, shooting everything in sight with laser weapons, but not for long. One by one, they succumb to the allure of the childish attractions of the land and transform into eggs (Beast Boy having fun on the shoe, Raven looking at the insects, and Robin seeing face painting and wanting to be a tiger). The Stork remarks that he wasn't "egg-specting" that situation in the end, then closes the episode by shouting that he is the egg-pun guy as well as ending with one last pun: "The EGG".
Characters
Song
Trivia
This episode aired one year after "Opposites".
Animation from "Road Trip" is reused.
The reason why the episode is called "Hose Water" is the fact that one of the child-like activities Starfire and Cyborg mention is drinking water out of a hose.
Beast Boy seems to be the most mature in this episode before being sent to Baby Land, as Cyborg and Starfire act like children, and Robin and Raven tell egg puns. He also seems to be annoyed by their jokes, despite that in "Gorilla" he said "Who do you think I am? 5 years old? Umm, don't answer that."
Since the series has loose continuity, the Titans will be reverted to their old selves in the next episode.
Continuity
References
Beast Boy mistakes the stork to be the Vlasic Pickles bird at first glance. Ironically, the Vlasic Pickles Bird is also a stork.
When destroying the Tower with Starfire, Cyborg rides a wrecking ball from one side to the other in the living room, which is a potential reference to Miley Cyrus' music video for her song "Wrecking Ball".
This episode features many egg puns as jokes, just like the Fanboy and Chum Chum episode "Chicken Pox". There's also a Regular Show episode called "Eggscellent", which similarly uses egg puns for the title.
Errors
Running Gags
Robin and Raven having an egg pun competition, which is followed up until the very end, when the stork is declared the "Egg Pun Guy!"
Cyborg and Starfire doing kids stuff and breaking stuff.
The Titans being "unborn" as eggs.
Robin thinking about tigers.
Transcript
The transcript for "Hose Water" can be found here.
Gallery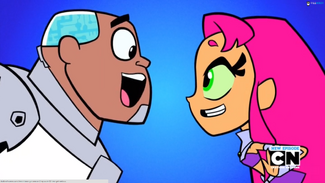 The image gallery for Hose Water may be viewed here.