"How 'Bout Some Effort" is the twenty-fourth episode in the third season of Teen Titans Go!, and the one-hundred-twenty-eighth overall episode of the series.
Summary
This year, Cyborg and Jinx plan to do something nice as a couple for Valentine's Day.
Plot
It's Valentine's Day out at the Titans Tower, where even the Pelican and Crab are in a lovely mood. Jinx lights a candle, ties a bow for a present, equips a vase with a flower, uses perfume, and readies the pot roast, all of this making the perfect Valentine's Day dinner for her husband. And he's revealed to be Cyborg when he enters the room, puts his hat on a wrack as if he was working, and kisses Jinx hello. She reminds Cyborg to kiss the baby too. Filling in, profusely against his will, is Gizmo. The tiny super villain is repulsed at all the smooching, acting as the couple's baby, and even worse, the fact that they are married. Jinx ignores him and says that he must be happy to see "daddy," but Gizmo's huge frown says otherwise. A bottle manages to calm the little tike down though, and Cyborg starts wondering what all the fancy get up is for. Jinx gets angry, but Cyborg relieves her; he didn't forget the special day, and he's even got something special in store for them.
A bell calls attention to the classroom, taught by Professor Cyborg. Jinx is confused, so the hero explains that school is the best place to celebrate the holiday. The Titans are all exuberant, and Starfire kindly asks if they can start exchanging cards. Cyborg makes sure they all have their envelope drop boxes, which they do (Robin got creative with his Starfire-inspired envelope). The Titans begin swapping love notes with each other, but everything is held up when Jinx sees Cyborg giving a card to not only her but everybody. He explains that he doesn't want to hurt feelings, but Jinx is only interested in their bonding. Beast Boy breaks down when he learns that Jinx got him air, so Cyborg tries to calm him down. Jinx says she doesn't care for Beast Boy, only her husband. Cyborg scolds her for her thoughtlessness, but she retaliates by throwing his card straight back at his face and slamming the door on him. Cyborg tried to ease her anger but to no avail. The on-looking Titans can do nothing but gasp and shout in amazement at Jinx's sassiness.
Back at the Tower, where the pelican and Crab are having supper outside, Jinx is sitting on the couch, cradling Gizmo (who is extremely flustered). Raven and Starfire come in to try and comfort her about the argument. Starfire points out that it's "sisters before the misters," and Raven adds that "girls rule, boys drool" (no.) They are having one of those girl moments when Gizmo interrupts them. He starts yelling about the whole marriage and fake baby ordeal and commands that it stops this instant. Jinx dismisses him as being fussy because he hates when mom and dad fight. Raven feels sorry for him, but Gizmo is about to go ballistic about the whole situation. Jinx figures he needs to be changed. But this is too much for the little criminal; he tries to squirm away, but Jinx moves in. Starfire and raven look on as he screams in defiance and Jinx changes his diaper. Starfire states that it's quite soggy, but Gizmo blames it on drinking from the bottle all day. Jinx finishes up the job, and Gizmo finally settles down. Starfire admires Jinx as a good mother.
Meanwhile, sad piano music is playing as Cyborg sobs in the bathtub, with Robin and Beast Boy awkwardly naked and there to soothe him. Robin scrubs the heartbroken hero, wondering why Beast Boy said a bath would make him feel better. Beast Boy figures a soap Mohawk will do the trick, and although the soap hair is super fresh, it's not enough. Cyborg can't understand why Jinx is mad at him, but Robin comforts him by saying no one has anything straight on Valentine's Day. Beast Boy has a new idea though: up Cyborg's romance game.
The two guys inspect Cyborg in front of the mirror and configure that he needs new fashion. Cyborg, being mostly robot, doesn't wear clothes. But that's just the problem, so a Makeover Time is in order. With spinning scissors and a hairdryer, Beat Boy and Robin prep Cyborg with a wig. They figure it's not good, and then apply some lipstick. Next, it's time to wax his eyebrows, and then choose one wig from a numerous selection. Purple nail polish is applied, and his size is measured to fit a red and pink dress. Cyborg wonders if this is the correct way to go, what with his final look of a blonde wig, lashes, and girly makeup. Beast Boy confirms it with movies for reference, and Robin declares that he looks fabulous. A wild disco dance party is thrown to celebrate the new look.
Suddenly, the other girls walk in on the crew, and Cyborg is ashamed. Jinx is once again angry at him, this time for having fun with friends and not her on Valentine's Day. Cyborg can't explain in time, as Jinx walks out on him again, throwing the baby at him, not a good practice... The whole attire was for her, and so far anything he does to make her happy fails; he can't win. Robin agrees, at least not in that dress. Cyborg rips off the girl stuff in frustration, wishing for a way to please her. Raven chimes in with one of her "perilous quest" missions. From her spellbook, she gives instructions on how to win the heart of Jinx: go to the Land of Last Minute Valentine's Gifts, retrieve magical flowers, chocolates, and a teddy bear, all while showing expressive thoughtfulness, effort, and sacrifice. Cyborg gets right on his way through Raven's portal, tossing the baby into the care of the Titans. Gizmo begs them to drop all of the married and love stuff, now that they're gone, but Starfire tickles him and claims he's fussy. Robin says they should swaddle him, so Beast Boy wraps him with a pink quilt up like a burrito. In agony, he tries to escape, but to no avail. Eventually, he gives in and naps.
Cyborg is walking through a Valentine's Day-themed forest, amazed by the romantic, jazzy saxes up above. He spots a buff gondola man, and hitches a ride. With a mere one paddle, they arrive at their destination. Cyborg thanks the boat driver, who in turn gives a wink and a creepy moan. On a nearby hill, Cyborg rests the blue rose he needs. But before he can, the flower awakens, with allowance to pick her granted only by answering a riddle. Cyborg likes a good riddle, but he's a little thrown off when she just asks if the blue color makes her look good. He answers positively, but for some reason, the flower starts crying. Dumbfounded as to why she's crying, he offers that it doesn't matter what you look like (then he recalls his makeover and frowns). She only starts to cry louder, and that's when Cyborg realizes that he needs to be more compassionate. He wipes her tears and compliments her petals, color, and stamen (to which she giggles. That is freakin' weird.) The little flower is now overjoyed and lets Cyborg pick her with built-in scissors. On to the chocolates.
In a mountainous region covered with boxes of chocolate, Cyborg spots a sign that only one box will appease the heart of his true love. He picks a box at random but feels that since Jinx is the best, she deserves the best, not just ordinary. As he throws the heart box over his shoulder, he hears an explosion... he must choose wisely. Atop a steep hill, he sees a glistening box and knows it is the chosen one. But the mountain is unsteady, with falling- and detonating- boxes, and it tips over. He uses excellent footwork to avoid being blown up, crossing exploding pillar after exploding pillar, eventually reaching the highest point and the glowing chocolate box. Unfortunately, three flying box guardians see him and nose-dive into the mountain, and the whole thing collapses, along with Cyborg. He falls to the ground, heavily crippled, but it's totally worth it: he got the glowing box.
Carved into the likeness of a bear, a dark and dank cave awaits Cyborg. He turns on his shoulder lamps to locate the last object he needs. After a few moments, he finds a lone Teddy Bear in a recess of the cave. Commenting on how cute he is and how much Jinx will snuggle him, the bear just blinks, silently looking at him. Suddenly, the teddy goes full-blown grizzly, gnawing his arm and clawing his face up. Cyborg screams as his appendage is ripped off in the fray, but he manages to shoot the teddy bear point-blank in the face before he is eaten whole.
The Crab and Pelican have gone and started a family, with two bizarre, also impossible, "cralican" kids. Cyborg enters the Tower via the portal and sees Jinx atop the couch. He offers all the items with his one remaining robot arm, which finally seems to fill Jinx with joy. The last part of his big gift is a beautiful music video of "Grrl Ur So Uhmayzeen" (VIC STONE RECORDS), performed by Cyborg in a cool techno voice. Vivid clips of Cyborg wearing a pink suit above ocean walls, montages of Jinx, good dance moves, and a juicy kiss at the end make it a pretty entertaining music video. Raven's Pretty Pretty Pegasus watch buzzes at 12 AM, so she says they need to rap up the kissing already. Starfire expresses her joy over their rediscovered romance, and Cyborg says it simply took though effort, and a sacrificial arm. So now that they know what it's like to be married on Valentine's Day, they drop the act, with Jinx admitting it was terrible. Cyborg wholeheartedly agrees, commenting that it'll never happen again. With that, everybody just walks off, as if they don't care about what just happened. Only Gizmo is left, still confined to a carriage, and in need of changing.
Characters
Song
Trivia
This is the second Valentine's Day episode of the series. The first one was "Be Mine".
This episode aired on the same day as "Pyramid Scheme".
This is the third episode to heavily focus on Cyborg and Jinx's relationship. The first two were "Opposites" and "Operation Tin Man".
Mammoth, See-More and Billy Numerous do not appear in this episode.
There are several heart-shaped paper heart cut-outs with names of canonical couples of the DC universe, along with canonical couples of the Marvel universe and other universes of cartoons outside of DC.
In the scene where the Titans are in the classroom, Beast Boy is heard quietly singing the lyrics to Free Me which is a song written by Beast Boy's voice actor, Greg Cipes, and performed by his band Cipes and the People. It was also a song performed in Beast Boy's voice to Raven at Kotoricon 2015 .
When Raven checks her watch, the date says February 14, then changes to February 15, which is when this episode actually aired.
This is the second time that something from the Marvel universe is mentioned. The first time was in "Two Parter" (Part 2).
Music from "Serious Business" is reused.
Continuity
Cyborg

's crying and sad reaction is similar to Robin's in the episode "Staff Meeting".
This is the second time Raven's Pretty Pretty Pegasus watch is shown since "Garage Sale".
This is the second time the two HIVE members (Jinx and Gizmo) are inside the Titans Tower since "In and Out".
This is twelfth episode in which Beast Boy doesn't use his animal transformation ability.
This is the ninth romance-themed episode of the series. However, this is the only romance episode of the third season.
References
Robin is seen doing the Peanuts dance.
At the start of Cyborg's musical number, the on-screen credits said "Vic Stone Records". This is a reference to Cyborg's real name, Victor Stone.
Errors
Running Gags
Gizmo forced to act like Cyborg and Jinx's baby.
Cyborg and Jinx pretending to be married.
Gizmo protesting, then calming down whenever he is treated like a toddler.
Transcript
The transcript for "How 'Bout Some Effort" can be found here.
Gallery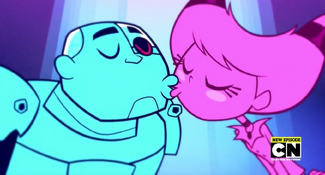 The image gallery for How 'Bout Some Effort may be viewed here.