"I See You" is the fifth episode in the second season of Teen Titans Go!, and the fifty-seventh overall episode of the series.
Synopsis
Robin brings Starfire on a bogus stakeout in an attempt to steal a kiss from her, while Cyborg and Beast Boy hold their own stakeout to discover Raven's darkest secret.
Plot
The episode begins with Beast Boy, Cyborg, and Starfire playing video games while Raven is reading. Robin suddenly arrives, saying that crime is afoot and that the only way to stop them is by a stakeout. Cyborg makes a small joke out of Robin's declaration by saying, "I thought crime was a leg, bro!" Then Beast Boy adds on to the joke by saying: "No Dude! if crime was anything, it would be a hand!" When Starfire is wondering what the meaning of a stakeout is, Cyborg explains the best way to fight crime: finding their hidden secrets. Beast Boy and Cyborg then take the opportunity to start singing the Stakeout song. Robin exclaims to them that they are bad at stakeouts, giving the example of the restaurant scenario where Brother Blood was eating a sandwich. Thinking they were concealed, Cyborg and Beast Boy were mocking him, saying that they saw him. Robin denies their stakeout request and wants to be alone with Starfire (Robin's stakeout crime is a mere scheme to finally get a kiss from Starfire). Raven agrees that Beast Boy and Cyborg are bad at stakeouts, and wanting not to be bothered, she heads off into the darkness of her room. Cyborg and Beast Boy decide she would be the PERFECT victim of their little stakeout...
Meanwhile, in the T-Car, Robin lists the three rules of a stakeout; Rule 1: Locate a den of criminal activity. So, they head off to a diner/restaurant. Starfire is confused, wondering what crimes will happen in this place. Robin creepily answers: "crimes of passion." He lists Rule 2 as Indirect Observation... he wants her to look into his eyes. And finally, Rule 3: concealment (not "I love you" like Starfire thought she heard him say). He then tells Starfire to look into his eyes, asking if she sees a house with a fence with 2.5 kids, a yard with dinner parties on the weekends with their adult Titan friends (Raven and Beast Boy). However, she denies seeing any of that, instead she is allured by the shiny reflection in Robin's eyes... a diamond! Without any knowledge if it's a clue or not, Robin angrily throws it away.
Back at the Tower, Raven opens her diary to write, but her hand starts to violently shake and turns red. She closes her book immediately, and after being shocked, she says to herself: "Oh no, its happening again!" Cyborg and Beast Boy, who were hiding under her bed, wait for Raven to leave her room and then go fetch her diary. Giddy with excitement, Cyborg claims it may contain a secret crush for Beast Boy. Beast Boy's confidence arises, he plays it cool (like he always does.) After opening her book, the words magically pop into Beast Boy's mouth. Cyborg says he had it upside down, but when he opens it by himself, a giant laser light of word bees starts spreading around the room. Raven can't let the world see her true demonic form, which is revealed after taking her hood off. She is unaware that Cyborg and Beast Boy were hiding under Raven's bed, ready to stake out her secret. Demonic Raven casts a spell to cleanse herself of darkness, and successfully turns back to normal, betrothed in a white cloak. However, she's completely unaware that Beast Boy and Cyborg, along with millions of souls, got sucked up in the portal hole that has opened. Both Titans landed in the middle of a void filled with rocks. But the two chill dudes don't care they are in a hopeless dimension, all they care about is the photo as Cyborg snapped before their doom. Although the photo shows Raven screaming and the two of them being doomed, they take it as evidence that she DOES have a crush, and they joyously celebrate their successful stakeout
While Starfire never knew the steakhouse was meant for stakeouts, Robin claims it's also for "make-outs.". Still confused, Starfire admits that she is learning so much from Robin, but she's also wary of Rule 3: concealment. After all, the two are out in the open. Robin explains that hiding in an open site is one of the BEST ways to hide. Starfire sees his point, but says that she must "put on her face.". Robin becomes excited as he was expecting a kissy face, but to his disappointment, Starfire comes out wearing a mask of an old person called Jeff. She finds another diamond in the bush, the second clue to their stakeout...
Over at the Tower, Beast Boy and Cyborg are sitting down, gloomy because they haven't found anything juicy related to Raven's secret crush. They start to practice a few stakeouts before the final attempt. At a dumpster, Starfire finds another diamond as she hears something behind her. She asks Robin did if he said that the crime is afoot. Then Starfire opens the door, and it's the terrible Doctor Light! He welcomes Robin and Jeff into his lair, showing off a crystal chandelier he was making, explaining it away as a mere hobby. In reality, his "hobby" turns to be a real secret plan to destroy the city using the chandelier's death beams. Jeff, however, "sheds light" (bad-dum tiss) on his plot, revealing his secret plan. Eventually, she defeats Doctor Light, making a "The Pain of Defeat" logo fall on him. Starfire, aka The Jeff, stands triumphantly over the crushed Jeff.
In the end, Starfire concludes that her first stakeout was a fantastic time with Robin. She's proud of their accomplishment of tracking and defeating Doctor Light, but she's forgetting one thing... Robin, hopeful that it's the kiss he always dreamt of, is slapped down. Starfire informs Robin that "You do not mess with THE JEFF!"
Characters
Song
Trivia
This is the first time we see Raven's true demonic form.

Her demonic form is reflective of that from the old comics of the "New Teen Titans".

This is Doctor Light's first appearance in the second season.

This is his second major role. The first was "Caged Tiger".

This is Brother Blood's first appearance in Season 2. Although in this episode, he's just a mere cameo.
This is the first episode where Robin admits his feelings for Starfire, even if it's short and rushed.
This is the first episode in Season 2 to have a song.
This is actually the second time Raven has accidentally banished Beast Boy to another dimension. The first was in "Be Mine".
When Robin explains why he didn't just ask Starfire out, music from "Dreams", "Two Bumblebees and a Wasp" and "Head Fruit" plays.
Doctor Light is literally squished by the pain of defeat.
Doctor Light's chandeliers are named:

The Pain of Defeat
Foiled Again
I'll Get You Next Time
Titans

Normally, these would be phrases that Doctor Light would say after a loss or encounter with the Titans.

An alternate scene was shown during Garage Sale.

As Starfire dressed as The Jeff, her future self came by for the mask, but refuse. Then they both fight and her future self got the mask.
Continuity
References
Beast Boy's adult appearance in Robin's vision is very much like his appearance in the original series episode "How Long is Forever?", including his pot belly and bald head.
In Robin's vision, the girl in the middle has black hair, green pupils, and is wearing a purple dress; all of which hint to the character Mar'i Grayson also known as Nightstar, who also happens to be Starfire and Nightwing's daughter in the "Kingdom Come" continuity. It is possible that the black haired and green eyed boy is Jacob "Jake" Grayson from "The New Order" continuity. The redheaded baby seems to not be based on any already existing character and may have just been created for the joke.
Shaggy Rogers and Scooby-Doo appear in the Mystery Machine during Beast Boy and Cyborg's song.
Errors
Raven has headphones at the beginning of the episode, but they disappear for the rest of the opening scene.
Running Gags
The Jeff (aka Starfire) solving a mystery (or finding a gem).
Robin trying to trick Starfire into kissing him.
Beast Boy and Cyborg practicing their stake out skills.
Starfire wearing a mask and saying I am The Jeff!
Transcript
The transcript for "I See You" can be found here.
Gallery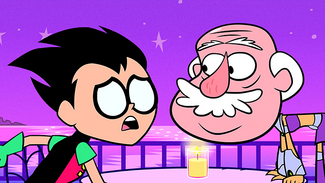 The image gallery for I See You may be viewed here.