"In and Out" is the forty fourth episode of the first season of Teen Titans Go!, and the forty fourth overall episode of the series.
Synopsis
Robin infiltrates the H.I.V.E. Tower to destroy it, but instead he is distracted by the H.I.V.E Tower's awesomeness!
Plot
The episode begins as Cyborg's day is off to a terrible start. His wake up process malfunctions, the handle on the refrigerator breaks, the microwave oven blows up, the TV screen falls off the wall, and the remote control snaps. Cyborg comments that nothing is working, which leads Raven to warn them to avoid the bathroom. Starfire then enters the bathroom and discovers why. The couch falls to pieces before the floor caves in and the couch plummets through. The Titans decide that they hate their living conditions, but Robin suddenly appears, and warns his teammates of the H.I.V.E. Five's new evil plan. Before he can show them images, the computer breaks, and he pulls out a flip chart. They plan to transform the H.I.V.E. Tower into a giant, deadly, evil space station. Robin explains that his plan is to infiltrate the tower as a villain called Red X. However, the other Titans mistakenly believe Robin is changing his costume, voice, and name. They begin criticizing his old attire, causing Robin to become frustrated and declaring "none of this is permanent". After Robin is asked how he plans on getting the H.I.V.E. to accept him, he explains he'll gain their respect by taking down their strongest member, Mammoth.
Red X arrives at H.I.V.E. Tower, and declares he wants to join their team. Gizmo says that they normally don't handle their recruitment process this way, but he can join anyway. Red X is not paying attention and attacks Mammoth, violently beating him up. The H.I.V.E. winces in horror as they watch their friend get beaten to the ground. Gizmo orders him to stop, telling him that he was already accepted. He then tells him to make himself comfy while the rest of the H.I.V.E. walks away to work on their plan.
Red X enters the reactor core and places his bomb, then sets it for two minutes. He exits the room, and finds Gizmo standing right there. Gizmo asks him if he wants pizza, and tells him that they have a wood-burning oven. Robin quickly runs and sets his bomb for 24 hours. Robin enjoys some freshly made pizza, then returns home.
Back at Titans Tower, the Titans are having cold fish and cold peas for dinner. Cyborg complains, but Starfire tells him he is the one who still hasn't fixed the microwave. Robin returns home, and Raven asks him if he destroyed the Tower. Robin tells them that he hasn't destroyed it yet, but he is gathering information, and will surely do it the next day. Starfire invites him to eat, but he tells her he is full, and that he has already eaten pizza from the H.I.V.E.'s wood burning stove. Cyborg suddenly becomes excited, and comes up with a plan.
The next day at H.I.V.E. Tower, Cyborg (dressed as Stone) burst in, announcing that he wants to join the team. Gizmo tells him that he is in, but Stone decides he wants to prove himself, and violently beats up the team's strongest member, Mammoth. Gizmo angrily orders him to stop, and orders Red X to show him around.
Red X immediately recognizes Stone, and when they walk away starts to lecture him for coming. He gets over it, however, and the two decide to play a game of air hockey while reviewing their plan. They then add more time to the bomb. 
Back at Titans Tower, the Titans are very bored, as they have nothing left to do. Beast Boy has no video games to play anymore (because all the TVs are broken) so he has resorted to pulling items out of Silkie's mouth for fun. Red X and Stone return, and tell the others that they are still collecting Intel, and they will destroy the Tower the next day. The others begin to become jealous that both Robin and Cyborg are getting pizza in a nice, fixed up tower while they're eating peas and fish in a broken tower.
The next day, Beast Boy, Raven, and Starfire arrive at the tower dressed as villains, and they called themselves Ravine, Sapphire, and Beast Bob. They ask to join the team, and Gizmo immediately says they're in. The three of them decide to prove themselves, and they all attack Mammoth. Jinx begins to sob for the pain he is suffering. A short time later, all of the Titans really enjoy the tower (and the soda machine) and decide to set the bomb back for forty-seven years.
Later on, the H.I.V.E. finally finishes their upgrades to make the tower a space station. Jinx orders Gizmo to get rid of the new members before they go into space, because they're rude and annoying. Gizmo decides telling them to leave would be too rude, so he would rather blow up the Tower to ditch them and take off in what is left of their battle station.
The H.I.V.E. arrive at the core, only to find that there is already a bomb there. Gizmo sets the bomb for two minutes, but the Titans (still dressed as villains) walk in just in time. The Titans tell them not to blow it up, because they love the tower. Beast Boy's fake sideburns fall off, and the H.I.V.E. recognizes him immediately. Robin shouts "TITANS, GO!", and all of the Titans rip off their disguises, and get ready to fight.
An intense battle breaks out between the Titans and the H.I.V.E., and the H.I.V.E. actually puts up a fight this time. While they fight, the bomb continues to count down. Robin and Gizmo's staffs are locked against each other when they scoot right next to the bomb. They realize there is only three seconds left on the bomb. The two brace themselves for the explosion, and the bomb explodes. The explosion can clearly be seen from space.
Later on, back at Titans Tower, the H.I.V.E. Five have moved in with them, and are being rude and annoying in the same ways that the Titans were back at their tower. The Titans decide that they want to get rid of them, and Robin comes up with the idea of destroying the Tower. Before he can say anything else, the bomb ignites, and the episode ends right as Titans Tower explodes.
Characters
Trivia
This episode marks the debut of Robin and Cyborg's villain-aliases of Red X and Stone, respectively.
This episode reveals that the other Titans believe Robin's traditional outfit is lame, but didn't tell him as not to hurt his feelings.
This is the first episode in which Mammoth is seen screaming.
The title is similar to a burger and fries restaurant called "In N Out Burger".
On the H.I.V.E. Five screen displaying the space tower, the words "H.I.V.E. Project Space Thingy" can be seen.
Ravine's hoodie is similar to the one that she wears when she sleeps.
This is the final episode of Season 1 to feature the H.I.V.E. Five.
Continuity
References
This episode is a reference to the original series' episode "Deception", where Cyborg infiltrates the H.I.V.E. academy in disguise, but becomes conflicted between the lines of a mission and normal life.
The Titans Tower falling into disrepair may refer back to the first episode of the original series, "Final Exam", when the Titans first begin officially working as a team.
The couch falling through the floor possibly references the Simpsons couch joke in the episodes "Bart Gets an F", "The Way We Was", and "Blood Feud". 
Beast Boy's villain costume is based on his Changeling costume from the comics, and his new sideburns are based on the Titans Tomorrow story line.
The villain names Starfire and Raven made up for themselves are real-world references to the gemstone sapphire and a raging river called a ravine, respectively; Beast Boy's evil name, however, is most likely a reference to the Bob clones from the original series episode "Employee of the Month".
There is a "Man of Steal" arcade game in the gaming room, a reference to the film Man of Steel.
There is another arcade game titled "Mortal Wombat" in reference to the video game "Mortal Kombat".
Next to the H.I.V.E.'s soda fountain, there is a poster of Bizarro with the words "Me Am ♥ HIVE Soda".
Errors
When Cyborg falls through the roof and lands on the couch there is debris on the ground, but after switching back from the shot of the TV, the debris has disappeared.
Robin claims that the H.I.V.E. Tower is on on the other side of town, but when Red X and the HIVE are eating pizza you can see Titans Tower through the window. 
After the H.I.V.E. Tower explodes, Mammoth is shown to have instantly recovered from his injuries.
When Beast Boy and Cyborg continuously turn their heads while surrounded by Billy Numerous and his clones, Cyborg's human eye and robotic eye switch places at one point for a split second.
Running Gags
Everything in Titans Tower breaking and malfunctioning.
The Titans (or at the end, Gizmo) keep talking about simply going "in and out," but usually end up staying for much longer.
The villainous H.I.V.E.'s allowing outsiders simply to walk in and join the team, with less and less hesitation in each case.
The Titans' mindlessly beating up Mammoth and Jinx worrying about it.
The Titans and the H.I.V.E. belching after eating in each other's towers.
The Titans keep trying to complete the mission of destroying the HIVE Tower, but instead end up distracted by soda fountains, arcade games, pizza, etc.
Raven asking "So, did you destroy the Hive Tower?"
Transcript
The transcript for "In and Out" can be found here.
Gallery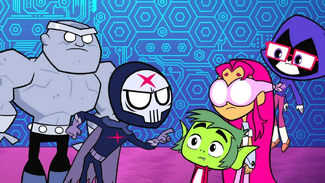 The image gallery for In and Out may be viewed here.
v - e - d Episode Guide
Season 1: April 23, 2013 - June 5, 2014
Legendary Sandwich • Pie Bros • Driver's Ed • Dog Hand • Double Trouble • The Date • Dude Relax • Laundry Day • Ghostboy • La Larva de Amor • Hey Pizza! • Gorilla • Girl's Night Out • You're Fired! • Super Robin • Tower Power • Parasite • Starliar • Meatball Party • Staff Meeting • Terra-ized • Artful Dodgers • Burger vs. Burrito • Matched • Colors of Raven • The Left Leg • Books • Lazy Sunday • Starfire the Terrible • Power Moves • Staring at the Future • No Power • Sidekick • Caged Tiger • Second Christmas • Nose Mouth • Legs • Breakfast Cheese • Waffles • Be Mine • Opposites • Birds • Brain Food • In and Out • Little Buddies • Missing • Uncle Jokes • Más y Menos • Dreams • Grandma Voice • Real Magic • Puppets, Whaaaaat?

Season 2: June 12, 2014 - July 30, 2015
Mr Butt • Man Person • Pirates • Money Grandma • I See You • Brian • Nature • Salty Codgers • Knowledge • Slumber Party • Love Monsters • Baby Hands • Caramel Apples • Sandwich Thief • Friendship • Vegetables • The Mask • Serious Business • Halloween • Boys vs Girls • Body Adventure • Road Trip • Thanksgiving • The Best Robin • Mouth Hole • Hot Garbage • Robin Backwards • Crazy Day • Smile Bones • Real Boy Adventures • Hose Water • Let's Get Serious • Tamaranian Vacation • Rocks and Water • Multiple Trick Pony • Truth, Justice and What? • Two Bumble Bees and a Wasp • Oil Drums • Video Game References • Cool School • Kicking a Ball and Pretending to Be Hurt • Head Fruit • Yearbook Madness • Beast Man • Operation Tin Man • Nean • Campfire Stories • And the Award for Sound Design Goes to Rob • The HIVE Five • The Return of Slade • More of the Same • Some of Their Parts

Season 3: July 31, 2015 - October 13, 2016
Cat's Fancy • Leg Day • Dignity of Teeth • Croissant • Spice Game • I'm the Sauce • Hey You, Don't Forget about Me in Your Memory • Accept the Next Proposition You Hear • The Fourth Wall • 40%, 40%, 20% • Grube's Fairytales • A Farce • Scary Figure Dance • Animals, It's Just a Word! • BBBDAY! • Black Friday • Two Parter • The True Meaning of Christmas • Squash & Stretch • Garage Sale • Secret Garden • The Cruel Giggling Ghoul • How 'Bout Some Effort • Pyramid Scheme • Beast Boy's St. Patrick's Day Luck, and It's Bad • The Teen Titans Go Easter Holiday Classic • Batman v Teen Titans: Dark Injustice • Bottle Episode • Finally a Lesson • Arms Race with Legs • Obinray • Wally T • Rad Dudes with Bad Tudes • Operation Dude Rescue • History Lesson • The Art of Ninjutsu • Think About Your Future • TTG v PPG • Coconut Cream Pie • Pure Protein • Open Door Policy • Crazy Desire Island • The Titans Show • Booty Scooty • Who's Laughing Now • Oregon Trail • Snuggle Time • Oh Yeah! • Riding the Dragon • The Overbite • The Cape

Season 4: October 20, 2016 - June 25, 2018
Shrimps and Prime Rib • Halloween v Christmas • Booby Trap House • Fish Water • TV Knight • Teen Titans Save Christmas • BBSFBDAY! • The Streak • The Inner Beauty of a Cactus • Movie Night • BBRAE • Permanent Record • Titan Saving Time • The Gold Standard • Master Detective • Easter Creeps • Hand Zombie • Employee of the Month: Redux • The Avogodo • Orangins • Jinxed • Brain Percentages • BL4Z3 • Hot Salad Water • I Saw You Dance • The Story in Your Eyes • Playing Hard to Get • The Night Begins to Shine • Lication • Labor Day • Classic Titans • Ones and Zeroes • Career Day • TV Knight 2 • Justice League's Next Top Talent Idol Star • The Academy • Costume Contest • Throne of Bones • Demon Prom • Thanksgetting • The Self-Indulgent 200th Episode Spectacular! • BBCYFSHIPBDAY • Beast Girl • Flashback • Bro-Pocalypse • Mo' Money Mo' Problems • TV Knight 3
Season 5: June 25, 2018 - April 4, 2020
The Scoop! • Chicken in the Cradle • Kabooms • Tower Renovation • My Name is Jose • The Power of Shrimps • Monster Squad • Real Orangins • Quantum Fun • The Fight • The Groover • Justice League's Next Top Talent Idol Star: Second Greatest Team Edition • How's this for a Special? Spaaaace • BBRBDAY • Slapping Butts and Celebrating for No Reason • Nostalgia is Not a Substitute for an Actual Story • Business Ethics Wink Wink • Genie President • Tall Titan Tales • I Used to Be a Peoples • The Metric System vs Freedom • The Chaff • Them Soviet Boys • Little Elvis • Booty Eggs • TV Knight 4 • Lil' Dimples • Don't Be an Icarus • Stockton, CA! • What's Opera Titans • Forest Pirates • The Bergerac • Snot and Tears • Campfire! • What We Learned at Camp • Communicate Openly • Royal Jelly • Strength of a Grown Man • Had to Be There • Girls Night In • The Great Disaster • The Viewers Decide
Season 6: October 4, 2019 - present
Butt Atoms • TV Knight 5 • Witches Brew • That's What's Up! • Crab Shenanigans • Brobots • Brain Flip • Beast Boy on a Shelf • Christmas Crusaders • We're Off to Get Awards • Bat Scouts • Walk Away • Record Book • Magic Man • Titans Go Casual • Rain on Your Wedding Day • Egg Hunt • Justice League's Next Top Talent Idol Star: Justice League Edition • Mission to Find the Lost Stems • Drums • Guitar • Bass • You're The One
Top of the Titans: April 27, 2018 - July 20, 2018
Raddest Songs • Best Love Songs • Beast Boy & Cyborg Songs • Dance Party • Best Rivals
Community content is available under
CC-BY-SA
unless otherwise noted.