"Jam" is the 23rd episode of the seventh season of Teen Titans Go!, and the 335th overall episode of the series.
Summary
Harley Quinn, Poison Ivy and Catwoman recruit Starfire and Raven for their roller derby team.
Characters
Major
Minor
Louie (debut; only appearance)
Brainy Brawlers (debut; only appearance)
Luke Cormican (cameo)
Guards
Trivia
This episode premiered on the same day as the DC Fandome event.
This is the fourth time to not feature the full Titans cast. The previous ones were "That's What's Up!", "Magic Man", "Various Modes of Transportation" and "Space House - Part 3".
Harley Quinn receives another redesign in this episode, which makes her resemble her appearance in the Suicide Squad and Birds of Prey films.
In the credits of this episode, Robin, Cyborg and Beast Boy were listed to the credits despite not appearing in the entire episode.

Technically, this is not an error. The voice actors' contracts have a clause to be credited in all episodes, regardless if their characters appear or not.

In the original storyboard, Louie was originally tied up with the three Gotham villainesses by both Starfire and Raven. He however was later excluded in the final cut.
This is the first episode to not feature the Title Theme. However, the theme itself is still included on cartoon websites that contain this episode.
Continuity
Starfire wears the same outfit in "The Mug", minus the ponytail.
Raven is seen unhooded for the 136th time in the series.

This is also a rare occurrence for her to go throughout the entire episode as such. The first time this happened was in Season 3's "The Art of Ninjutsu".

This is a rare occurrence to not feature any of the Titans wearing their normal outfits. The others being "The Art of Ninjutsu" and "We're Off to Get Awards".
References
Starfire's devilish looking smile at the burning car when she was being introduced as "Carfire on the 405" is a reference to the "Disaster Girl" meme.
Raven being introduced as "Grapes of Azarath" is likely a reference to the title of the American realist novel and its movie adaptation The Grapes of Wrath.
Errors
Running Gags
Transcript
Gallery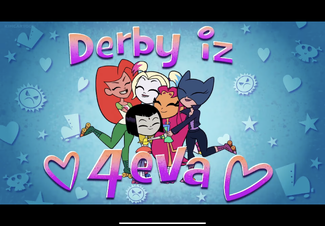 The image gallery for Jam may be viewed here.