Jeremy is a young boy in Teen Titans Go! who lives many years after the Teen Titans ceased being teens. He's the grumpy grandson of former member Bumblebee, and he also has a sister, Honeybee.
So far, Jeremy has only been in one episode, Season 5's "The Great Disaster."
History
Far into the future, an aged Bumblebee was privileged to have two grandchildren, Jeremy and Honeybee. One night (as seen in "The Great Disaster"), the retired Titan told the two kids of the long ago showdown between Doomsday and Hawkman. But after she finished the account, the children asked her to follow up with the "The Great Disaster" origins... And she did, after Jeremy threatened to conquer the ninth dimension if he didn't get his way. According to Bumblebee, the Titans went to eat out at a cheese steak joint, where Raven conjured up a talking, self-replicating sandwich. Eventually, the world was overflowing with cheese steaks, and that lead to the current state of things. Despite the wildness of the story, Jeremy was appeased... so now he could go to sleep.
Physical Appearance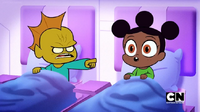 While
Honeybee
seems to have inherited everything from
Bumblebee
, it looks like Jeremy's inherited... well, nothing. One of his parents or grandpa wasn't human, because his features resemble that of an unknown alien: he has golden yellow skin with a large, pronounced brow (making him look perpetually flustered). A single tooth sticks out of Jeremy's mouth, and his ears are pointed. Additionally, he has a large, spiky orange fin on his head, kinda shaped like a mohawk. Despite his other-worldly appearance, he keeps the clothing pretty simple—just a teal, long-sleeved shirt.
Powers and Abilities
Dimension Conquest: Despite his young age, Jeremy is capable of subjugating entire dimensions. He threatened to take over the ninth if Bumblebee didn't continue telling stories.
Appearances
Trivia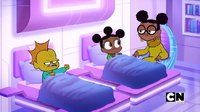 The cast credits don't use the name Jeremy, but Grandson instead (and Granddaughter for Honeybee). Still, during "The Great Disaster," Bumblebee refers to him at one point as Jeremy.
Cyborg's voice actor, Khary Payton, also voices Jeremy. For this character, he uses a deeper, manly voice (even though he's just a kid).
Because he looks so different from Bumblebee, it's possible that Jeremy was adopted or his father is a peculiar being, such as an alien.
He and his sister Honeybee are the second set of grandchil to appear on the show, the first being Cyborg's Grandchildren in the episode "Salty Codgers".
Gallery
Community content is available under
CC-BY-SA
unless otherwise noted.