"Justice League's Next Top Talent Idol Star" is the thirty-seventh and thirty-eighth episodes of the fourth season of Teen Titans Go!, and the one-hundredth-ninety-fourth and the one-hundred-ninety-fifth overall episodes of the series.
Summary
The Justice League holds a talent competition to find a superhero worthy of joining their team and Robin tries everything to win. Meanwhile the Titans perform their talents, Starfire and her cats do a talent show, Raven does a dance, Cyborg sings a song and Beast Boy transforms into a cow that sprays milk in the Justice League's faces.
Plot
Part 1:
Birdarang is hosting the "Justice League's Next Top Talent Idol Star" and a camera is there to capture all the superheroes, including the Teen Titans, who are lined up and ready to audition to join the Justice League. All the Teen Titans are sure they have a good shot and show off their superpowers (except Robin who, as the others point out, doesn't have any superpowers).
In a pre-show interview, Robin paints himself as a crime-fighting vigilante and starts to tell his tragic backstory about growing up in the circus. But Birdarang interrupts him before he can get to the actual sad part. Robin is sure that his connection to Batman will help him gain favor with the rest of the judges (the four judges being: Batman, Superman, Aquaman and Wonder Woman). Robin tries a motorcycle trick but screws it up and sends his motorcycle flying into Batman, knocking his former mentor out. All four judges press the red buzzer, meaning he's eliminated. Robin's crying fit backstage gets caught on camera (the "Cry Cam"), and Birdarang gleefully replays the private clip, much to Robin's embarrassment.
Starfire is next. In her interview, she tells her backstory about being a princess on Tamaran but being exiled by her sister. Once on earth, she discovered kittens and fell in love with the little animals. Her talent is a lackluster cat circus with a grand finale of an attacking tiger. The Justice League judges quickly buzz her out while fighting off the tiger. Starfire goes backstage, and despite trying to be positive, she ends up bawling on Birdarang's "Cry Cam." Cyborg relates his story about being an up-and-coming football star before being caught in an accident and becoming a cyborg. He reveals that his new passion is singing, and though his backstory is not as tragic as his previous teammates, he is sure he'll do well. In fact, Cyborg serenades Wonder Woman with a love song, and he's the first Teen Titan to get the green buzzer, meaning he goes through on to the finals.
Raven is excited to show off her talent to the judges: dancing. She talks about how growing up, her father didn't approve of her dancing. There's a montage of little Raven throughout the years trying to dance, but her father kept popping up to remind her that "Demons don't dance." When she shows off her hand-sewn dress, her father (Trigon) shows up and rips up her brand new dress. The first part ends in a cliffhanger as narrated by Birdarang. ("Will Raven be able to preform or will she finally have to hang up her dancing shoes? Find out next time on Justice League Next Top Talent Idol Star!")
Part 2:
Birdarang welcomes the viewers back with a recap of the previous auditions. Raven solves her problem easily enough by using magic to whip up a new dress. She goes out to perform and starts with a ballet-inspired dance but soon segues into heavy metal (with her white dress becoming navy blue). Her dancing impresses not only the judges but also her dad, who is secretly watching. After the performance, he changes from furious to overproud, until she sends him away with a portal. Robin is upset that Raven has gotten through and demands a second chance.
Attempting to garner sympathy, Robin offers a fake backstory involving him being a farmer with his grandparents, witnessing his grandmother getting kidnapped by crows, and the family barn getting obliterated by a meteor. His tragic backstory manages to get him back on stage with a new act involving magic. His magic goes about as well as his motorcycle act, and he gets escorted offstage when he tries to bribe Batman. Beast Boy's pre-audition interview reveals he's not all that interested in joining the Justice League, and he's only doing it because his friend, Cyborg, was auditioning. His talent is turning into a cow and squirting the four judges with milk. They all give him the red buzzer, but Beast Boy is unfazed, telling Birdarang backstage that he doesn't take it all that seriously.
Robin, who does take it seriously, is back dressed as Tiny Tim (calling himself "Tiny Robin") and ready with a new backstory to garner sympathy. He starts trying to retell a Christmas Carol with himself in the "Tiny Tim" role and gets called out by Cyborg. It doesn't seem to matter as the story earns Robin his much-desired third chance. On stage, he does a ventriloquist act where he makes jokes at the expense of the judges. Despite Robin's horror (but not able to stop himself) and the League's initial shock, they end up laughing about it and give him the green buzzer, allowing him to move on. Robin is thrilled.
Birdarang reveals the final three: Cyborg, Raven, and Robin. They await the decision of the judges, and Robin is the one chosen as the winner. Robin is exhilarated and quickly starts gloating, but Birdarang reveals that his ventriloquist dummy (who looks like Robin) was actually the one chosen. Certainly, Robin is devastated, and Birdarang narrates how successful the Little Robin dummy is after joining the Justice League. With that, Birdarang signs out.
Characters
Song
Trivia
This is the fifth half-hour special of the series. The previous ones were "Two Parter", "Operation Dude Rescue", "The Streak" and "BBRAE".
This episode premiered on Columbus Day 2017.
The promo for this episode has America's Got Talent quarterfinalist, Puddles Pity Party, singing about the episode.
This was the only Justice League's Next Top Talent Idol Star episode to feature the Titans in their original character designs due to the animation updating to a general new look in Season 5 and onward.
This episode marked the first time that Starfire's true superhero origin story was explained, making her the last Titan in this series to have had their true origin story told or at least briefly mentioned.
The Penguin briefly appears in this episode in his original design instead of the one used in the previous episode.
This episode marked Trigon's first speaking role in the fourth season in the series and the first time since "Nean".
Though, the Justice League did appear in this episode, they didn't speak but however, they did yell and laugh to show their emotions towards a participate's talent act.
After the original premiere on Monday, October 9th, 2017, a toll-free number appeared on Cartoon Network asking viewers to call in and vote for their favorite Titan, who would then be announced that Friday during a rebroadcast of the special.
The number used to call and vote for a favorite Titan was 1-800-880-6700. Birdarang's voice is used for the menu selection and each Titan has a prerecorded message for you when you choose one of them.

Raven's message thanks you for believing that demons can dance. Starfire leaves a joyful message, which she recorded with her tiger, Twinkle Bow. Robin's message ends with him declaring once again that he should win because he, "Grew up in a circus!" Beast Boy's message lets you know that a vote for him is a vote for, "Milk in yo' face!" Cyborg is giddy in the message he leaves, ending it by telling folks to continue, "Shining like diamonds do!"
The fan picked winner of the talent show was Cyborg.

The season 4 part 2 dvd Lo-Tech Heroes back was based off of this episode.
Continuity
Raven is unhooded for the 68th time in part 1 and 69th time in part 2.
That talents Robin showcases have previously been seen throughout the series. His love for motorcycles became apparent in "Starfire the Terrible", his interest in magic tricks formed in "Real Magic", and his love of puppetry was on full display in "Puppets, Whaaaaat?".

However, his love of puppets in that episode was more because of his insecurities about the Titans not listening to him.

Raven once again displays her talent for dancing like she did in older episodes.
References
This episode is a parody of America's Got Talent, American Idol, and The X Factor. The Justice League are the judges, Birdarang is the host and the Teen Titans and any other characters are the hopeful participants.
One hopeful contestant was Nuclear Man, Superman's nemesis in Superman IV: The Quest for Peace.
Robin calls himself "Tiny Robin" in his third desperate bid to win-- cribbed, as Cyborg notes, from the book "A Christmas Carol" by Charles Dickens, as well as a possible nod to the third Robin, Tim Drake.
The "demons don't dance" scene may be a reference to the 1984 film Footloose with Kevin Bacon, as well as the 1997 animated film Cats Don't Dance.
Raven's performance dress has a very similar design to the dress she originally wore in the comic books and in the flashback in "Baby Hands", which was also based on her attire she wore in the comics.

Her long-length boots and gloves are also articles of clothing she wore in the comics but though it's not until Geoff Johns' 2003-2008 Titans comic run she was seen wearing long-length boots. 

The music Raven dances to contains a quote of Beethoven's 5th Symphony, 1st movement. 
Cyborg brings up his origin story during the backstage interviews but this time, his cyborg body is shown being created from what is presumably a Mother Box, much like in Batman v Superman: Dawn of Justice.
As a child, Raven had what it seemed like Hello Kitty skull wallpaper in her bedroom.

With that being said, it could reference her voice actress, Tara Strong, who has voiced Hello Kitty in Hello Kitty's Furry Tale Theater in her earlier days in her voice acting career. 
Also seen in her child bedroom, on a hook hanging from the ceiling, a head of a beheaded stuffed animal is wearing a mask and a clown neck ruffle. It could possibly resemble Harley Quinn, another popular character Tara Strong is known to be the voice of in several different medias. 

At the end of the episode, ventriloquist Robin and the other members of the Justice League are seen walking behind a sunrise, an allusion to the 2001-2004 Justice League TV series.
Errors
In Raven's dance audition when she turns her white dance suit black and demonic, the captions refer the music as "Beethoven's 5th Symphony" when in fact, it is Toccata and Fugue in D minor by Johan Sebastian Bach.
Since Beast Boy is male, he shouldn't of been able to transform into a cow since it's female. He should of transformed into a bull.

But since this show is comedy based, it could of been done for comedic purposes.  

Beast Boy said he was a vegan in the interview and does not drink milk, but, however, it has been constantly noted throughout the series and by his voice actor, Greg Cipes, he is a vegetarian, but yet he has been seen eating animal products (except dairy and eggs).
When Batman laughs at Robin's jokes his laugh doesn't sound like it usually does.
Running Gags
The Justice League getting injured.
Starfire's cats falling flat on their faces.
Trigon telling Raven that, "Demons don't dance!"
Robin re-performing for the Justice League.
Robin being crazy and crying and it being recorded by Birdarang and it being replayed much to his displeasure.
Aqualad getting stabbed in the foot.
Robin yelling that He grew up in the circus!!!
Beast boy spraying milk in the Justice Leagues' faces.
Transcript
The transcript for "Justice League's Next Top Talent Idol Star" can be found here.
Gallery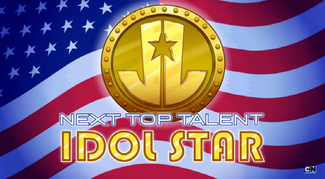 The image gallery for Justice League's Next Top Talent Idol Star may be viewed here.