"Justice League's Next Top Talent Idol Star: Dance Crew Edition" are the first and second episodes of the seventh season of Teen Titans Go!, and the 300th and 301st overall episodes of the series.
Summary
It's time for another Justice League talent competition! This time, the top dance crews from across the DC universe will battle on stage with their super-powered moves. Left without a crew, Robin uses Raven's spellbook to conjure up a dance crew powerful enough to help him take out the competition. Featuring a special appearance from world-famous dance crew, The Jabbawockeez, the stage is set for one of the Titans' most epic showdowns.
Plot
TBA
Characters
Major
Minor
Cameos
Trivia
This is the premiere of the seventh season.
This was the first episode to premiere in 2021 on Cartoon Network.
This is the fourteenth half-hour special of the series.
This is the 300th episode of the series, a milestone that only Scooby-Doo and Ben 10 (Franchise) have ever achieved.

In terms of Cartoon Network originals, it is indeed the 2nd Cartoon Network show to reach 300.

According to Talya Perper who boarded the first part of this episode, she did a frame-to-frame research on Jabbawockeez videos for their choreography. [1]
Vibe, who was first mentioned in Season 5's "My Name is Jose", physically debuts in this episode.
This is Doom Patrol's first appearance since their debut in Beast Boy's That's What's Up miniseries.
Mr. Freeze picture can be seen on the truck when it was delivering the fridge.
This episode reveals that Aquaman speaks an unintelligible fish language that makes him sound like a dolphin.
This is the first "Justice League's Next Top Talent Idol Star" episode in which the Titans East don't appear or compete. Speedy is seen competing alongside Artemis instead.
Continuity
Raven is unhooded for the 115th and 116th time.
This is the fourth "Justice League's Next Top Talent Idol Star" installment.
Robin talks with his hand once again.
The Hive is shown competing in this episode, as they previously competed in Justice League's Next Top Talent Idol Star: Second Greatest Team Edition.
Vibe takes Dummy Robin's place as the fifth judge, due to the fact that his whereabouts are unknown as of Justice League's Next Top Talent Idol Star: Justice League Edition.
Robin's one-sided crush on Starfire is displayed once again as she rejects him to form the Baseball Dance Crew with Raven.

However, Robin apologizes for his behavior at the end and Starfire is happy for him.

Beast Boy and Raven's feelings for each other made a slight appearance in Part 1 when the two engaged in a hug and held hands after both teams made it to the finals. (It's worth mentioning that Cyborg and Starfire held hands too, but not for nearly as long as Beast Boy and Raven did.)

Beast Boy also called her "Mama" while praising her (and Starfire's) dancing act with Raven happily thanking him.
References
The baseball uniforms and dance of Starfire and Raven are direct references to the 1992 baseball movie A League of Their Own.

When Beast Boy gets hit in the eye by a baseball bat and starts crying, Cyborg says, "There's no crying in Baseball!" which is one of Tom Hanks' famous quotes from the said movie.

The act performed by two people dressed as a cube of outer space and jar of jelly is a reference to the 1996 movie Space Jam.
The act performed by Detective Chimp and Swamp Thing is a reference to the 1981 comedy movie My Dinner With Andre.
The act performed by Blue Beetle and Black Lightning is a reference to the 2000 comedy movie Dude, Where's My Car?
The outfits worn by the Jabbawockeez are likely a nod to rock band DEVO.
Pictures of Batman actors Michael Keaton, Christian Bale, and Ben Affleck are seen.
Cyborg and Beast Boy's second dance is based on the 1993 movie The Fugitive.
Errors
When Robin returns back to present day from the 1980s, he informs the Titans that he has been practicing his sick moves for 6 years. However, it looks like he has not aged at all.
Running Gags
Robin crying when he gets kicked out from any club.
Robin getting hit by a passing car.
Robin running away crying after Birdarang asks how he feels.
Transcript
The transcript for "Justice League's Next Top Talent Idol Star: Dance Crew Edition" can be found here.
Gallery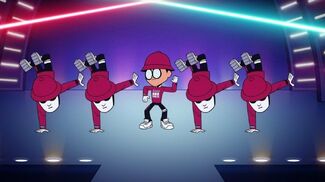 The image gallery for Justice League's Next Top Talent Idol Star: Dance Crew Edition may be viewed here.
References