It's not fair! Those mean bank people made me carry my own stolen money!

--Kitten in "The Left Leg"

Kitten is a villainous spoiled brat in Teen Titans Go! who made her debut in "The Left Leg". She is voiced by Tara Strong.
Bio
In "The Left Leg", Kitten can be seen robbing a bank fairly easily, as she walks out complaining that the bank made her carry her stolen money. Eventually though, the Titans show up in their new Titan Robot. Although the crime is not even that urgent, Robin tries intimidating her with his left leg capabilities. The wannabe criminal drops her loot when Robin goes overboard and destroys buildings and her car. Kitten is about to flee when Robin accidentally breaks the robot, dismantling it and she escapes with the money without a scratch.
She makes a cameo appearance in "Yearbook Madness" where Robin imagines her in a photo in his imaginary yearbook.
Apart from these appearances, Kitten only has minor cameos throughout Season 3.
She made a appearance in Season 4's episode, "BBRAE". In part two, she is seen dancing with Speedy. After Raven curses Beast Boy's love song to her, Kitten chases Speedy while using his bow to shoot arrows at him. During when Beast Boy tries lifting the song's curse by singing a new one, she and Speedy are seen again dancing happily with each other.
Physical Appearance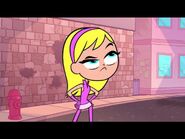 Kitten has medium-length bright blonde hair. She has light blue eyes and pale peach skin. Her attire is comprised of a pink headband, a pink, sleeveless top and a pale pink skirt. She also wears pink gloves, pink stockings and pale pink boots. Her attire is overall very girly and innocent, which is great for surprise attacks.
Episode Appearances
Trivia
Kitten is voiced by Tara Strong, who is also the voice of Raven.
In the original series episode, Date With Destiny, her father threatened to destroy the city if Robin did not go to the prom with her.
Her last name is unknown, as Killer Moth used several aliases in the comics. 
In the original series, Kitten had a crush on Robin, however, it is unknown if she has a crush on Robin in this series.
Unlike the original series, here Starfire does not have any particular resentment towards Kitten.

This may be because Kitten has not shown any attraction towards Robin or because Starfire (most of the time) does not return Robin's feelings and barely has any interest in him.

She is the thirteenth villain from the original series to return.
"The Left Leg" is currently her only speaking role in the series.  
Like her father, Mother Mae-Eye, and Kyd Wykkyd, she makes no physical appearance in seasons two, five or six.
Voice in other languages
Andrea Laudon (Hungarian)
 ? (Italian)
Ioana Dagău (Romanian)
 ? (Polish)
Karina Fonseca (Brazil)
Kelly Marot (French)
Agnes Fasting (Norwegian)
Gallery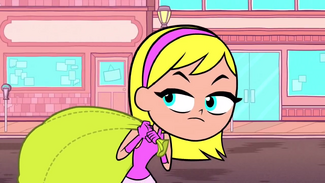 The image gallery for Kitten may be viewed here.