"Knowledge" is the ninth episode in the second season of Teen Titans Go!, and the sixty-first overall episode of the series.
Synopsis
Starfire is tired of not being able to fit in with the other Titans, so she asks Raven to help her to learn more about Earth culture. Raven casts a spell to give Starfire all human knowledge there is, but in backfires when she becomes a complete bummer.
Plot
The episode starts on the roof of the Tower where Robin is checking the wind and temperature. His calculations configure that's a perfect day to relax at the beach. Robin excitedly tells the other Teen Titans, and they are all pumped up to go. Suddenly, Starfire starts to yawn, alerting the other Titans. They gasp, explaining that a yawn is deadly contagious and will subside into sleeping. Robin seals Starfire in a protective cylinder to prevent anyone from catching the yawn but to no avail. All the other Titans subsequently start yawning, and before long, all of them are asleep. They wake up at 10:00 p.m., and Starfire is contrite for ruining their day. However, the Titans are cool with her ignorance, but she complains that it isn't the first time her lack of knowledge of Earth culture has ruined the merriment. The others explain that if you know too much, you are a bummer (like Raven), but if you are completely un-knowledgeable (like Cyborg and Beast Boy), then you are awesome. Star wishes not to be "the bummer."
Later that night, Raven floats by Starfire's room and hears her crying in her room. She enters to see what's going on... Starfire is sobbing because of a misunderstanding where she had to set up Beast Boy on a blind date requested by him. Instead, she burned Beast Boy's eyes, leading him, well, to blindly crash through the window. Still apologizing, she continues to cry. Raven offers her some help with knowledge lessons by explaining to her about it while singing and dancing. Starfire doesn't pick up even after the song, so Raven takes the easy way out. She casts a spell that gives Starfire a magical, knowledge necklace. Or something like that...she wears it overnight, acquiring vast knowledge and some cool glasses, too.
The next morning, Robin checks the weather's condition again. This time, the forecast is set for a perfect lake day. Everyone is psyched about it when Starfire interferes with the fun, stating that a lake is 46% polluted. Robin starts to worry about her and suspects Raven of helping her. Starfire claims that she prefers to be wise and not ruin perfect arrangements anymore. Robin then accuses her of ruining the day after all! Starfire starts mocking the knowledge about Raven's activities while the other Titans constantly yell "BUMMER!" In the end, Raven finally realizes that it was her fault for helping her, thinking it was an improvement. Starfire enters the room, and to everyone's astonishment, her brain and IQ have grown huge, terrifying the Titans. Raven confesses she used dark magic to give her all of the possible human knowledge there is. She explains that her brain is expanding too rapidly, and the only way to get rid of her knowledge is by entering her head and destroying it before her brain explodes.
Raven summons the T-Sub for the Titans to explore Starfire's brain. It shrinks down and enters through Starfire's ear. The Titans try to nuke down some neurons while traveling in Starfire's head, but it fails (the neurons regenerate themselves). They had no choice but to go to the source, located in the brain. When they reach it, they behold a vast, dark purple orb, Starfire's Knowledge. Unwilling to give up, the Titans are forced to assault her knowledge. At first, she can overwhelm them using facts about missiles and lasers not working, but they are able to defeat it using ignorance to weaken her. They finish it off with a single laser blast, even though Starfire's Knowledge earlier commented that lasers don't hurt yet (how ironic). After they got out of Starfire's head, her brain resizes back to its original shape, and her normal alien thinking as her magic relic broke into pieces. Raven apologizes to Starfire, saying that she shouldn't have used dark powers from the first time. Raven states that she should have educated her in the old fashion way (calculators, books, protractors) until the other Titans, so annoyed at her seemingly infinite knowledge, call "BUMMER!"
Characters
Song
Trivia
This episode aired 10 years after the original Teen Titans episode "Aftershock: Part 2".
This is the first episode of the second season to feature Raven's little buddy, the Demon. He plays the piano in her song.
This is the first time that Raven is seen wearing a bathing suit.

It is also the first time she is seen without her hood in chibi form.

The word "yawn" breaks the fourth wall.
It is revealed that the Titans have something against yawning.
The T-Sub makes its first appearance in this episode- it comes into existence by Raven's powers.
Starfire's Knowledge continuously breaks the 4th wall by stating common facts, causing the Titans attacks to go astray.
The symbols on the knowledge amulet are, from the top and going clockwise - summation notation for adding ½s, Norse runes, the Triforce from The Legend of Zelda, the letter Ψ (Psi) (most commonly associated with the Schrödinger equation, or psychology), the infinity symbol, the Laplacian, a stylized Rutherford-model atom, and a crescent moon symbol. In the center is the mathematical constant, π (Pi).
This episode is one of the most controversial. This is due to the fact that the moral "if you're smart, you aren't fun," doesn't generally apply in real life.
Continuity
This is the fourth time Raven is shown singing.
This is the eighth time that Raven is seen unhooded.

This is also the first time that she is seen unhooded in chibi form, and while in a bathing suit.

Starfire once again talks using teen slang, which she did in "Dog Hand" and "Terra-ized".
This is the second episode where a Titan uses Raven's magic for something involving intelligence. The first time was in "Brain Food".
The glasses that Starfire wears are very similar to the pair that Silkie wore in "Brain Food" when he became smarter.
Music from "La Larva de Amor" is heard in the montage where Starfire tells the Titans facts.
The forest where Raven is secretly playing with her dolls is the same one where most of the episode "Nature" took place.
Raven's love for Pretty Pretty Pegasus is shown again.
This is the third episode where Beast Boy doesn't use any animal transformations. ("The Left Leg," "Waffles")
This is the first time the Titans shrink down and enter one of the Titans' bodies, this time Starfire's. The second time is in "Body Adventure".
References
When Raven sings to Starfire, it is a parody of Schoolhouse Rock!, a Saturday morning children's program which aired on ABC from 1973 to 1985. Both the style of the song and the animation make this obvious. Furthermore, Raven states that "Knowledge is power", which was a common slogan for Schoolhouse Rock!
This once again references Fantastic Voyage.
When Beast Boy and Cyborg are listening to the radio, it could be a parody of the Harlem Shake.
One of the symbols seen on Starfire's magic necklace is a Triforce from The Legend of Zelda series.
Starfire's Knowledge calling herself the source is reference to the original series villain, the Source.
Raven is reading a book titled "Tale of Flame and Snow", which is a reference to A Song of Ice and Fire.
The Titans shrink down and ride a submarine inside Starfire's brain, the same thing SpongeBob and Patrick do in the SpongeBob episode "Squidtastic Voyage", or in the The Magic School Bus Rides Again episode: "Ralphie Strikes a Nerve" in which the characters go inside Jyoti's (and later Ralphie's) brains.
Starfire's Knowledge is also a reference to Brainy Smurf from The Smurfs franchise.

Both characters end up boring the other characters when they are embracing their knowledge which leads to them spoiling the others activities.
Both characters are annoying to the other characters since they don't seem to like how they end up spoiling everything.
Both characters acknowledge themselves as intelligent when it comes to showing themselves off.
Errors
Starfire is actually wrong when she says that 46% of lakes are polluted. It's actually 47%. Close enough, though.
When Raven is reading "Tale of Flame and Snow", she isn't using her dark magic, and she isn't holding the book, either.
Cyborg in this episode is seen as being unintelligent, but in Brain Food, he is regarded as being smart.
Running Gags
Raven saying "water", when the other Titans list off the great things to do while on vacation.
Robin, Beast Boy, and Cyborg yelling "BUMMER!" when somebody states a fact.
Transcript
The transcript for "Knowledge" can be found here.
Gallery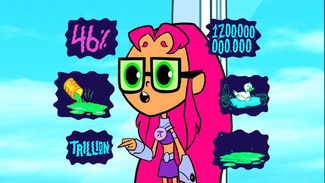 The image gallery for Knowledge may be viewed here.