You will be okay in care taking of the Silkie while I am away?

--Starfire
"La Larva de Amor" is the tenth episode of the first season of Teen Titans Go!, and the tenth overall episode of the series.
Summary
The gang agrees to take on the responsibility of babysitting Silkie, but they end up losing the slimy little fellow who ends up in Mexico, having an exciting telenovela adventure.
Plot
The episode starts with all of the Teen Titans (except for Starfire) sitting in the living room. Beast Boy has a large plate of cookies in front of him, he's sitting
by Raven who is using her powers to play with a Rubix-Cube. Cyborg is seated on her other side, texting on the phone. Robin is sitting to the right of Beast Boy, reading a Batman comic book.
Beast Boy eats a cookie and drinks some milk forming a milk mustache. Robin, never losing an opportunity for a competition, goads him into
making milk mustaches. Cyborg and Raven join in and it becomes an all-out war of the staches. Starfire shows up interrupting their game, asking the Titans if they will take care of Silkie while she is away. They promise to do an excellent job, so Starfire leaves. As they make more milk mustaches, Beast Boy irritates Cyborg by cheating using a 10-year-old soy milk carton, causing him to throw old soy milk at Beast Boy. It misses and hits a button opening the elevator that Silkie goes out of. A few minutes later the Titans realize Silkie is gone and go to look for him. Silkie is meanwhile outside and ends up in Mexico after a series of amazing, coincidental accidents.
He meets a Mexican woman named Sonia and they hang out. This upsets her ex-fiancé, Carlos. The Titans cannot find Silkie and worry a lot. Beast Boy says he can change into a Silkie and hang with Starfire until they find the real Silkie. Raven says that won't work because he'd be missing and Silkie will be green. Cyborg
finds what looks like a dead Silkie, causing the Titans to scream it horror, but it was just a shed, hollow skin of it. Cyborg then tells them that the real Silkie is still out there. Back in Mexico, Silkie hangs out more with Sonia and Carlos comes and kidnaps them.
They are in a cell when Silkie gets slips out of his chains. He is able to sneak past guards armed with AK-47s. Silkie ends up on a balcony, where Carlos challenges him to a duel. After a brief swordfight, Carlos falls off the edge and Silkie saves Sonia. He then leaves her, making her sad. Back at the Tower, Starfire comes back wanting to see Silkie. They try to fool her, saying he was sleeping, but Robin says that
they lost Silkie. Starfire gets furious at the Titans and starts throwing Starbolts at them until Silkie comes home by himself. She is happy to see him and asks her friends if they want to see the images of her journey. The episode ends with the four hurt Titans groaning in pain on the floor.
Characters
Trivia
The name of the episode, "La Larva de Amor" means "The Larva of Love" in Spanish.
This is the first episode to contain subtitles.
Batman and Commissioner Gordon make their first physical appearances in this episode.
On the wall of the club in Mexico, it reads "La Casa de P..." or "The house of P..." in English. The last part of the sign is never seen
Robin, Cyborg, and Raven break the fourth wall while glancing at Beast Boy through the split-screen while he's still crying.
This episode is often incorrectly listed as "La Larva Amor".
This is the only episode where the title is shown to be orange and dark orange.
Continuity
This is the second time that Starfire throws a tantrum. She briefly did so before in "The Date."
This is the first time we see Batman in person. He would later make reoccurring cameos throughout the series.

This is the first time Batman and Commissioner Gordon are seen together.

BAT-O's make another appearance, but this time as the actual cereal. The first times it was seen was in "Legendary Sandwich", "Driver's Ed", and "Double Trouble."
Robin was reading the same Batman comic he read at the supermarket from "Legendary Sandwich".
Robin's crush on Starfire is shown again when he looks for Silkie in her room but instead gets distracted by Starfire's things. ("The Date") He also writes "I Love Robin" on one of the photos in Starfire's Bedroom.
Robin's inability to not let Beast Boy be better than him at something is shown again from "Dude Relax."
This is the second romantic-themed episode of the series.

The first romantic-themed episode: "The Date".
References
There are many references during the Milk War:

In one of Robin's milk moustaches he is wearing a red cap and hitting a block that has a coin. This is a reference to Mario from Super Mario Bros. He also has the same moustache as the character.

Also, one of Robin's mustaches and hair resemble Albert Einstein's.

Likewise, Raven's last milk moustache and wooden staff is a reference to Gandalf the Grey from The Lord of the Rings.
Beast Boy has a stereotypical French milk moustache and has milk armpit hair. This is a reference to the stereotype of Europeans (specifically the French) not shaving armpits.
When Cyborg blows bubbles in the milk and surrounds Beast Boy in them, Beast Boy makes noises like Chewbacca from Star Wars. He even pulls out a bowcaster (a Wookie weapon).
Cyborg's first milk moustache is a mohawk and beard that looks a lot like Mr. T's.

While Silkie was floating on water he passed by a boat that had Batman fishing with Commissioner James Gordon.

The front of the boat featured Batgirl on it, much like how pirate ships would have mermaids or women sculpted onto their boat.

When Beast Boy looks in the couch, he pulls out a Green Lantern power ring before throwing it away.
When Robin looks under Starfire's bed he sees Deadman's / Boston Brand's remains.
When Silkie goes into the golf hole and rolls around in it, he passes by the tomb of Ra's al Ghul.
In the dungeon where Silkie and Sonia were kept, there is a poster of Bane (classic variant). This is the only time a picture of Bane is seen that's not The Dark Knight Rises variant.
Beast Boy parodies the saying "All's far in love and war" by saying "All's far in milk in war".
Raven holding an umbrella over herself to avoid Starfire's star bolts is a nod to the Looney Tunes character, Wile E. Coyote.
Silkie floats in a chicken bucket similarly designed to that of Kentucky Fried Chicken (KFC).
Errors
At the end, when the rest of the Titans are beat up and lying on the ground, Starfire's arm band (on her left arm) is missing.
Sonia Conchita Hernández is missing her mole on her left cheek when she gets close to Silkie.
In some scenes, Sonia is also missing her eyeshadows.
Cyborg and Raven have switched places for the second portion of the milk war despite never moving.
When Robin came in Starfire's room, there are no stuffed animals on her bed. However, in the next frame, Robin was shown with the stuffed animals and puts them back on the bed. This might be due to them being on the floor and Robin just put them back on their rightful spot.
Beast Boy says that he'd been saving the 10-year-old milk for a special occasion. As a teenager, he couldn't have been living in the Tower for that long, since he was still a kid.

Although it's possible he found the milk already in it's aged state.

The plate of cookies and the green cup was replaced with a big cup for Beast Boy and Cyborg despite never moving.
On some Latin-American airings of the episode, the episode is strangely displayed in 21:9 aspect ratio.
Running Gags
Silkie going from place to place without getting hurt.
Transcript
The transcript for "La Larva de Amor" can be found here.
Gallery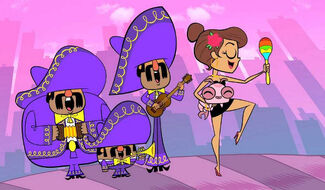 The image gallery for La Larva de Amor may be viewed here.
v - e - d Episode Guide
Season 1: April 23, 2013 - June 5, 2014
Legendary Sandwich • Pie Bros • Driver's Ed • Dog Hand • Double Trouble • The Date • Dude Relax • Laundry Day • Ghostboy • La Larva de Amor • Hey Pizza! • Gorilla • Girl's Night Out • You're Fired! • Super Robin • Tower Power • Parasite • Starliar • Meatball Party • Staff Meeting • Terra-ized • Artful Dodgers • Burger vs. Burrito • Matched • Colors of Raven • The Left Leg • Books • Lazy Sunday • Starfire the Terrible • Power Moves • Staring at the Future • No Power • Sidekick • Caged Tiger • Second Christmas • Nose Mouth • Legs • Breakfast Cheese • Waffles • Be Mine • Opposites • Birds • Brain Food • In and Out • Little Buddies • Missing • Uncle Jokes • Más y Menos • Dreams • Grandma Voice • Real Magic • Puppets, Whaaaaat?

Season 2: June 12, 2014 - July 30, 2015
Mr Butt • Man Person • Pirates • Money Grandma • I See You • Brian • Nature • Salty Codgers • Knowledge • Slumber Party • Love Monsters • Baby Hands • Caramel Apples • Sandwich Thief • Friendship • Vegetables • The Mask • Serious Business • Halloween • Boys vs Girls • Body Adventure • Road Trip • Thanksgiving • The Best Robin • Mouth Hole • Hot Garbage • Robin Backwards • Crazy Day • Smile Bones • Real Boy Adventures • Hose Water • Let's Get Serious • Tamaranian Vacation • Rocks and Water • Multiple Trick Pony • Truth, Justice and What? • Two Bumble Bees and a Wasp • Oil Drums • Video Game References • Cool School • Kicking a Ball and Pretending to Be Hurt • Head Fruit • Yearbook Madness • Beast Man • Operation Tin Man • Nean • Campfire Stories • And the Award for Sound Design Goes to Rob • The HIVE Five • The Return of Slade • More of the Same • Some of Their Parts

Season 3: July 31, 2015 - October 13, 2016
Cat's Fancy • Leg Day • Dignity of Teeth • Croissant • Spice Game • I'm the Sauce • Hey You, Don't Forget about Me in Your Memory • Accept the Next Proposition You Hear • The Fourth Wall • 40%, 40%, 20% • Grube's Fairytales • A Farce • Scary Figure Dance • Animals, It's Just a Word! • BBBDAY! • Black Friday • Two Parter • The True Meaning of Christmas • Squash & Stretch • Garage Sale • Secret Garden • The Cruel Giggling Ghoul • How 'Bout Some Effort • Pyramid Scheme • Beast Boy's St. Patrick's Day Luck, and It's Bad • The Teen Titans Go Easter Holiday Classic • Batman v Teen Titans: Dark Injustice • Bottle Episode • Finally a Lesson • Arms Race with Legs • Obinray • Wally T • Rad Dudes with Bad Tudes • Operation Dude Rescue • History Lesson • The Art of Ninjutsu • Think About Your Future • TTG v PPG • Coconut Cream Pie • Pure Protein • Open Door Policy • Crazy Desire Island • The Titans Show • Booty Scooty • Who's Laughing Now • Oregon Trail • Snuggle Time • Oh Yeah! • Riding the Dragon • The Overbite • The Cape

Season 4: October 20, 2016 - June 25, 2018
Shrimps and Prime Rib • Halloween v Christmas • Booby Trap House • Fish Water • TV Knight • Teen Titans Save Christmas • BBSFBDAY! • The Streak • The Inner Beauty of a Cactus • Movie Night • BBRAE • Permanent Record • Titan Saving Time • The Gold Standard • Master Detective • Easter Creeps • Hand Zombie • Employee of the Month: Redux • The Avogodo • Orangins • Jinxed • Brain Percentages • BL4Z3 • Hot Salad Water • I Saw You Dance • The Story in Your Eyes • Playing Hard to Get • The Night Begins to Shine • Lication • Labor Day • Classic Titans • Ones and Zeroes • Career Day • TV Knight 2 • Justice League's Next Top Talent Idol Star • The Academy • Costume Contest • Throne of Bones • Demon Prom • Thanksgetting • The Self-Indulgent 200th Episode Spectacular! • BBCYFSHIPBDAY • Beast Girl • Flashback • Bro-Pocalypse • Mo' Money Mo' Problems • TV Knight 3
Season 5: June 25, 2018 - April 4, 2020
The Scoop! • Chicken in the Cradle • Kabooms • Tower Renovation • My Name is Jose • The Power of Shrimps • Monster Squad • Real Orangins • Quantum Fun • The Fight • The Groover • Justice League's Next Top Talent Idol Star: Second Greatest Team Edition • How's This for a Special? Spaaaace • BBRBDAY • Slapping Butts and Celebrating for No Reason • Nostalgia is Not a Substitute for an Actual Story • Business Ethics Wink Wink • Genie President • Tall Titan Tales • I Used to Be a Peoples • The Metric System vs Freedom • The Chaff • Them Soviet Boys • Little Elvis • Booty Eggs • TV Knight 4 • Lil' Dimples • Don't Be an Icarus • Stockton, CA! • What's Opera Titans • Forest Pirates • The Bergerac • Snot and Tears • Campfire! • What We Learned at Camp • Communicate Openly • Royal Jelly • Strength of a Grown Man • Had to Be There • Girls Night In • The Great Disaster • The Viewers Decide
Season 6: October 4, 2019 - May 1, 2021
Butt Atoms • TV Knight 5 • Witches Brew • That's What's Up! • Crab Shenanigans • Brobots • Brain Flip • Beast Boy on a Shelf • Christmas Crusaders • We're Off to Get Awards • Bat Scouts • Walk Away • Record Book • Magic Man • Titans Go Casual • Rain on Your Wedding Day • Egg Hunt • Justice League's Next Top Talent Idol Star: Justice League Edition • Mission to Find the Lost Stems • Drums • Guitar • Bass • You're The One • Where Exactly on the Globe is Carl Sanpedro? - Part 1 • Where Exactly on the Globe is Carl Sanpedro? - Part 2 • Where Exactly on the Globe is Carl Sanpedro? - Part 3 • Where Exactly on the Globe is Carl Sanpedro? - Part 4 • Ghost With the Most • Bucket List • TV Knight 6 • Kryptonite • Thumb War • Toddler Titans…Yay! • Baby Mouth • The Cast • Superhero Feud • Lucky Stars • Various Modes of Transportation • Cool Uncles • Butter Wall • BBRAEBDAY • Don't Press Play • Real Art • Just a Little Patience...Yeah...Yeah • Villains in a Van Getting Gelato • I Am Chair • Bumgorf • The Mug • Hafo Safo • Zimdings
Season 7: January 8, 2021-present
Justice League's Next Top Talent Idol Star: Dance Crew Edition • Feed Me • Pig in a Poke • P.P. • A Little Help Please • Marv Wolfman and George Pérez • Space House - Part 1 • Space House - Part 2 • Space House - Part 3 • Space House - Part 4 • Cy and Beasty • T is for Titans • Creative Geniuses • Manor and Mannerisms • Trans Oceanic Magical Cruise • Polly Ethylene and Tara Phthalate • EEbows • Batman's Birthday Gift • What a Boy Wonders • Doomsday Preppers • Fat Cats • Jam • DC • Pepo the Pumpkinman • Breakfast • Captain Cool • A Doom Patrol Thanksgiving • Glunkakakakah • Control Freak • A Holiday Story • The Drip • Standards & Practices • Belly Math • Free Perk • Go!
Top of the Titans: April 27, 2018 - July 20, 2018
Raddest Songs • Best Love Songs • Beast Boy & Cyborg Songs • Dance Party • Best Rivals