"Laundry Day" is the eighth episode of the first season of Teen Titans Go!, and the eighth overall episode of the series.
Synopsis
It's laundry day, but Robin makes Raven do the chore. But problems begin to arise if the Titans don't have their suits.
Plot
The episode starts with the Titans battling a giant slime monster. They all fail in attacking him, until Robin decides to blow up the monster. The slime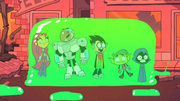 falls onto the Titans, resulting in them being covered with green goo. They then go back to Titans Tower with their suits all dirty.
It is Laundry Day, and Starfire asks who must complete the task. Raven glances towards Robin, and he then says their suits aren't that dirty. This is an attempt to back out from doing the laundry, as it
is his turn. Beast Boy says no I'm not and wonders how their suits would be without them being washed for a couple more weeks, and Cyborg then smells Beast Boy's suit. After smelling Beast Boy's suit, Cyborg faints and then dies, with his ghost flying upwards. Beast Boy immediately grabs a vacuum cleaner, sucks Cyborg's ghost into it, and puts it back into his body. Beast Boy then exclaims someone will need to wash their suits, and Robin says they'll decide who will wash their suits, Raven interrupts his speech and asks him if he means going by the chores list; it was Robin's turn.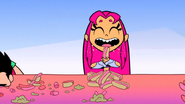 Robin quickly snatches the list, mixes it in a blender, and eats it, asking Raven "what chores list?". He then continues his speech, and says they'll decide the person doing the laundry by a competition; the loser (the one with the least points) will have to do the laundry.
After a series of games, the Staring Contest, Rock Paper Scissors, and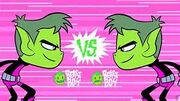 Hotdog Chow Down!, Robin announces the results; Raven is the loser and so she must do the laundry duty since she had only 7 points. When Raven exclaims it was Robin's turn to do the laundry, he asks her what she is talking about and then burps out the chores list, immediately hiding it behind him while laughing nervously. Raven says she'll do the laundry duty, and takes off all the Titans' suits. Starfire screams because she is naked while she squishes Silkie against her, Robin yells in surprise and accidentally almost drops his clipboard, but grabs it and laughs nervously, Cyborg yells "STOP STARING AT MY CIRCUITS!", and Beast Boy appears calm while eating popcorn, not even bothered by the fact that he is naked.
Raven tells the Titans that they should put some clothes on, and Starfire,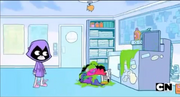 Cyborg, and Beast Boy quickly run to their rooms while Robin becomes dizzy from them knocking him over. He then confuses the front door for his room, accidentally entering it while he closes the door, not realizing his mistake. A white bird flies towards him, glaring at him. He studies it for a few seconds, and goes down, resulting in him falling to the bottom of Titans Tower. Robin lands on a bush, with a batman cowl on his head for a second before he shakes it off. He runs to the front door of Titans Tower intending to go back in, but a group of fan girls blocks his way and squeals at the sight of him. Robin runs away, hiding behind a mailbox as one of the fan girls sees him and takes a photo of him on her phone. Next, Robin runs to the emergency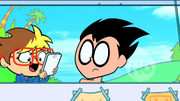 exit but is unable to open it. He then tries to open a window, and climbs onto a tree branch intending to jump into an open window, but the branch breaks and Robin falls. Robin grabs onto a bee hive, falling once again. The bees in the hive are disturbed and come out, chasing Robin. He jumps into a bush relieved, but the bees catch up and find him. Robin then yells, "I NEED MY SUIT!", while running away from the bees and fan girls.
Meanwhile, Raven is trying to wash the Titan's suits. She tries everything, but nothing cleans the clothes. She gets very mad at Robin. When Robin comes by the window asking her to let him in, Raven attempts to negotiate with him, telling him that she will open the window if he does the laundry. He denies, however, and she leaves him outside. Meanwhile, Cyborg is just a head and is trying to get a new body while his is getting washed. He cannot find a good one and says, "I need my suit back." Starfire is sewing while her suit is getting washed. However, as she is unfamiliar with the process of sewing, she uses glue, a saw, milk, and an oven. The result is a beautiful dress, but she thinks it is hideous and yells, "I NEED MY SUIT BACK!". Meanwhile, Beast Boy gets tofu to eat, sings the Tofu Song, and plays video games, not even caring about being naked.
Robin is still outside and sees Gizmo threatening to take over Jump City. Despite having a massive robot army, Gizmo surrenders quickly when he sees Robin naked. Then Robin goes enters the Tower and sees the other Titans, all of whom were also going to Raven for their clothes. They get blasted by
their clothes, and Raven explains that the slime has taken them over. The Titans fight their clothes and the clothes started forcing the Titans to wear them. The suits make the titans beat themselves up. Then Robin finally apologizes to Raven for forcing her to do laundry when it was his turn, and he says if they got out of the situation, he'd do laundry for the next year, which was what Raven wanted to hear. Raven says a spell that drains the life out of their clothes, and she reveals that she made a magic spell take over the clothes. She tricked Robin into saying he'd do laundry for a whole year. Starfire then warns the team about a giant monster made of fruit juice and barbecue sauce that is attacking the city, making Robin feel down, knowing it'll be another messy fight. The episode ends with Robin sadly saying, "Titans, go."
Characters
Song
Trivia
Although this is the eighth episode of Season 1, it is the third produced episode.
Starfire was able to eat the most hotdogs, most likely due to Tamaranians possessing nine stomachs.
This episode holds the record for the longest time taken to show the title of the episode, at almost a minute going by without the title appearing.
This episode reveals that Beast Boy has no problem walking around naked, even in front of the opposite sex. This is probably due to his more animal-like nature (and his clothes disappear when he transforms).
This is Gizmo's debut in the show.
It is revealed that Robin has fangirls. This may be a reference to how many fangirls Robin had in the original series.

Not to mention that the fangirls are based on some of the animators from this series.

This is the last episode of Teen Titans Go! during the Cartoon Network "Check It 2.0" era.
This would mark the third time Raven has worn Robin's suit. The first time was in the original series during the episode "The Quest" and the second time was in the 24th issue of the comic spin-off called "Power Failure".
The reggae soundtrack that would be played in numerous episodes throughout Season 1 is first heard in this episode.
This is the first episode Cyborg dies in, though he's immediately revived by Beast Boy.
Robin's baby hands are not seen when his clothes are off.
Continuity
This episode marked the debut of the VS screen gag, during the staring contest and Rock, Paper, Scissors contests.
This is the first episode where Raven is seen unhooded or without her cloak.

However, her hair is black instead of purple like in the original series. Her hair style is also a little different.

This episode reveals that unlike the original series, Cyborg's head can be detached from his body, leaving only a body made out of wires.
Music from "The Date" is heard when Starfire is shown with her finished sewed dress.
Starfire wears the same bathrobe from "Dude Relax".
References
When Cyborg becomes a ghost, the Ghostbusters theme plays when Beast Boy brings him back to life.

​Beast Boy used what was also a reference to the Ghostbusters Proton Pack and the Luigi's Mansion franchise's Poltergust 5000 without its Strobulb.

The Titans outfit switches contain a number of possible references:

Starfire wearing Raven's clothing is a subtle reference to the episode "Switched" from the original series in which Raven and Starfire switched bodies.
Raven wearing Robin's clothing is a subtle reference to the episode "The Quest" from the original series where Starfire, Cyborg, Beast Boy, and Raven all dress like Robin.
Raven wearing Robin's costume may also be a reference to the Teen Titans comic "Power Failure" where they all switched powers. Same with Cyborg wearing Beast Boy's costume and Robin wearing Starfire's.

One of the bodies Cyborg considers switching to while his normal body is being washed is the body of Brainiac from Superman: The Animated Series, Justice League, and Justice League Unlimited. It is the one referred to by Cyborg as "too brainy" when it passes by.
When Robin first falls out of the Tower, he lands into a bush. When he arises, some leaves form around his face and make a Batman cowl before he shakes them off.
The final "outfit" seen in Cyborg's closet is Voltron's left leg, which foreshadows the later Voltron parody episode "The Left Leg".
A poster of Wonder Woman can be seen in the laundry room.
When Robin's and Raven's clothes are dancing, the song playing is a slightly varied version of Bust a Move by Young MC.
Errors
When the clothes came to life, when Robin said "Titans, go!" it zoomed in into the Titans' faces, however, Raven had her cloak's colors instead of her cleaning robe's.
The Titans' clothes are not covered in green slime during their contests on who has to laundry duty.
When the exclamation mark appears over Robin's head when he sees the bees, the rest of his body disappears. This may have been done intentionally for comedic effect and/or to just prevent the viewers from seeing his privates.
Beast Boy participates in the Hot Dog eating contest, despite being a vegetarian. However, he might only eat meat when he's in his pig form, like when he ate Robin's sandwich in "Legendary Sandwich."

It is possible that the hot dogs Beast Boy was eating were really tofu dogs, which he ate in the original series.

When Raven had her washing cloak on, her eyes are slightly smaller.
Even though mud was covering Robin's privates while he came back in the Tower, they would still been visible.
In the episode Legs, it was proven that anyone wearing Raven's cloak would be given a slightly more negative personality, even Starfire. However, when Starfire was wearing Raven's cloak, her personality did not seem to be affected.
Robin's mask somehow did not get slime on it, and he leaves it on for the whole episode despite it probably needing to be washed.
When Robin burped the chores list out, it was covered with tape.

However, this could just be for comedic effect.
Running Gags
Robin getting himself out of laundry duty, even though it is his turn.
Robin trying to re-enter the tower after being trapped outside with no clothes.
The Titans all complaining that they need their clothes back, except for Beast Boy who really doesn't care.
Transcript
The transcript for "Laundry Day" can be found here.
Gallery
The image gallery for Laundry Day may be viewed here.
v - e - d Episode Guide
Season 1: April 23, 2013 - June 5, 2014
Legendary Sandwich • Pie Bros • Driver's Ed • Dog Hand • Double Trouble • The Date • Dude Relax • Laundry Day • Ghostboy • La Larva de Amor • Hey Pizza! • Gorilla • Girl's Night Out • You're Fired! • Super Robin • Tower Power • Parasite • Starliar • Meatball Party • Staff Meeting • Terra-ized • Artful Dodgers • Burger vs. Burrito • Matched • Colors of Raven • The Left Leg • Books • Lazy Sunday • Starfire the Terrible • Power Moves • Staring at the Future • No Power • Sidekick • Caged Tiger • Second Christmas • Nose Mouth • Legs • Breakfast Cheese • Waffles • Be Mine • Opposites • Birds • Brain Food • In and Out • Little Buddies • Missing • Uncle Jokes • Más y Menos • Dreams • Grandma Voice • Real Magic • Puppets, Whaaaaat?

Season 2: June 12, 2014 - July 30, 2015
Mr Butt • Man Person • Pirates • Money Grandma • I See You • Brian • Nature • Salty Codgers • Knowledge • Slumber Party • Love Monsters • Baby Hands • Caramel Apples • Sandwich Thief • Friendship • Vegetables • The Mask • Serious Business • Halloween • Boys vs Girls • Body Adventure • Road Trip • Thanksgiving • The Best Robin • Mouth Hole • Hot Garbage • Robin Backwards • Crazy Day • Smile Bones • Real Boy Adventures • Hose Water • Let's Get Serious • Tamaranian Vacation • Rocks and Water • Multiple Trick Pony • Truth, Justice and What? • Two Bumble Bees and a Wasp • Oil Drums • Video Game References • Cool School • Kicking a Ball and Pretending to Be Hurt • Head Fruit • Yearbook Madness • Beast Man • Operation Tin Man • Nean • Campfire Stories • And the Award for Sound Design Goes to Rob • The HIVE Five • The Return of Slade • More of the Same • Some of Their Parts

Season 3: July 31, 2015 - October 13, 2016
Cat's Fancy • Leg Day • Dignity of Teeth • Croissant • Spice Game • I'm the Sauce • Hey You, Don't Forget about Me in Your Memory • Accept the Next Proposition You Hear • The Fourth Wall • 40%, 40%, 20% • Grube's Fairytales • A Farce • Scary Figure Dance • Animals, It's Just a Word! • BBBDAY! • Black Friday • Two Parter • The True Meaning of Christmas • Squash & Stretch • Garage Sale • Secret Garden • The Cruel Giggling Ghoul • How 'Bout Some Effort • Pyramid Scheme • Beast Boy's St. Patrick's Day Luck, and It's Bad • The Teen Titans Go Easter Holiday Classic • Batman v Teen Titans: Dark Injustice • Bottle Episode • Finally a Lesson • Arms Race with Legs • Obinray • Wally T • Rad Dudes with Bad Tudes • Operation Dude Rescue • History Lesson • The Art of Ninjutsu • Think About Your Future • TTG v PPG • Coconut Cream Pie • Pure Protein • Open Door Policy • Crazy Desire Island • The Titans Show • Booty Scooty • Who's Laughing Now • Oregon Trail • Snuggle Time • Oh Yeah! • Riding the Dragon • The Overbite • The Cape

Season 4: October 20, 2016 - June 25, 2018
Shrimps and Prime Rib • Halloween v Christmas • Booby Trap House • Fish Water • TV Knight • Teen Titans Save Christmas • BBSFBDAY! • The Streak • The Inner Beauty of a Cactus • Movie Night • BBRAE • Permanent Record • Titan Saving Time • The Gold Standard • Master Detective • Easter Creeps • Hand Zombie • Employee of the Month: Redux • The Avogodo • Orangins • Jinxed • Brain Percentages • BL4Z3 • Hot Salad Water • I Saw You Dance • The Story in Your Eyes • Playing Hard to Get • The Night Begins to Shine • Lication • Labor Day • Classic Titans • Ones and Zeroes • Career Day • TV Knight 2 • Justice League's Next Top Talent Idol Star • The Academy • Costume Contest • Throne of Bones • Demon Prom • Thanksgetting • The Self-Indulgent 200th Episode Spectacular! • BBCYFSHIPBDAY • Beast Girl • Flashback • Bro-Pocalypse • Mo' Money Mo' Problems • TV Knight 3
Season 5: June 25, 2018 - April 4, 2020
The Scoop! • Chicken in the Cradle • Kabooms • Tower Renovation • My Name is Jose • The Power of Shrimps • Monster Squad • Real Orangins • Quantum Fun • The Fight • The Groover • Justice League's Next Top Talent Idol Star: Second Greatest Team Edition • How's this for a Special? Spaaaace • BBRBDAY • Slapping Butts and Celebrating for No Reason • Nostalgia is Not a Substitute for an Actual Story • Business Ethics Wink Wink • Genie President • Tall Titan Tales • I Used to Be a Peoples • The Metric System vs Freedom • The Chaff • Them Soviet Boys • Little Elvis • Booty Eggs • TV Knight 4 • Lil' Dimples • Don't Be an Icarus • Stockton, CA! • What's Opera Titans • Forest Pirates • The Bergerac • Snot and Tears • Campfire! • What We Learned at Camp • Communicate Openly • Royal Jelly • Strength of a Grown Man • Had to Be There • Girls Night In • The Great Disaster • The Viewers Decide
Season 6: October 4, 2019 - present
Butt Atoms • TV Knight 5 • Witches Brew • That's What's Up! • Crab Shenanigans • Brobots • Brain Flip • Beast Boy on a Shelf • Christmas Crusaders • We're Off to Get Awards • Bat Scouts • Walk Away • Record Book • Magic Man • Titans Go Casual • Rain on Your Wedding Day • Egg Hunt • Justice League's Next Top Talent Idol Star: Justice League Edition • Mission to Find the Lost Stems • Drums • Guitar • Bass • You're The One
Top of the Titans: April 27, 2018 - July 20, 2018
Raddest Songs • Best Love Songs • Beast Boy & Cyborg Songs • Dance Party • Best Rivals