"Lazy Sunday" is the twenty-eighth episode of the first season of Teen Titans Go!, the twenty-eighth overall episode of the series.
Synopsis
Beast Boy and Cyborg are enjoying their Lazy Sunday (even though it's Tuesday) quite comfortably. Unfortunately, Robin is annoyed by Cyborg and Beast Boy's constant laziness, so he decides to donate the couch. The two friends decide that they have to go on a rescue mission to retrieve the couch at all costs...
Plot
The episode begins with Beast Boy and Cyborg admiring the features of their couch: a six-seater, nice sewing stitches, comfy cushions, and an oak-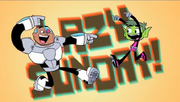 wood frame, all that good stuff. It just so happens that they've been waiting for this day- Lazy Sunday!
Cyborg starts to remark how he is the laziest person in the whole world, but Beast Boy insists that he is three times as lazy as Cyborg. Cyborg is about to argue about that, but he was so lazy that he falls asleep half way through his sentence. He wakes up a moment later and wonders what he was just saying, but Beast Boy was too lazy to even listen.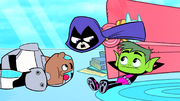 Out of nowhere, the Couch Spirit appears on the couch and explains that they are both lazy. He is so happy to see them relaxed on this Lazy Sunday. As a matter of fact, the Couch Spirit explains that if they were any lazier, they'd be dead! However, he starts to warn them about people who may try to take away their laziness. Couch Spirit was just too restless to keep up his pep-talk, so he goes to take a nap.
Robin and Raven show up and want to take a seat on the couch. They can't exactly do that as Cyborg and Beast Boy (now transformed into a sloth) are taking up all the room. They start to explain how it's Lazy Sunday, meaning they won't do anything today. However, Robin points out that today is actually "Tuesday". Meanwhile, Starfire is making some delicious chili, which gets
the two slackers' attention. But according to Cyborg's calculations, it's too far away. He quickly devises a plan; Beast Boy will transform into a little birdie, suck some chili up, bird-feed it into his mouth, and get back in no less than 5.15 seconds. However after eating the chili, they come back to the living room to find that the couch is gone, and in it's place is a treadmill! They look under the exorcise machine (as if it could even be there), but to no avail. They start to cry loudly as Robin tells them that he donated it to the Community Center (Couch Spirit's predictions fulfilled.)
Starfire is annoyed at the two Titans' bawling and asks how long this will go on for. Raven says for quite a bit more, considering the five stages of grief:
Denial- Beast Boy and Cyborg pathetically act like the treadmill is the couch.
Anger- The pals take out their fury on cake, an ice-cream cone, bubbles, and then they go swimming.
Bargaining- While Robin is in the bathroom, Cyborg tries to negotiate couch terms, ending in failure.
Depression- Beast Boy plays a light, mournful song on his guitar accompanied by Cyborg's harmonica. Their song is sad, and yet at the same time comforting.
Acceptance- The two Titans have a memorial service for the couch (how thoughtful), complete with pictures and flowers. They recall the lumps and sticky stains of their old friend.
Later on, Robin is working out on the treadmill and lets Raven try it out. Unfortunately, all she can do is hover over it. Then Starfire gives it a try. She sets the speed on "show-off" mode. Seeing the fun they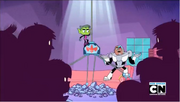 can have with the new exercise furniture, Beast Boy and Cyborg push her off and give it a try. All of a sudden, they have a newfound love in working out, as they push it to the limit. They also use a set of dumbbells and a jump rope.
During an exercise program on TV, they are interrupted by Treadmill Spirit. He offers them a protein shake, but they're all good. They admire Treadmill Spirit's ripped body, and he explains his daily exercise routine which is composed of sprinting, elliptical, and upper body workout, before eating breakfast and finally working out. Beast Boy and Cyborg lose enthusiasm for exorcising when they realize there's no breaks, so they decide to go on a mission to get the couch back. It takes a little bit of convincing to get Robin on board with the operation (they bribe him with a stop at the new taco joint).
High up in the sky, Robin is piloting the Teen Titans' jet over the drop zone. He takes the opportunity to multitask and lift some dumbbells. Cyborg and Beast Boy persuade the girls that they go on this mission only- it's their friend. After Starfire and Raven salute them, they hop out of the patch. Beast Boy transforms into a pterodactyl, while Cyborg uses his jetpack and they head down below to the Jump City Community Center. Before they land, Super Robin steals an ice cream from a little girl. The Titans then approach the center, with Cyborg providing surveillance while Beast Boy slivers (in snake form) to the window. Cyborg then uses him as a lookout scope. The recon pays off as they spot the couch! They don't care about the element of stealth anymore as Cyborg shoots a charge at the wall, blowing a hole in it up so they can enter. They rush in and contact Robin, code-named "Red Robin" to come pick them up. Robin, who has just finished his 80 lifts, sends down a grapple that latches onto the beloved couch. Before leaving, Cyborg shouts at the citizens, "We'd love to stay, but there's no place to sit... BOOYAHSKADOO!" they are pulled back up towards the jet. Beast Boy and Cyborg sit on the couch during the ride back, while enjoying tacos.
Back at the Titans Tower, all of the team have agreed on a compromise. They now have the treadmill and the couch in the living room. Robin loves the deal, because, after all, that just means more treadmill time for him. Raven and Starfire are just glad to have the couch back, and the Couch Spirit returns, announcing he's back! Cyborg says he missed him, and the two agree to never be apart again. However, Beast Boy smells something a little funny, and Couch Spirit explains that the citizens do love their garlic. Everybody enjoys his joke and good times, well, except for Robin. Treadmill Spirit just pressures him to run faster.
Characters
Trivia
The Couch Spirit can exit the actual couch, just like how Robin and Beast Boy can enter it in "Dude Relax."
Continuity
Robin recognizes and knows who the couch spirit is, having met the couch spirit in "Dude Relax".
This is the third episode where Beast Boy plays the guitar. The first two were in "Girl's Night Out" and "Burger vs. Burrito".
The music that Beast Boy and Cyborg are playing during the five stages of grief is the same music from "Pie Bros", when Beast Boy is outside Game Bear, albeit with different instrumentals.
This is the eighth time Cyborg's head has been detached from his body. ("Laundry Day", "Hey Pizza!", "Gorilla", "Tower Power", "Burger vs. Burrito", "Matched", "Books")
Robin is seen reading the same book Beast Boy read in "Meatball Party."
Super Robin (Bird), which Robin mutated with in "Super Robin", appears. It is unknown how the series got back to "normal" after the events of that episode.
Cyborg, supposedly as shown in "Super Robin" can detach his arm to reach things, but in this episode, he lost that ability.
References
Robin refers to himself as "Red Robin" while flying the T-Plane.  The second Robin, Tim Drake, also becomes Red Robin eventually, but in main continuity.
Errors
Cyborg could've extended his arms to reach the chili, which he's been shown doing on several occasions, but doesn't think to do so this time.
Running Gags
Raven explaining the five stages of grief and in turn, Cyborg and Beast Boy grieving for the couch.
Spirits of the furniture coming alive.
Cyborg and Beast boy being lazy.
Transcript
The transcript for "Lazy Sunday" can be found here.
Gallery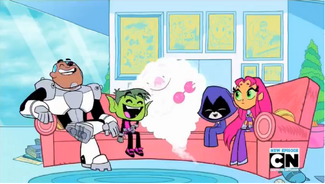 The image gallery for Lazy Sunday may be viewed here.
v - e - d Episode Guide
Season 1: April 23, 2013 - June 5, 2014
Legendary Sandwich • Pie Bros • Driver's Ed • Dog Hand • Double Trouble • The Date • Dude Relax • Laundry Day • Ghostboy • La Larva de Amor • Hey Pizza! • Gorilla • Girl's Night Out • You're Fired! • Super Robin • Tower Power • Parasite • Starliar • Meatball Party • Staff Meeting • Terra-ized • Artful Dodgers • Burger vs. Burrito • Matched • Colors of Raven • The Left Leg • Books • Lazy Sunday • Starfire the Terrible • Power Moves • Staring at the Future • No Power • Sidekick • Caged Tiger • Second Christmas • Nose Mouth • Legs • Breakfast Cheese • Waffles • Be Mine • Opposites • Birds • Brain Food • In and Out • Little Buddies • Missing • Uncle Jokes • Más y Menos • Dreams • Grandma Voice • Real Magic • Puppets, Whaaaaat?

Season 2: June 12, 2014 - July 30, 2015
Mr Butt • Man Person • Pirates • Money Grandma • I See You • Brian • Nature • Salty Codgers • Knowledge • Slumber Party • Love Monsters • Baby Hands • Caramel Apples • Sandwich Thief • Friendship • Vegetables • The Mask • Serious Business • Halloween • Boys vs Girls • Body Adventure • Road Trip • Thanksgiving • The Best Robin • Mouth Hole • Hot Garbage • Robin Backwards • Crazy Day • Smile Bones • Real Boy Adventures • Hose Water • Let's Get Serious • Tamaranian Vacation • Rocks and Water • Multiple Trick Pony • Truth, Justice and What? • Two Bumble Bees and a Wasp • Oil Drums • Video Game References • Cool School • Kicking a Ball and Pretending to Be Hurt • Head Fruit • Yearbook Madness • Beast Man • Operation Tin Man • Nean • Campfire Stories • And the Award for Sound Design Goes to Rob • The HIVE Five • The Return of Slade • More of the Same • Some of Their Parts

Season 3: July 31, 2015 - October 13, 2016
Cat's Fancy • Leg Day • Dignity of Teeth • Croissant • Spice Game • I'm the Sauce • Hey You, Don't Forget about Me in Your Memory • Accept the Next Proposition You Hear • The Fourth Wall • 40%, 40%, 20% • Grube's Fairytales • A Farce • Scary Figure Dance • Animals, It's Just a Word! • BBBDAY! • Black Friday • Two Parter • The True Meaning of Christmas • Squash & Stretch • Garage Sale • Secret Garden • The Cruel Giggling Ghoul • How 'Bout Some Effort • Pyramid Scheme • Beast Boy's St. Patrick's Day Luck, and It's Bad • The Teen Titans Go Easter Holiday Classic • Batman v Teen Titans: Dark Injustice • Bottle Episode • Finally a Lesson • Arms Race with Legs • Obinray • Wally T • Rad Dudes with Bad Tudes • Operation Dude Rescue • History Lesson • The Art of Ninjutsu • Think About Your Future • TTG v PPG • Coconut Cream Pie • Pure Protein • Open Door Policy • Crazy Desire Island • The Titans Show • Booty Scooty • Who's Laughing Now • Oregon Trail • Snuggle Time • Oh Yeah! • Riding the Dragon • The Overbite • The Cape

Season 4: October 20, 2016 - June 25, 2018
Shrimps and Prime Rib • Halloween v Christmas • Booby Trap House • Fish Water • TV Knight • Teen Titans Save Christmas • BBSFBDAY! • The Streak • The Inner Beauty of a Cactus • Movie Night • BBRAE • Permanent Record • Titan Saving Time • The Gold Standard • Master Detective • Easter Creeps • Hand Zombie • Employee of the Month: Redux • The Avogodo • Orangins • Jinxed • Brain Percentages • BL4Z3 • Hot Salad Water • I Saw You Dance • The Story in Your Eyes • Playing Hard to Get • The Night Begins to Shine • Lication • Labor Day • Classic Titans • Ones and Zeroes • Career Day • TV Knight 2 • Justice League's Next Top Talent Idol Star • The Academy • Costume Contest • Throne of Bones • Demon Prom • Thanksgetting • The Self-Indulgent 200th Episode Spectacular! • BBCYFSHIPBDAY • Beast Girl • Flashback • Bro-Pocalypse • Mo' Money Mo' Problems • TV Knight 3
Season 5: June 25, 2018 - April 4, 2020
The Scoop! • Chicken in the Cradle • Kabooms • Tower Renovation • My Name is Jose • The Power of Shrimps • Monster Squad • Real Orangins • Quantum Fun • The Fight • The Groover • Justice League's Next Top Talent Idol Star: Second Greatest Team Edition • How's this for a Special? Spaaaace • BBRBDAY • Slapping Butts and Celebrating for No Reason • Nostalgia is Not a Substitute for an Actual Story • Business Ethics Wink Wink • Genie President • Tall Titan Tales • I Used to Be a Peoples • The Metric System vs Freedom • The Chaff • Them Soviet Boys • Little Elvis • Booty Eggs • TV Knight 4 • Lil' Dimples • Don't Be an Icarus • Stockton, CA! • What's Opera Titans • Forest Pirates • The Bergerac • Snot and Tears • Campfire! • What We Learned at Camp • Communicate Openly • Royal Jelly • Strength of a Grown Man • Had to Be There • Girls Night In • The Great Disaster • The Viewers Decide
Season 6: October 4, 2019 - present
Butt Atoms • TV Knight 5 • Witches Brew • That's What's Up! • Crab Shenanigans • Brobots • Brain Flip • Beast Boy on a Shelf • Christmas Crusaders • We're Off to Get Awards • Bat Scouts • Walk Away • Record Book • Magic Man • Titans Go Casual • Rain on Your Wedding Day • Egg Hunt • Justice League's Next Top Talent Idol Star: Justice League Edition • Mission to Find the Lost Stems • Drums • Guitar • Bass • You're The One
Top of the Titans: April 27, 2018 - July 20, 2018
Raddest Songs • Best Love Songs • Beast Boy & Cyborg Songs • Dance Party • Best Rivals
Community content is available under
CC-BY-SA
unless otherwise noted.