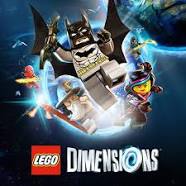 Lego Dimensions (stylized as LEGO DIMENSIONS) is a Lego-themed action adventure video game developed by Traveller's Tales and published by Warner Bros. Interactive Entertainment for PlayStation 4, PlayStation 3, Wii U, Xbox One and Xbox 360.
Trivia
Starfire was confirmed by the co-producer, Authur Parsons.
Cyborg (from DC Comics) and Robin (from The LEGO Batman Movie) resemble their designs from the show, making them two of the few characters playable in an alternate appearance.
Raven and Beast boy were both confirmed to be playable during 2016's E3 convention.
This will mark the first time the Titans will be released physically as their Go! variations for Lego minifigures.
This will be Raven's first physical Lego minifigure overall.
Terra's evil intention to steal the Titans' secret files is a callback to "Terra-ized".
A tombstone for Grandma Voice from the episode with the same name is seen in the front yard of Titans Tower, a callback to the episode.
Mammoth is seen dancing on his day off, a reference to the episode, "The HIVE Five", where he did the same thing.
The events of "You're Fired!" are mentioned by both Jayna and Zan.
During Robin's mission, he states that he isn't sure if he ever heard Billy Numerous speak, a reference to how he only has a few speaking appearances in the show.
Robin breaks the fourth wall when the player completes his mission, saying that he learned his lesson about there being benefits of being a team in the old show and in the new show, of course referring to the 2003 Teen Titans series and Teen Titans Go!, respectively.
Raven makes a cameo in "The Goonies" Level Pack, summoned via Locate Keystone.
Gallery
Community content is available under
CC-BY-SA
unless otherwise noted.