"Legs" is the thirty-seventh episode of the first season of Teen Titans Go!, and the thirty-seventh overall episode of the series.
Synopsis
After the Titans take away her cloak as a joke, Raven finds it fun to use her legs. Meanwhile, Cyborg becomes dark and sarcastic after Raven's cloak gets stuck on his head.
Plot
The episode starts with Raven meditating peacefully, but she's interrupted by the crime alert, which the other Titans turn into a dance party. Raven gets annoyed and asks for some quiet, but she's ignored. Fed-up, she withdraws into her cloak. The Titans then say Raven is never in the mood for any fun, and that she hates everything. Starfire theorizes it is her cloak which makes her this way, but Raven scoffs at the idea.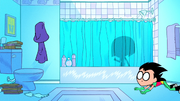 Later, as a joke, Robin sneaks into the bathroom while Raven is in the shower, and takes her cloak. He shows it to the others and puts it on, embracing it and soon, the other Titans wear it and find themselves acting more like Raven. Eventually, Raven comes in and sees Cyborg with her cloak and the Titans freak out, particularly Cyborg when he can't get it off. Raven walks in (much to everyone's shock since they've only ever seen anything but her eyes and mouth) and finds them with her cloak. To everyone's surprise she starts showing emotions, telling them how angry she is and kicking Robin repeatedly in the face when he annoys her. Starfire enjoys Raven's newfound personality; and Beast Boy has developed a fetish of her legs; but Cyborg leaves, retracting his legs and using hover jets instead to go off and meditate.
The Titans start dancing again, and Raven joins in this time, all of which annoys Cyborg (as Beast Boy's jaw drops watching her dance). During a crime alert, the Titans beat the Hive Five and Raven confronts Jinx and as Raven is about to cast a spell on her, she remembers she has legs and knows how to use them. Raven hovers down and starts to fly in mid-air and letting out her battle cry while rapidly kicking Jinx in the face. Raven then kicks Jinx a few more times before a third leg comes out and kicks Jinx. With Jinx confused, Raven closes in her legs and squishes Jinx's face. Beast Boy then compliments Raven's legs--during which Cyborg tries to be more like Raven, firing sonic blasts at the villains while chanting Raven's mantra as if he were trying to use magic. Beast Boy jokes that it isn't magic and Cyborg almost blasts him. Raven later changes her normal attire into a flashy tight golden suit with matching high-heel boots (which the Titans are all surprised, Beast Boy melts and swoons at the sight of her new look), and begins calling herself Lady Legasus. She starts fighting a lot of villains, but her ego gets to her and decides on going solo from the Titans. Easily defeating villains with her powerful legs and even building a statue to them.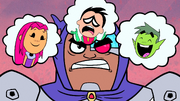 Back at Titans Tower, Cyborg still tries to use Raven's powers which leads the other Titans to tease him. Cyborg gets angry and starts attacking the others, the cloak now covering his torso with several mechanical pincers reaching out from under it and grabbing them. Meanwhile, Lady Legasus walks down the street revealing in her fame--and showing off by using her bare feet to sign autographs--when she suddenly sees on the news in a TV sales window that Cyborg is attacking her ex-teammates via her dark powers in her cloak. Lady Legasus and Cyborg have a short fight. In the end, she becomes the victor in removing her cloak from Cyborg's head and puts it back on, realizing that no one else can control the power of its dark influence. Beast Boy gets upset when Raven puts her cloak back on, covering her legs. Raven then walks away from him, but shuts her eyes, looks back, and smiles (via Terra-ized) and reveals her leg one more time, just for him. The episode ends with Beast Boy morphing into a dog and howling in delight.
Characters
Song
Trivia
It's revealed that Raven is dark and sarcastic only because of her cursed cloak.
This is Brother Blood's first appearance in the show, although he was planned to debut in the second season.
Robin breaks the fourth wall by looking to the camera and shrugging when he heard Raven singing in the shower.
This marks the first time Raven's feet have ever been seen, though her bare toes were briefly shown jutting out from her ripped socks in "La Larva de Amor". This is mostly because, in the original Teen Titans show, Raven was never once seen without her boots-- though in the episode "Wavelength", her left foot was shown briefly due to Beast Boy regurgitating her boot.

Also in the original series, the soles of Raven's boots are grey with black lines, while in this series, her boot soles have skulls.

The sound effect of Raven's boot flying through the air is the same sound effect used in "The Beast Within" when Beast Boy in the original series is flipping in the air in his were-beast form while fighting Adonis. 
This episode shows that Raven has the ability to successfully hold a pencil between her toes and write with her foot.
Unlike in the original series, Raven in this show wears socks with black flats, but not in her Lady Legasus boots. Raven is known to wear many different colors of socks, including her normal purple, blue knee socks, red knee socks, magenta knee socks, and white calf socks.
This is one of Tara Strong's favorite episodes.
Innuendo: When Beast Boy transformed into a rabbit upon seeing Raven's legs, it's a dirty joke which resembles going into heat.
Continuity
This is the second episode to center on a character's legs. The first one being "The Left Leg".
This is the fourth episode that Raven was seen unhooded or without her cloak. The previous episodes were "Laundry Day", "Meatball Party" and "Power Moves".

Although the first time Raven is seen unhooded is in "Laundry Day", this may be taken place before ''Laundry Day'' itself as this marked the first time she officially showed the other Titans her face.

This is also the fourth time someone was shown bathing or showering. The first was in "Tower Power", where we see Robin showering. The second was in "Meatball Party", where we see Raven bathing. And the third was in "Burger vs. Burrito", where we see Cyborg showering.
Next to "Matched", this episode marks the second time where Raven directly expresses her emotions.

Technically, "Colors of Raven" does not count, as her emoticlones represented different facets of her rather than her whole self. Interestingly enough, it seems that Lady Legasus is a representation of her brave and feisty side, a.k.a. "Green Raven", from the original series.

Raven is the second Titan to officially leave the Teen Titans. Starfire was about to leave in "Starliar" and Beast Boy left in "You're Fired!", though Beast Boy was dismissed from his job and kicked out.
This is the second time Beast Boy wears Raven's cloak, which he first wore in "Meatball Party", as well as the second time Starfire wore Raven's cloak, who first wore it in "Laundry Day".
The ending of this episode shows that Raven's secret feelings for Beast Boy are still strong, despite the failed attempt of marrying him in "Matched."
As shown in this episode and the episode "Terra-ized", whenever Raven is trying to deny her feelings for Beast Boy she always goes "psssh" then does a secret smile.
When Cyborg is meditating, Brainiac's face is seen on the couch.
The Riddler question mark is seen yet again.
The music when Cyborg first meditates is the same one frequently used by Raven while she meditates.

Also, music from Grab that Grub, as a stage theme, some levels of Housebroken Hero, and "No Power" when the Titans first pass through Robin's obstacle course easily plays before Cyborg holds Robin, Beast Boy, and Starfire hostage in the Tower.

One of Lady Legasus's fangirls is also one of Robin's fangirls.
References
Raven's line "I've got legs... and I know how to use 'em!" is a reference to the lyric from the ZZ Top song "Legs", which shares its title with the episode.

English synthpop group Art Of Noise also has a song with the same name. 

Raven's legs resemble Chun Li's legs from the Street Fighter series, who also uses her legs as her primary weapon. In addition, Raven's leg attacks also resemble Chun-Li's.
The amulet that fastens Raven's cloak, and the music that plays when it is shown, is a reference to The Secret of Nimh.
The scream that Robin emits after Beast Boy pulls Raven's cloak off of him is a stock sound effect that was used in various early Pink Panther cartoons.
This song that briefly played at the end of the episode was a cover song of "Baby Did a Bad, Bad Thing."
The song that Raven dances to is similar to the song "Freeze Frame" by the J. Geils band.
The speedy sound effect of the newscaster on the television that Raven watches is a Warner Bros. stock sound effect used in the Looney Tunes cartoons.
The comic book of Lady Legasus that Raven signs has DC written on the corner, as well as Darkseid on the front cover.
Errors
Cyborg could have easily taken the cloak off if he unattached his head as seen in many episodes.
Raven is now perfectly capable of walking on her feet, even though she had great difficulty in "No Power".

Raven is actually capable of doing virtually anything with her legs and feet, a sharp contrast from her struggles in "No Power".

It's possible she's had some practice during this time.

In "Laundry Day", Starfire wore Raven's cloak and didn't have any effects to it at all, as well as Beast Boy in "Meatball Party".

Also, Raven did not change personalities either with the absence of her cloak in "Laundry Day", "Matched", and "In and Out". Although Raven was grumpier in this episode than usual.

Similarly, in later episodes, Raven is happier even while she's wearing her cloak.

In numerous episodes, Raven's legs are seen, but the Titans act like this is the first time they are shown.
Raven implies that she had never tried dancing before, even though she danced in "Starliar".
Raven is shown with four toes on her left foot while her right foot has five.

In subsequent episodes, she has five toes on each foot.

Beast Boy seems to have some sort of thing for legs, according to this episode. He never fauns over Terra's legs, however, despite them always being exposed in shorts.

Or it could be the reason why Beast Boy isn't attracted to Terra's legs is maybe because hers don't have the feminine appeal and shape like Raven's do.
Running Gags
Beast Boy being obsessed with Raven's legs.
The Titans dancing.
Transcript
The transcript for "Legs" can be found here.
Gallery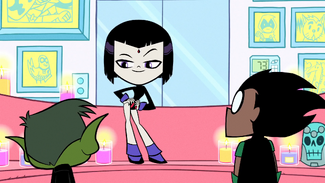 The image gallery for Legs may be viewed here.
v - e - d Episode Guide
Season 1: April 23, 2013 - June 5, 2014
Legendary Sandwich • Pie Bros • Driver's Ed • Dog Hand • Double Trouble • The Date • Dude Relax • Laundry Day • Ghostboy • La Larva de Amor • Hey Pizza! • Gorilla • Girl's Night Out • You're Fired! • Super Robin • Tower Power • Parasite • Starliar • Meatball Party • Staff Meeting • Terra-ized • Artful Dodgers • Burger vs. Burrito • Matched • Colors of Raven • The Left Leg • Books • Lazy Sunday • Starfire the Terrible • Power Moves • Staring at the Future • No Power • Sidekick • Caged Tiger • Second Christmas • Nose Mouth • Legs • Breakfast Cheese • Waffles • Be Mine • Opposites • Birds • Brain Food • In and Out • Little Buddies • Missing • Uncle Jokes • Más y Menos • Dreams • Grandma Voice • Real Magic • Puppets, Whaaaaat?

Season 2: June 12, 2014 - July 30, 2015
Mr Butt • Man Person • Pirates • Money Grandma • I See You • Brian • Nature • Salty Codgers • Knowledge • Slumber Party • Love Monsters • Baby Hands • Caramel Apples • Sandwich Thief • Friendship • Vegetables • The Mask • Serious Business • Halloween • Boys vs Girls • Body Adventure • Road Trip • Thanksgiving • The Best Robin • Mouth Hole • Hot Garbage • Robin Backwards • Crazy Day • Smile Bones • Real Boy Adventures • Hose Water • Let's Get Serious • Tamaranian Vacation • Rocks and Water • Multiple Trick Pony • Truth, Justice and What? • Two Bumble Bees and a Wasp • Oil Drums • Video Game References • Cool School • Kicking a Ball and Pretending to Be Hurt • Head Fruit • Yearbook Madness • Beast Man • Operation Tin Man • Nean • Campfire Stories • And the Award for Sound Design Goes to Rob • The HIVE Five • The Return of Slade • More of the Same • Some of Their Parts

Season 3: July 31, 2015 - October 13, 2016
Cat's Fancy • Leg Day • Dignity of Teeth • Croissant • Spice Game • I'm the Sauce • Hey You, Don't Forget about Me in Your Memory • Accept the Next Proposition You Hear • The Fourth Wall • 40%, 40%, 20% • Grube's Fairytales • A Farce • Scary Figure Dance • Animals, It's Just a Word! • BBBDAY! • Black Friday • Two Parter • The True Meaning of Christmas • Squash & Stretch • Garage Sale • Secret Garden • The Cruel Giggling Ghoul • How 'Bout Some Effort • Pyramid Scheme • Beast Boy's St. Patrick's Day Luck, and It's Bad • The Teen Titans Go Easter Holiday Classic • Batman v Teen Titans: Dark Injustice • Bottle Episode • Finally a Lesson • Arms Race with Legs • Obinray • Wally T • Rad Dudes with Bad Tudes • Operation Dude Rescue • History Lesson • The Art of Ninjutsu • Think About Your Future • TTG v PPG • Coconut Cream Pie • Pure Protein • Open Door Policy • Crazy Desire Island • The Titans Show • Booty Scooty • Who's Laughing Now • Oregon Trail • Snuggle Time • Oh Yeah! • Riding the Dragon • The Overbite • The Cape

Season 4: October 20, 2016 - June 25, 2018
Shrimps and Prime Rib • Halloween v Christmas • Booby Trap House • Fish Water • TV Knight • Teen Titans Save Christmas • BBSFBDAY! • The Streak • The Inner Beauty of a Cactus • Movie Night • BBRAE • Permanent Record • Titan Saving Time • The Gold Standard • Master Detective • Easter Creeps • Hand Zombie • Employee of the Month: Redux • The Avogodo • Orangins • Jinxed • Brain Percentages • BL4Z3 • Hot Salad Water • I Saw You Dance • The Story in Your Eyes • Playing Hard to Get • The Night Begins to Shine • Lication • Labor Day • Classic Titans • Ones and Zeroes • Career Day • TV Knight 2 • Justice League's Next Top Talent Idol Star • The Academy • Costume Contest • Throne of Bones • Demon Prom • Thanksgetting • The Self-Indulgent 200th Episode Spectacular! • BBCYFSHIPBDAY • Beast Girl • Flashback • Bro-Pocalypse • Mo' Money Mo' Problems • TV Knight 3
Season 5: June 25, 2018 - April 4, 2020
The Scoop! • Chicken in the Cradle • Kabooms • Tower Renovation • My Name is Jose • The Power of Shrimps • Monster Squad • Real Orangins • Quantum Fun • The Fight • The Groover • Justice League's Next Top Talent Idol Star: Second Greatest Team Edition • How's this for a Special? Spaaaace • BBRBDAY • Slapping Butts and Celebrating for No Reason • Nostalgia is Not a Substitute for an Actual Story • Business Ethics Wink Wink • Genie President • Tall Titan Tales • I Used to Be a Peoples • The Metric System vs Freedom • The Chaff • Them Soviet Boys • Little Elvis • Booty Eggs • TV Knight 4 • Lil' Dimples • Don't Be an Icarus • Stockton, CA! • What's Opera Titans • Forest Pirates • The Bergerac • Snot and Tears • Campfire! • What We Learned at Camp • Communicate Openly • Royal Jelly • Strength of a Grown Man • Had to Be There • Girls Night In • The Great Disaster • The Viewers Decide
Season 6: October 4, 2019 - present
Butt Atoms • TV Knight 5 • Witches Brew • That's What's Up! • Crab Shenanigans • Brobots • Brain Flip • Beast Boy on a Shelf • Christmas Crusaders • We're Off to Get Awards • Bat Scouts • Walk Away • Record Book • Magic Man • Titans Go Casual • Rain on Your Wedding Day • Egg Hunt • Justice League's Next Top Talent Idol Star: Justice League Edition • Mission to Find the Lost Stems • Drums • Guitar • Bass • You're The One
Top of the Titans: April 27, 2018 - July 20, 2018
Raddest Songs • Best Love Songs • Beast Boy & Cyborg Songs • Dance Party • Best Rivals