"Let's Get Serious" is the thirty-second episode of the second season of Teen Titans Go!, and the eighty-fourth overall episode of the series.
Synopsis
After the Young Justice heroes easily take out the H.I.V.E. while the Teen Titans make silly jokes, Robin makes the team become more serious.
Plot
This episode starts with the H.I.V.E. Five stealing radioactive tubes from a storage area, however the Titans arrive on the scene to stop them. Robin declares it is the final battle, and tries to give an intimidating speech. However, he keeps getting interrupted by the other Titans making fart sounds. He finally gets fed-up and orders the other Titans to stop, but they say he's too serious and continue with their silliness. Robin reminds them that they are the last line of superheroes, and asks if they can't be serious then who would be. Right on cue, some of the Young Justice heroes fly in and easily take down the H.I.V.E., while the Titans watch in amazement. Aqualad attacks Mammoth with a water dagger, Miss Martian stretches out her hands to punch Gizmo and Jinx, while Superboy takes out See-More and Billy Numerous, which impresses Starfire.
After the H.I.V.E. get apprehended, Robin greets Aqualad and shows his respect for them. Aqualad halfheartedly greets him back, and asks to be excused, as there was an emergency in the SN-1885 quadrant. Robin nervously pretends his team should head there as well. However, Aqualad mocks him by asking if the Titans were on their way to "a pie eating competition". At the mention of "pie" Cyborg and Beast Boy come over and begin singing "I Love Pie", before Robin shoos then away. Aqualad then exclaims how the Teen Titans bring disgrace upon real heroes. Robin desperately tries defending his team, and states that even they did things differently, ultimately they both had the same goal of capturing bad guys. Aqualad looks over at Starfire and Raven, who break Jinx out of her manacles so they could go on another Girl's Night Out. Aqualad then declares that superheroes are supposed to teach important lessons about life. Robin sheepishly states the Titans also did so, but Aqualad jeers by asking if it was lessons like "books are dangerous", or whether "burgers or burritos were better". Robin protests that there is nothing wrong with being a bit silly, but Aqualad states the Titans couldn't be serious even for one moment. Aqualad then ends the conversation by saying "Good Day." and departs in disgust.
Back at the Titans Tower, Robin makes an effort to becomes more serious, and brings up his dead parents, much to the other Titans' shock. Starfire suspects Robin is acting this way due to feeling outclassed by the Young Justice Team, who she says are "real heroes". However, Robin declares the Titans are real heroes, too, only they had forgotten their true purpose due to spending too much time fooling around, even Raven. Raven denies this, but Robin reveals he knows what Raven had been hiding, and the scene switches to Raven doing a stand-up comedy routine with Robin in the audience unamused by it. Robin reaffirms that Raven isn't funny no matter how hard she tries, but he looks up to see all the Titans making silly faces. Raven tries to get Robin to admit they're a bit funny, but he angrily denies it, and says they could be so much more than their current two-dimensional state. Robin approaches Cyborg, and tweaks his curiosity by asking if his condition as a half-human, half-machine caused him to become conflicted over his identity. Upon hearing this, Cyborg begins to think deeply and becomes more serious for a change. Starfire worries that being more serious could fracture the team, but Robin assures her that it would only make them stronger. Starfire still does not understand, to which Robin explains it is because she's an alien. The Titans finally agree to become more serious, and the "Serious Song" commences where all of the Titans undergo transformations into more serious appearances, including Silkie.
In the next scene, a computer display showing the time in 24-hour format, accompanied by the words "Breakfast time". The scene cuts to the kitchen, where the Titans indeed are eating breakfast in a serious fashion. Robin asks if anyone would like to sing a song about pie, but Cyborg says he can't, as he is too conflicted to sing. Beast Boy also adds that he feels so emotionally complex, and Raven remarks that they should've gotten serious years ago. Robin is now satisfied that his team is no longer a disgrace. Suddenly, the crime alert rings, and the Titans gather around the computer to discover the H.I.V.E. Five are about to launch a satellite capable of destroying the world. Robin declares that they must be stopped or the world will be destroyed. Starfire embraces Robin and is about to tell him something, but he pulls away, saying there isn't time before ordering the Titans away with a very serious: "Titans, Go!".
The Titans gather at H.I.V.E.'s Arctic launch site, just as they're finishing preparations for their rocket. The Titans all notice and point out how dark it is, but Robin assures them that the night only made the situation even more serious. Cyborg contemplates using his cybernetic eye to see in the dark, but reconsiders as he's still strung on losing his humanity in the process. Starfire tries again to tell Robin something, but he still brushes her off. Beast Boy then announces that it was an honor serving with the other Titans, in the case they don't return. Robin finally signals the Titans to attack with the command "Show time!".
The H.I.V.E. are about to begin their launch countdown, when the Titans show up and Robin orders them to stop. Gizmo is shocked by how serious the Titans look, as they reply they are done playing around but Gizmo still taunts them before starting the countdown. The Titans briskly take down all of the H.I.V.E., but fail to stop the launch in time and the satellite flies. Cyborg questions how to stop it as Robin decides the only way to stop the rocket is using "serious firepower". Cyborg proceeds to transform into a gigantic artillery, and attaches to Beast Boy in Tyrannosaurus Rex form. The other Titans jump on top, and they unleash a massive laser burst that destroys the rocket.
After their accomplishment, the Young Justice team arrives complimenting them. Aqualad is impressed by the Titans' work, explaining they had come to clean up the Titans' mess, but there was no longer any need since as the Titans had it under control. Robin points out that Aqualad had misjudged the Teen Titans however, Aqualad voices concern that the Titans had become too serious. However, the Titans scare him with in response before having another "life and death" emergency to attend to, and they depart from the scene, with Robin feeling "this is only the beginning".
Back the Titans' living room, Robin is surprised that Aqualad said the Titans are "too serious", but he is dismissed by Beast Boy. Cyborg drinks all of Beast Boy's orange juice, and Beast Boy demands to know why. Cyborg bluntly states that he was thirsty, but Beast Boy refuses this excuse because his name was on the carton. He finally declares that if he can't trust Cyborg with juice, he can't trust him at all, and Cyborg reciprocates the sentiment. As Robin attempts to defuse the situation, Raven urgently exclaims that her inner demon is feeding on their anger. Starfire cries from everyone's anger as the dysfunction reaches a climax as all of the Titans scream at each other, causing Titans Tower to explode. As the Titans all go their separate ways, Robin admits that, he thought being serious would bring the Titans together, it has instead driven them apart. It seems the episode is about to end on a sorrowful cliffhanger.
However, this scene cuts to the same computer screen from earlier with the printout, "Next week on Teen Titans Go!". The final scene shows all of the Titans back in the Tower, acting all silly again, while Robin ashamedly shakes his head.
Characters
Songs
Trivia
This episode aired one year after "Birds".
This is the second crossover episode of the series. The first was "The Best Robin".
This episode is the first one to have two previews available before the release date.
This episode likely pokes fun at those who complained about Teen Titans Go! having a much more light-hearted tone than the original series, as well as replacing Young Justice.

Aqualad technically breaks the fourth wall when he calls Robin out, as he addresses many of the real-life complaints by older fans that Teen Titans Go! is too silly and not as serious or mature.

Aqualad (Kaldur'ahm) is voiced by Khary Payton, who also voices him in Young Justice.
This is the first time Robin's parents are mentioned, and it is confirmed that they are dead.

However, it's possible that he's referencing Batman's dark, brooding nature, as Batman's parents are also dead.

This is the first time Raven has willingly joined in on the other Titans' silliness.
It's interesting to note that, although Raven finds Robin's jokes funny ("Uncle Jokes", "Hose Water"), Robin doesn't find Raven's jokes funny.
This is the first time that Starfire advances on Robin, and he pushes her away.
Raven and Beast Boy's "serious faces" had variations in the episode.

For Raven, it starts off with a prominent chin, before it becomes skeletal thin.
For Beast Boy, the first one occurring during the transformation in the scene where they show all the Titans singularly in serious form.

This is the first (and only) episode to show a "next episode" preview, though it's a false one.
Producer of the show, Michael Jelenic, made an appearance in this episode.
Continuity
References
On the sign at the beginning of the episode, "personal" is misspelt as "personnel", which could be a reference to the Coldsteel the Hedgehog meme.
The Young Justice heroes make a guest appearance.
The guy laughing at Raven's joke sounds just like on the 1989 series Seinfeld. 
This episode contains several references to the original Teen Titans series:

Cyborg's internal struggle with his humanity and his machine side from the original series.
Robin's line, "there is good, and there is evil, and the line between them is clear", is a reference to a line he said in the original Teen Titans episode "X".
Raven referring to the monster within her is likely a reference to Raven dealing with the evil within her from her demonic heritage.
The scene where Starfire leaves the Earth is very similar to how she departs in "Transformation".

Billy Numerous is shown holding an AK-47 in one scene.
This whole episode is a reference to the people who think this series is too silly compared to the original series.
When the "serious" Titans walk towards the Hive Five, it could be a reference to the way the Justice League walks in the intro from the 2001-2004 series.
The designs of the "serious" Titans were based on Jojo's Bizarre Adventure, this may not be true.
Even though Superboy does not have the ability to fly, as his DNA is half human (from Lex Luthor), he can acquire that power by using Shields, shield-shaped patches created by Lex Luthor, which suppress his human DNA. His lack of smiles may be because of one of the Shields' side-effects: he goes berserk.
Errors
The H.I.V.E. were able to launch their rocket, despite being captured by Young Justice.
When Starfire asks Raven and Jinx if they would like to have another girls night out, She is seemingly voiced by Tara Strong instead of Hynden Walch.
It's unknown how Aqualad would be aware of the events that happened in the episodes Books and Burger vs. Burrito, as both of those things took place within the Titans Tower. And even in instances where they were outside, spectators would have no idea what was going on unless they were close enough to hear what the Titans were saying.
Running Gags
The Titans engaging in silliness.
The Titans being serious.
The Titans fighting over a juice box.
Starfire wanting to tell Robin how she feels about him.
Transcript
The transcript for "Let's Get Serious" can be found here.
Gallery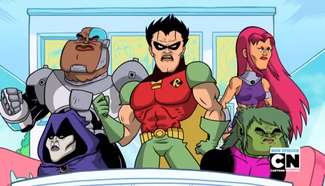 The image gallery for Let's Get Serious may be viewed here.