"Lication" is the thirty-first episode of the fourth season of Teen Titans Go!, and the one-hundred-eighty-eighth overall episode of the series.
Summary
Robin introduces the other Titans to a money-making application but they soon learn the dangers of a shareconomy.
Plot
TBA
Characters
Trivia
Terra made her first appearance in the fourth season of the series.
In the Cartoon Network App, this episode was paired up with "Hot Salad Water".
Continuity
References
Transformers are mentioned by Beast Boy.
A poster with Darkseid on it can be seen on the wall by the Titans' elevator.
Many of the items that the Titans make available on the application reference various objects from the DC universe. Robin, for example, has a "previously used" crowbar that bares a resemblance to the one the Joker used to beat Jason Todd. Beast Boy has a Kryptonite spear for when "that dude in blue gets out of control" and also the Joy Buzzer used by the Joker in the 1989 Batman film. And Cyborg has a Mother Box that he declares is perfect for all mothers, including Marthas!
The Titans also offered to share other items on the application that reference non-DC properties. Beast Boy has a wand with a Thestral core from the Harry Potter series, a cloak of invincibility, a ring of power from Lord of the Rings, and a respirator and steering wheel from the latest Mad Max movie. Cyborg has a maze etched on a scalp that may be referencing a symbol seen often on the Westworld series. Two other items that Cyborg has available for sharing is his right human ear (shown as an image that depicts a Vincent van Gogh portrait) and his left foot, referencing the autobiography, My Left Foot.
When Raven mentions "the robot apocalypse", an image of a robotic humanoid with a Kryptonite core is shown standing over many piles of skulls. This is a reference to the Terminator series and a depiction of Metalllo, one of Superman's enemies.
The motorcycle store, Main Man Motorcycles, and the grandma store (Goodness Granny) appear to reference DC characters Lobo and Granny Goodness. Another store (The Dreaming) is a reference to a fictional location in the DC universe.
Errors
Running Gags
The Titans saying "application" with some emphasis on "lication".
Robin keeping Starfire's tooth brush in his mouth.
Transcript
The transcript for "Lication" can be found here.
Gallery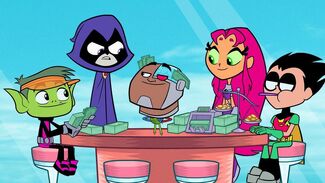 The image gallery for Lication may be viewed here.
Community content is available under
CC-BY-SA
unless otherwise noted.