Lil Yachty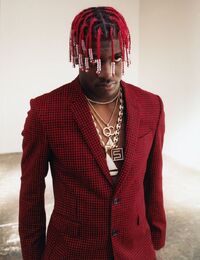 Role   -   Rapper
Character   -   Green Lantern
Date of birth   -   August 23, 1997 (age 23)
Miles Parks McCollum, more commonly known as Lil Yachty or sometimes Lil Boat, is an American rapper from Atlanta, Georgia. He appeared as a guest star voicing Green Lantern in Teen Titans Go! To the Movies.
History
Rap Career
On August 23, 1997, Miles McCollum was born in Mableton, Georgia. Growing up, Miles wanted to stand out and express himself. One of his ways of doing this was dying his hair red as a tribute to Ronald McDonald. In his teenage years, McCollum joined a rap group called the Yacht Club, and, being the youngest of the group, he adopted the name Lil Yachty.
After attending college for two months, Lil Yachty dropped out (he later remarked that the whole experience was "trash") and moved from Atlanta to New York. His goal was to perfect his bars and get in touch with producers. For the most part, the trip was a success, but he was far from reaching the top of the game.
SoundCloud, the career kick starter for virtually every modern-day rapper, gave Lil Yatchy a huge break when his 2015 song "One Night" began rolling in the views. His crazy music video for the song brought him even more prominence and fame. In March of 2016, his debut mixtape, Lil Boat was released, and in the following month, a collaboration with Does Real Ass Music on the song "Broccoli" brought Yachty to number 5 on the Billboard Hot 100.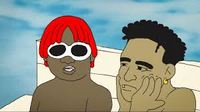 From then on, Miles has sense released the Summer Songs 2 mixtape, the two albums Teenage Emotions and Lil Boat 2, and has had numerous successful songs and colabs including "iSpy" with SuperDuperKyle, the Coloring Book mixtape with Chance the Rapper, "From the D to the A" with Tee Grizzley, "With My Team" beside Creek Boyz, and numerous others. He has signed off with 3 labels, Quality Control Music, Capitol Records, and Motown Records.
Lil Boat's success in rapping brought him a minor role as a voice actor in Teen Titans Go! to the Movies. He voices Green Lantern. It's unknown whether he'll return for any episodes in the TV show.
Trivia
The John Stewart Green Lantern has been in Teen Titans Go! before in the episode "Real Boy Adventures", but he had a non-speaking role. If He appears again, he'll likely be a cameo, and so Lil Yachty prolly won't be needed.
Gallery