For information on the real-life rapper, click here.
Lil Yachty is a tight rapper from the Teen Titans Go! music video remix of "GO!." He's based on a real life artist of the same name, and he's only voiced by him. So far he has yet to make an appearance in any official episodes.
History
Balloon Man is wreaking havoc upon Jump City when, from out of nowhere, a green blast hits him in the head. Wondering who shot the laser, Beast Boy asks Cyborg to pop in a cassette tape titled "Who We Is!" to let him know...
Lil Yachty shows up, rapping on the scene, laying down bars like nobody has seen. He lets the villain know who he's dealing with, the Teen Titans, everyone knows they're really lit! First there's Beast Boy, the human/animal, then there's Starfire, so brought that she's almost intangible! Lil Boat next goes to Cyborg, so brave, there's nothing he wouldn't die for! Robin's deemed the bo-staff leader, and Raven, well, no one can defeat her!
After Lil Yachty finishes up the last chorus, he kindly advertises the move for July 27th.
Characteristics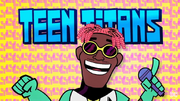 The best way to summarize Lil Yachty's outfit is super fresh. Taking inspiration fro
Robin
, Lil Yachty wears a white T-shirt with green sleeves and yellow outlines. Instead of Robin's trademark "R," Lil Boat has a little boat symbol with the letters "LY." A utility belt helps hold up his pink pants, and his metal-tipped shoes are outlined in purple. In addition to green gloves, he also borrows a cape from Robin's wardrobe. Lil Yachty's hair is died red and tied up in little beaded braids, and it's also worthy noting that his teeth are white (because they're customarily gold). His whole look is finished up with some ill gold-plated, dark purple tinted shades.
Appearances
Trivia
In addition to his own character, Lil Yachty also voiced Green Lantern in Teen Titans Go! to the Movies.
In reality, Lil Yachty's not as...thin. He's not fat, but he's definitely not a bodybuilder.
A cartoon version of Lil Yachty has also been seen in Kyle's lyric-music video "iSpy," a considerably more vulgar rap.
Lil Boat's real name is Miles Parks McCollum.
Gallery