Although a lot of heroes are limited to one or two superpowers/skills, many characters in
Teen Titans Go!
are gifted with a wide array of abilities. This page, a
List of Powers and Abilities
, is for specifically showcasing the various superpowers and talents of heroes/villains throughout the series.
While the primary abilities are shown on the main characters' pages, this article is meant to go more in depth into their powers. For example, Beast Boy's main page only lists several of his prominent animal transformations throughout the show; this article will go through all of them.
All of Robin's Equipment and Skills are listed on the main page.
Skills
Temporary Powers
Cybernetic Physiological Abilities
Weapons and Equipment
Skills
Temporary Powers
Made up/Fantasy Powers
Metahuman Physiological Abilities
Skills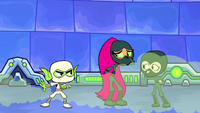 All of Raven's Powers and Abilities are listed on the main page.
Other Characters
TBA