"Little Buddies" is the forty-fifth episode of the first season of Teen Titans Go!, and the forty-fifth overall episode of the series.
Synopsis
Tired of being the only one of the Titans without a little buddy sidekick, Cyborg adopts Brother Blood's henchman, Pain Bot, and sneaks him into the tower. Now Cyborg just has to keep the other Pain Bot from harming the other Titans
Plot
The Teen Titans confront Brother Blood in the streets of Jump City at night. They manage to bombard him easily with attacks until the villain presses a button on his remote that summons Pain Bot, which intimidates the Titans. Robin volunteers to combat the robot as the others cower in fear watching their leader get pummeled. They weakly decide to help but are all captured and tortured by Pain Bot. Starfire successfully shoots Pain Bot with her eye blasts, crippling him. Robin orders Beast Boy to distract Pain Bot by using his face as bait and throws a birdarang at Brother Blood, seemingly killing him and destroying the remote. Beast Boy asks if his face looks OK. However, he lifts his head to reveal it has disfigured. Pain Bot slowly comes up to the Titans to scare them except for Robin, who unveiled that the robot is harmless without the remote. Cyborg approaches the robot, who weakly claims all it knows is pain. Saddened, as a result, Cyborg sneaks Pain Bot into his room for repairs despite the others telling him not to.
In his room, Cyborg screws in Pain Bot's control panel and replaces its bulb. He decided to adopt the robot as his little buddy. Outside, he throws a baseball which Pain Bot catches and throws back. Unfortunately, Pain Bot breaks half of Cyborg's face off. He sneaks Pain Bot past Raven in the living room and drags it away as the robot attempts to maim her. Exiting the kitchen, Pain Bot spots Beast Boy playing video games and fires lasers which misses, but is dragged away by Cyborg. While walking down the hallway, Cyborg hides Pain Bot behind his back as the robot activates its weaponry. Robin walks by but quickly flees in terror after seeing the violent gadgets. Later, on the couch, Raven asks the Titans if they had seen Beast Boy. Starfire replies that his screams and metal pounding were emitting from the kitchen. Cyborg realizes Pain Bot must be attacking Beast Boy and attempts to stop the Titans from investigating. Robin orders the Titans to follow the blood and meat chunks into the kitchen and spot Beast Boy crying in pain as Pain Bot had put pepperoni in his pizza despite him being a vegetarian.
Robin orders Cyborg to explain about Pain Bot's being in the Tower. Cyborg angrily yells that he hates not having a little buddy like Silkie to Starfire, but Robin replies no one has a little buddy until Birdarang reveals itself. The Titans claim that their buddies aren't dangerous, only for Cyborg to remind them that Beast Boy adopted a wolf named Dave, who proceeds to eat meat out of the refrigerator, while Raven has a carnivorous, evil Demon for a buddy. Cyborg pleads for a chance to show them Pain Bot's good side. The Titans awe over the robot until it grabs Robin and beats him in the living room prompting Starfire, Beast Boy, and Raven to tell Cyborg to get rid of Pain Bot. At a bus stop, Cyborg sadly watches as Pain Bot boards a bus and the two sing about their pain. The robotic Titan resolves to get the robot back and returns to the Tower.
The two reunited buddies eat Bat-O's as the Titans confront Cyborg for bringing Pain Bot back. Cyborg replies he doesn't care and will only do so if the others get rid of their little buddies. Starfire retorts that she will not give up Silkie as Dave drags Robin into the living room to maul him. As such, Cyborg decides to have a Little Buddy Showdown, where the victor remains the only little buddy residing in the Tower. At a rink, Pain Bot faces Dave and frightens the wolf with its weaponry. Its next opponent, Foul Demon, punches the robot, but the robot squashes the demon underneath a strong punching glove. Robin tells Birdarang and Beat Box to execute their practiced maneuver, but the two begin to dance and are destroyed by Pain Bot. Multiple rounds pass with the Universe Tree has burned and Super Robin killed by a laser. Cyborg deems Pain Bot the winner, but Starfire reminds him of Silkie. The robotic Titan laughs at Silkie, claiming to Starfire that he has no chance. However, the larva roars and swallows Pain Bot in one gulp. The other Titans cower in fear as Cyborg vouches to get rid of Silkie due to being too dangerous.
Characters
Song
Trivia
All the Little Buddies are together for the first time.

All the little buddies have made several appearances prior to this episode, except Dave, who made his debut in this episode.
Pain Bot and Silkie are revealed to be the strongest Little Buddies.
The Demon and Dave are most likely the next strongest.

Super Robin, Beat Box, and Universe Staff are the only little buddies to "die" in this episode.
Although Beat Box and Birdarang were partly created from Cyborg's possessions, Robin inherits both as his Little Buddies.
Each Titan apparently has their own "Little Buddy", but Robin has the most, having four little buddies.
Cyborg "bleeds" green machine oil after shaking hands/swords with Pain Bot, since both his hands are mechanical.
Continuity
References
Cyborg says to Raven, "Miss, I get by with a little help from my demons." This is most likely a reference to the Beatles song, I Get By with a Little Help from My Friends.
Errors
Cyborg doesn't short out while singing in the rain during Pain.
Despite Robin saying that Pain Bot is harmless without the remote, he still doesn't trust Pain Bot, and even bans Cyborg from keeping him.
Beast Boy's disfigured face is suddenly healed when the Titans scream.
Running Gags
Cyborg getting hurt by Pain Bot.
Robin getting dragged away and getting hurt by Dave.
Transcript
The transcript for "Little Buddies" can be found here.
Gallery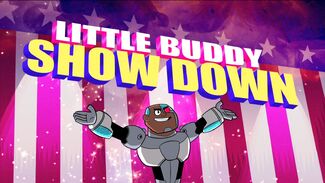 The image gallery for Little Buddies may be viewed here.
v - e - d Episode Guide
Season 1: April 23, 2013 - June 5, 2014
Legendary Sandwich • Pie Bros • Driver's Ed • Dog Hand • Double Trouble • The Date • Dude Relax • Laundry Day • Ghostboy • La Larva de Amor • Hey Pizza! • Gorilla • Girl's Night Out • You're Fired! • Super Robin • Tower Power • Parasite • Starliar • Meatball Party • Staff Meeting • Terra-ized • Artful Dodgers • Burger vs. Burrito • Matched • Colors of Raven • The Left Leg • Books • Lazy Sunday • Starfire the Terrible • Power Moves • Staring at the Future • No Power • Sidekick • Caged Tiger • Second Christmas • Nose Mouth • Legs • Breakfast Cheese • Waffles • Be Mine • Opposites • Birds • Brain Food • In and Out • Little Buddies • Missing • Uncle Jokes • Más y Menos • Dreams • Grandma Voice • Real Magic • Puppets, Whaaaaat?

Season 2: June 12, 2014 - July 30, 2015
Mr Butt • Man Person • Pirates • Money Grandma • I See You • Brian • Nature • Salty Codgers • Knowledge • Slumber Party • Love Monsters • Baby Hands • Caramel Apples • Sandwich Thief • Friendship • Vegetables • The Mask • Serious Business • Halloween • Boys vs Girls • Body Adventure • Road Trip • Thanksgiving • The Best Robin • Mouth Hole • Hot Garbage • Robin Backwards • Crazy Day • Smile Bones • Real Boy Adventures • Hose Water • Let's Get Serious • Tamaranian Vacation • Rocks and Water • Multiple Trick Pony • Truth, Justice and What? • Two Bumble Bees and a Wasp • Oil Drums • Video Game References • Cool School • Kicking a Ball and Pretending to Be Hurt • Head Fruit • Yearbook Madness • Beast Man • Operation Tin Man • Nean • Campfire Stories • And the Award for Sound Design Goes to Rob • The HIVE Five • The Return of Slade • More of the Same • Some of Their Parts

Season 3: July 31, 2015 - October 13, 2016
Cat's Fancy • Leg Day • Dignity of Teeth • Croissant • Spice Game • I'm the Sauce • Hey You, Don't Forget about Me in Your Memory • Accept the Next Proposition You Hear • The Fourth Wall • 40%, 40%, 20% • Grube's Fairytales • A Farce • Scary Figure Dance • Animals, It's Just a Word! • BBBDAY! • Black Friday • Two Parter • The True Meaning of Christmas • Squash & Stretch • Garage Sale • Secret Garden • The Cruel Giggling Ghoul • How 'Bout Some Effort • Pyramid Scheme • Beast Boy's St. Patrick's Day Luck, and It's Bad • The Teen Titans Go Easter Holiday Classic • Batman v Teen Titans: Dark Injustice • Bottle Episode • Finally a Lesson • Arms Race with Legs • Obinray • Wally T • Rad Dudes with Bad Tudes • Operation Dude Rescue • History Lesson • The Art of Ninjutsu • Think About Your Future • TTG v PPG • Coconut Cream Pie • Pure Protein • Open Door Policy • Crazy Desire Island • The Titans Show • Booty Scooty • Who's Laughing Now • Oregon Trail • Snuggle Time • Oh Yeah! • Riding the Dragon • The Overbite • The Cape

Season 4: October 20, 2016 - June 25, 2018
Shrimps and Prime Rib • Halloween v Christmas • Booby Trap House • Fish Water • TV Knight • Teen Titans Save Christmas • BBSFBDAY! • The Streak • The Inner Beauty of a Cactus • Movie Night • BBRAE • Permanent Record • Titan Saving Time • The Gold Standard • Master Detective • Easter Creeps • Hand Zombie • Employee of the Month: Redux • The Avogodo • Orangins • Jinxed • Brain Percentages • BL4Z3 • Hot Salad Water • I Saw You Dance • The Story in Your Eyes • Playing Hard to Get • The Night Begins to Shine • Lication • Labor Day • Classic Titans • Ones and Zeroes • Career Day • TV Knight 2 • Justice League's Next Top Talent Idol Star • The Academy • Costume Contest • Throne of Bones • Demon Prom • Thanksgetting • The Self-Indulgent 200th Episode Spectacular! • BBCYFSHIPBDAY • Beast Girl • Flashback • Bro-Pocalypse • Mo' Money Mo' Problems • TV Knight 3
Season 5: June 25, 2018 - April 4, 2020
The Scoop! • Chicken in the Cradle • Kabooms • Tower Renovation • My Name is Jose • The Power of Shrimps • Monster Squad • Real Orangins • Quantum Fun • The Fight • The Groover • Justice League's Next Top Talent Idol Star: Second Greatest Team Edition • How's This for a Special? Spaaaace • BBRBDAY • Slapping Butts and Celebrating for No Reason • Nostalgia is Not a Substitute for an Actual Story • Business Ethics Wink Wink • Genie President • Tall Titan Tales • I Used to Be a Peoples • The Metric System vs Freedom • The Chaff • Them Soviet Boys • Little Elvis • Booty Eggs • TV Knight 4 • Lil' Dimples • Don't Be an Icarus • Stockton, CA! • What's Opera Titans • Forest Pirates • The Bergerac • Snot and Tears • Campfire! • What We Learned at Camp • Communicate Openly • Royal Jelly • Strength of a Grown Man • Had to Be There • Girls Night In • The Great Disaster • The Viewers Decide
Season 6: October 4, 2019 - May 1, 2021
Butt Atoms • TV Knight 5 • Witches Brew • That's What's Up! • Crab Shenanigans • Brobots • Brain Flip • Beast Boy on a Shelf • Christmas Crusaders • We're Off to Get Awards • Bat Scouts • Walk Away • Record Book • Magic Man • Titans Go Casual • Rain on Your Wedding Day • Egg Hunt • Justice League's Next Top Talent Idol Star: Justice League Edition • Mission to Find the Lost Stems • Drums • Guitar • Bass • You're The One • Where Exactly on the Globe is Carl Sanpedro? - Part 1 • Where Exactly on the Globe is Carl Sanpedro? - Part 2 • Where Exactly on the Globe is Carl Sanpedro? - Part 3 • Where Exactly on the Globe is Carl Sanpedro? - Part 4 • Ghost With the Most • Bucket List • TV Knight 6 • Kryptonite • Thumb War • Toddler Titans…Yay! • Baby Mouth • The Cast • Superhero Feud • Lucky Stars • Various Modes of Transportation • Cool Uncles • Butter Wall • BBRAEBDAY • Don't Press Play • Real Art • Just a Little Patience...Yeah...Yeah • Villains in a Van Getting Gelato • I Am Chair • Bumgorf • The Mug • Hafo Safo • Zimdings
Season 7: January 8, 2021-present
Justice League's Next Top Talent Idol Star: Dance Crew Edition • Feed Me • Pig in a Poke • P.P. • A Little Help Please • Marv Wolfman and George Pérez • Space House - Part 1 • Space House - Part 2 • Space House - Part 3 • Space House - Part 4 • Cy and Beasty • T is for Titans • Creative Geniuses • Manor and Mannerisms • Trans Oceanic Magical Cruise • Polly Ethylene and Tara Phthalate • EEbows • Batman's Birthday Gift • What a Boy Wonders • Doomsday Preppers • Fat Cats • Jam • DC • Pepo the Pumpkinman • Breakfast • Captain Cool • A Doom Patrol Thanksgiving • Glunkakakakah • Control Freak • A Holiday Story • The Drip • Standards & Practices • Belly Math • Free Perk • Go!
Top of the Titans: April 27, 2018 - July 20, 2018
Raddest Songs • Best Love Songs • Beast Boy & Cyborg Songs • Dance Party • Best Rivals