For the character in Beast Boy's campfire story, click
here
.
Lumberjack is a tree harvester in the forests surrounding Superhero Summer Camp. In addition to cutting trees, he's also in the business of cutting down Robin's relationships, taking his partners without pity.
Currently, Lumberjack has only appeared in one episode: Season 5's "The Bergerac," part of Super Summer Hero Camp.
History
As the Titans recalled their first kisses in "The Bergerac," Robin had a flashback of his first smooch... it was with a tree. But still, emotional. Things went badly, though, when a Lumberjack chopped down his girlfriend. From that day, he swore revenge on the thief.
Later on when Robin was courting Wonder Girl at Superhero Summer Camp, Lumberjack popped out of the forest, intent on robbing Robin's love again; he even chucked his ax at the Titan to show he wasn't playing. Robin charged the beastly man, only to be pounded and stomped into the ground. However, Lumberjack had no knowledge of just how powerful Robin's thighs were. The hero burst out of the ground, flew into the air, and smacked Lumberjack silly with his thick thighs. Pain and/or humiliation sent the tree chopper crying into the forest, defeated.
Physical Appearance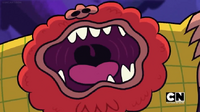 Getting wood is a physically demanding profession, but Lumberjack is up to the challenge... he's completely jacked, with an arm size about at thick as Robin's head. The sleeves of his yellow collar shirt have been ripped off, prolly from too much flexing. A brown belt holds up Lumberjack's bluejeans, and he's got high red socks underneath his brown work boots. Additionally, red facial hair flows freely from his face, and a green beanie hat tops his head. And of course, he likes to carry around a big ax. Lumberjacks.
Powers and Abilities
Strength: With one fist, he can bury a human into the ground—an exceptionally fit one at that.
Ax Throw: It's difficult to get a blade's edge to get contact with the target, but Lumberjack had an excellent, well-timed throw at Robin, even if her missed.
Appearances
Trivia
Beast Boy plays a similar counterpart named Lumberjack Dude in his story in "Campfire Stories" from Season 2. But this Lumberjack is the real deal.
Lumberjack's real name is unknown, so this article just goes with what he's called in "The Bergerac."
During Robin's flashback about his tree girlfriend, Lumberjack probably chopped off the tree only to sell it for a living, since that's what his occupation title stands for.
Gallery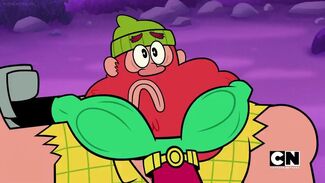 The image gallery for Lumberjack may be viewed here.
Community content is available under
CC-BY-SA
unless otherwise noted.