Más is the twin brother of Menos and is a member of Titans East and also a minor character in Teen Titans Go! who made a cameo debut in "Starliar" and made an official debut in "Más y Menos". He is voiced by Freddy Rodriguez.
Biography
He was first briefly seen in "Starliar" during a flashback of a past party the Titans went to, disgusted by their actions.
In the episode "Más y Menos," Más and Menos are taken up as Robin's students. Robin takes a liking for Más, but despises Menos. Robin would constantly hold favoritism towards Más, which eventually leads to the point where he tricked Menos away so that he could teach Más alone. Later, Robin gets questioned about Menos' whereabouts, to which Robin dresses up as Menos, however Más easily sees through his disguise. Shortly after the real Menos returns and the two brothers happily hive five, due to being apart a long time, they release a lot of energy that could potentially destroy the Earth. The Titans try to vainly stop them, until Robin stands in their way and finally ends it, at the cost of getting severely injured.
In "Yearbook Madness", he seen dining at the Yum Yum Kitty Diner with his teammates. Robin forces him and his twin brother to sign his yearbook.
He is briefly seen with his teammates getting tortured by the Legion of Doom (the Titans villainous team counterpart) in "Snuggle Time". He and his brother compete in "Justice League's Next Top Talent Idol Star", with tap dancing being their act. In "Costume Contest", him and Menos attend the Costume Party dressed as skeletons. Bumblebee, dressed as a Grim Reaper, scared Más and Menos away, taking their candy.
He competed again with his whole team in "Justice League's Next Top Talent Idol Star: Second Greatest Team Edition".
He later attends the Super Summer Hero Camp. As revealed in "Forest Pirates", Robin gave him and the rest of the Titans East "poop yogurt" to get them sick and to not participate in the canoe race. The male Titans East members have recovered prior to "Snot and Tears", and they appear for the rest of the arc.
Abilities
Super Speed: He is able to run at a very fast speed, but only when touching his brother.
Episode Appearances
Comics
Trivia
"Más" means more in Spanish. It also means "plus".
Freddy Rodriguez also voiced Caesar Salazar, Rex's older brother, from Generator Rex.
Like his brother, Más has a little crush on Starfire.
Like his brother, they have an exceptional love of tamales; they were both offended when everyone was eating pizza.
Along with Menos, they both share a similarity to the Pokemon Plusle and Minun as they're both 2 pairs of friends who are usually seen together and their names are references to the words plus and minus.
His eyes are more narrow in his debut in "Starliar". He also has a big gap in his teeth like his brother as opposed to having a smaller one like in later episodes.
Más and his brother are the Titans East members with the least amount of speaking roles in the series, at only one episode (excluding their dubbed-over line in "The Cape").
Voice in other languages
Péter Szokol (Hungarian)
Original (Italian)
Damian Victor Oancea (Romanian)
? (Polish)
Duda Espinoza (Brazil)
Freddy Rodrigez (same English)
Gallery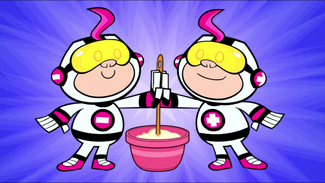 The image gallery for Más may be viewed here.