It seems I am too clever for the Teen Titans, no?

--Madame Rouge (In "Beast Girl")

Madame Rouge (Laura DeMille) is a villain and a member of The Brotherhood of Evil, who made her debut in issue 3 "Idol Hands", of the comic series. 
She made a series debut as the antagonist in the episode "Beast Girl". She is voiced by Hynden Walch.
Biography
TBA
Physical Appearance
Madame Rouge is a tall slender Russian woman. She has short black hair, blue eyes, red lips, and peach skin. She wears a red and black suit and black gloves.
Appearances
Comics
Teen Titans Go! To Camp (cameo)
Powers and Abilities
She possesses total control over her body structure, enabling her to change her shape and appearance at will. She is a master of disguise, able to assimilate even the voice of the persons she imitates, and may stretch her limbs across long distances. Rouge also possesses enhanced strength, endurance and speed.
Trivia
In the original series, Madame Rouge is voiced by Starfire and Blackfire's voice actress, Hynden Walch. Walch reprises her role in Teen Titans Go! 
She is one of the few villains to successfully defeat the Titans in her debut appearance, although she was ultimately defeated by the Titans' opposite-gendered counterparts. 
She is the third member of the Brotherhood of Evil to appear in the show, after The Brain and Monsieur Mallah, who both debuted in "Brian".
She is the twenty-eighth villain from the original series to return. 

She is the seventh one to debut in a comic before an episode (the others are Killer Moth, Mumbo Jumbo, The Brain, Monsieur Mallah, Mad Mod, and Slade). She is also the only one of the seven to have appeared in more than one comic before making an episode debut.
She is also the only villain from the original series to debut in Season 4.

While Rouge is the French word for "red" or "cosmetic blush", the show follows the original series in switching her origin to Eastern European.
Gallery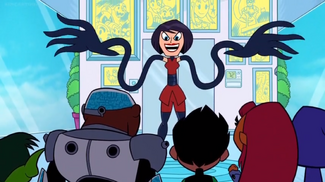 The image gallery for Madame Rouge may be viewed here.