"Magic Man" is the 14th episode of the sixth season of Teen Titans Go!, and the two-hundred-seventy-fifth overall episode of the series.
Summary
In a quest to become a magic man, Beast Boy accidentally destroys Raven's Spellbook, so they must find another in the Azarath Library from the ancient Book Wizard.
Plot
Raven is just hanging around with herself when she spots Beast Boy slurping ketchup for lunch, as the fridge has run out of proper food supplies. Wanting Beast Boy to have proper meals, Raven decides to conjure up some vegetables for Beast Boy, who gets fascinated by her magic.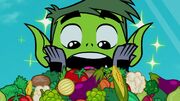 Beast Boy then struggles to watch television which has busted, so Raven creates a portal for him to watch the drama about Kensington, Tabitha, and Kensington's pregnant evil half-brother. Beast Boy immediately has the urge to go to the toilet. Thus Raven once again complies. Impressed by Raven's magic, Beast Boy requests Raven to teach him magic so that he can become a "magic man" that can do tasks easily. Raven rejects him, as she states that magic is a dangerous art that takes grueling discipline to master, not a shortcut. However, Beast Boy fails to understand her explanation and continues to beg, so she has enough of him and insults him for being a goof before teleporting herself away.
But of course, Beast Boy is the naughty goof who can care less about instructions, so he stealthily sneaks into Raven's room as a spider and can't help but touch Raven's spellbook while Raven is sleeping. However, right after Beast Boy chants Raven's mantra, he accidentally unleashes lots of evil spirits. Realizing that he has startled Raven, he tries to put her back to sleep and hopes to fix his mess by chanting the mantra again, only to release more fiery demons. To make matters worse, one of the fire demons makes Beast Boy let go of the book, much to his horror, and within seconds...the book is incinerated and reduced to nothing but ashes. Raven is reasonably indignant to Beast Boy and therefore prepares to destroy him, but...nothing happens?
As it turns out, Raven cannot perform any spells without her spellbook (although she can still punch Beast Boy with her bare fist). Having no other choice, she tells Beast Boy that she has to head to the public library of Azarath- a place that gathers shared knowledge of witches, wizards, and magical creatures- to get the second copy. To punish Beast Boy for his mistake, she leaves him behind and states that he can never be a wizard. She then summons the Thorpighor and gets to Azarath in no time.
But when Raven wanders in the library, she quickly and angrily realizes that she is not alone, as Beast Boy being a nosy person with "magic intentions" has been tagging behind her the whole time! So she spares him off by telling him to stay at the kids' corner while she searches for her second copy, but it isn't as easy as she has expected as a goober Round Demon Kid grabs her book first. Beast Boy, having traded his uniform for a cape and hat (which means he can be half-naked) from a demon dad, performs a magic burrito spell he has learned from a burrito spellbook so that he can lure the Round Demon Kid to hand him the book. Unfortunately, that kid forgets to close his mouth and is sensitive to spice, which results in the second copy being burned to ashes! Distraught and disgruntled, Raven almost dumps Beast Boy behind but still has to let him accompany her journey to search for the Book Wizard, who is the only one that can publish a new copy for her.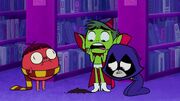 Throughout the entire journey, Beast Boy volunteers to help Raven out with his silly burrito magic: conjuring a bridge, beating up an ogre with a sword, creating a boat to cross a poisonous river, defending Raven from two wolves (by making himself akin to a burrito) and getting past a dragon with a wagon. Nevertheless, Raven remains ungrateful for his help, and after arriving at the Book Wizard's apartment, she finally snaps at him. Beast Boy is left outside the building despondent after Raven contacts the Book Wizard and enters the dwelling.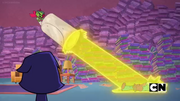 After entering the book-crammed flat, Raven is greeted by the old Book Wizard. At first, they simply bring up the spellbook casually...until Raven informs him that both copies of the book have perished. He descends into a rage, and refusing to hear Raven's explanation, he reveals his muscularity and prepares to annihilate her when Beast Boy intervenes just to defend Raven. The Book Wizard deems him as a wimp who only has silly burrito powers and decides to have a showdown with Beast Boy. But it turns out the wizard has challenged the wrong opponent because...Beast Boy manages to wrap his fireballs and shoot burritos at him, much to his shock! What's more, Beast Boy has a counterattack burrito that shoots out a powerful beam which quickly...renders the wizard into a powerless burrito. As for Raven, she finally realizes that Beast Boy is much stronger than he lets on and is enamored by what he has done for her.
Once and for all, not only has Raven gained the third printing of her spellbook, but she has also gained a newfound appreciation for Beast Boy, gratefully calling him a "magic man." However, they forget to revert the Book Wizard into a person, and he ends up being consumed by the Round Demon Kid.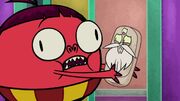 Characters
Major
Minor
Generic demons
Ogre
Dragon
Azarath Wolves
Trivia
Continuity
Raven is seen unhooded for the 106th time in the series.
This episode is the eighth BBRAE arc episode. The previous ones are "Matched", "Terra-ized", "Be Mine", "Pirates", "Rocks and Water", "BBRAE" and "The Power of Shrimps".

But unlike the rest of the BBRAE Arc, "Magic Man" focuses less on romance.

The same evil book that Raven described its magical effects as "invoking too much imagination" from "Books" appears in the Azarath Public Library.
Beast Boy retains his love for burritos.
Some demons from the "The Overbite" and "Demon Prom" return in this episode, checking out books and using the computers in the library.
This is not the first instance Beast Boy misuses Raven's Spellbook. He and Cyborg used it to create their own doubles in "Double Trouble", he used it to turn the couch into a burrito in "Meatball Party" and in "Brain Food" he turned himself and the other Titans dumb through using one of its spells.
References
Errors
Raven explains that her powers are from her spellbook, but in most episodes she performs her spells/magic totally fine even without it.

This episode, however, might be an explanation for her over-dependence on her spellbook.
This also could imply that Raven simply needs her spellbook to be intact and in her possession for her magic to work.
Running Gags
Beast Boy fascinates over Raven possessing powerful magic and mystical objects, being half demon.
Beast Boy accidentally destroys Raven's Spellbook.
Beast Boy has the power of burritos, but Raven is sick of his (seemingly) stupid powers.
Transcript
The transcript for "Magic Man" can be viewed here.
Gallery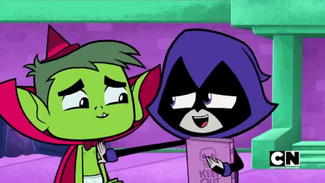 The image gallery for Magic Man may be viewed here.
References