So let's hear your latest plan to crush 'em.

--Mammoth (In "The H.I.V.E. Five")

Mammoth (Baran Flinders) is a member of the H.I.V.E. Five and a major antagonist of Teen Titans Go!. He is voiced by Kevin Michael Richardson.
Bio
Though he doesn't seem to talk much, Mammoth is still a very powerful and dangerous enemy. Mammoth is one of the original members of the H.I.V.E. Academy, as well as one of the Titans' strongest enemies. He is seen joining the H.I.V.E. Five on all of their attacks on Jump City, as well as striking out on his own. He is a star player on their dodge-ball team.
Mammoth has been shown to be the "tank" of the team, because of his large size, and he managed to tie with Robin in Super Robin, and had to risk being double teamed by Robin and Cyborg in Power Moves.
Personality
Mammoth is very destructive and violent on the battle field, as shown in the episode "Gorilla", when he flattens Robin and destroys part of the city. In "Super Robin," Robin manages to defeat Mammoth, but with much struggle. Mammoth is also seen in "Artful Dodgers," robbing the bank in the beginning with the H.I.V.E. Five. He was also one of the three main players on the H.I.V.E. Fivers. He briefly appeared in "Books," wherein Starfire is looking for more books. He appears to attack her, but she nonchalantly blasts him with a starbolt, defeating him.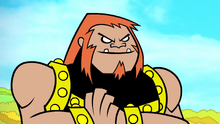 However, despite all of this, it is hinted that Mammoth might be more of a "gentle giant" than a rampaging behemoth. In the episode "In and Out," Mammoth is attacked by each of the Titans, as they wanted to prove themselves worthy of Hive membership. Each time, he runs away crying, with his friends protectively carrying him off and shooting the attackers with dirty looks.
Mammoth is also shown to have a soft side and can tear up easily, as viewed in "Operation Tin Man", wherein he cries when Cyborg and Gizmo become best friends.
Appearance
He has orange hair, tan skin and white eyes with no pupils. He also has orange sideburns and a goatee. He has big muscles and a black suit
Relationships
Episode Appearances
Comics
Game Appearances
Abilities
Superhuman Strength - He can lift very heavy objects.
Invulnerability - He can take a lot of punishment.
Trivia
Mammoth is the second member of the H.I.V.E. to appear in Teen Titans Go!
He is the fourth villain from the original series to return.
He is one of the few villains to successfully defeat the Titans in his debut.
Despite being a recurring villain in the series, Mammoth, along with See-More and Billy Numerous, never had any speaking roles until "The H.I.V.E. Five". Also, the three H.I.V.E members all speak prior to the episode in the comic "Go Fish!", proving they are not mute in this series.
In the original series, he was voiced by Kevin Michael Richardson, who also voiced See-More. Kevin Michael Richardson reprises his role as both characters in Teen Titans Go!
In the comics, Mammoth has a sister named Selinda, who goes by the alias "Shimmer." She is yet to make an appearance in either of the Teen Titans cartoon shows.
In "Artful Dodgers," it is shown that Mammoth has armpit hair when he scratches his head. However, this is not shown in other episodes.
In "Super Robin," Mammoth was bigger than he was in later appearances.
Mammoth weighs 2,500 lbs, according to the episode "Artful Dodgers."
Mammoth likes to dance.
Mammoth appears in LEGO Dimensions.
Quotes
The quotes for Mammoth can be found here.
Voice in other languages
Andor Potocsny (Hungarian)
Jacek Król (Polish)
Luiz Carlos Persy (Brazil)
Thierry Mercier (French)
 ? (Italian, Romanian)
Gallery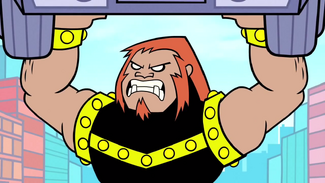 The image gallery for Mammoth may be viewed here.