Marcelo DiChiara

Role   -   Artist
Inker
Cover artist
Date of birth   -   July 31, 1976
With drawing skills at the expert level,
Marcelo DiChiara
is a well-rounded artist and inker for big name comic book companies—
Detective Comics
and
Marvel
, that is.
Most of his DiChiara's artistry is for younger kids' comics, such as Marvel's Super Hero Squad, DC Super Hero Girls, and then (of course) the Teen Titans Go! comic series.
History
Marcelo was born on July 31, 1976. Most of his early life is hidden in a shroud of mystery, but what CAN be confirmed is that DiChiara eventually got into the comic book business, specifically the artist industry. While he's made a lot of good works with Marvel, such as the Iron Man and Power Pack] series, most of his creative expertise is with DC... some projects that Marcelo is credited with are the Smallville: Chaos miniseries and theWonder Woman Special (2017).
(For lists of DiChiara's work with Marvel and DC, click here and here, respectively.)
Then there's the Teen Titans Go! comic series... DiChiara has had heavy drawing involvement with the comic edition of the show, and not just as a penciller, but also as an inker and a cover artist. Below is a list of Marcelo's Teen Titans Go! contributions.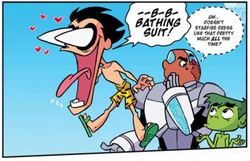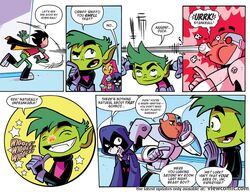 *Lists incomplete.
External Links
Not everyone reads comic books, so Marcelo DiChiara has a few social media accounts:
Trivia
Gallery
References
Community content is available under
CC-BY-SA
unless otherwise noted.