"Master Detective" is the seventeenth episode of the fourth season of Teen Titans Go!, and the one-hundred-seventy-fourth overall episode of the series.
Summary
Robin uses his skills as a master detective to discover what happened to the animals that live outside Titans Tower.
Plot
The episode starts off with Robin doing unknown detective work. Eventually works his way over to the couch were he says to the titans surprised faces that they are probably wondering what he is doing. However they are not and he states himself a master detective, Raven asks what makes him a master detective and he makes 3 cases.
One: he can use small facts to deduce what he is looking for (stating that from Cyborg's stain and the cool breeze coming from the kitchen he had ice cream and did not close the freezer. Two: powerful knowledge. Three: gut instinct. Raven still not thinking he is a master, asks him about the animals on the rock, stating they change every 52 adventures. Robin states he noticed but clearing did not take it in to account.
Then Starfire says the the rock eats the animals, Cyborg says they get cash and leave, Beast Boy says they got taken away by aliens and are being experimented on, and Raven says they eat each other. Robin agrees with all of them except Raven stating it was boring, then tells the Titans that they are being planted there to spy on them and then takes the octopus (the current animal on the rock) into interrogation. v Raven thinks it is dumb and asks Robin if his plan is to ask it questions Robin, however, says that interrogation is very important. Raven carries on by saying he can't talk but Robin says he will talk then yells at it "What have you done to the pelican, the crab and the seagull."
When he shrugs, Starfire says he is adorable and picks him up and the rest of The Titans except Robin follow and start to tickle him. Robin yells at them to stop tickling the subject the octopus camouflages and jumps on the wall. Robin now knows he is hiding something he scream "Who are you working for WHO!" and the octopus spays him. Robin then states he told him everything already and shows them 3 dots on the octopus's head. Raven thinking it is stupid says they are just some random dots and Robin agree but then says until you push them together and finds a triangle.
The Titans are impressed and Beast Boy asks him what the triangle means and Robin responds by saying it means the Illuminati and says they will have to go to the bottom of the ocean. When they reach the bottom Robin finds barnacles and Raven unimpressed asks him if his big clue was barnacles and he says yes. He says that they only live in shallow waters and that they were fake then he blows up the rock. All The Titans cheer but Raven says he just blew up a rock and that it does not prove anything.
Robin states that Raven has no faith and says "We shall see we shall see." The Titans continue through the rock and find a cave. Robin tells the crew to sit back relax and watch the master detective work. Hours later he is still looking and making preposterous statement. Raven who has had enough say that he is no master and that a real master would found out the answer a long time ago. Robin motivated by these words digs and digs and finds the symbol of the Illuminati. Even Raven this admits skill. They break in to the headquarters and find there plans and cash.
Then Lumino breaks through the wall saying that he is the head of the Illuminati. Robin asks it for answers and starts telling them about there plans for world domination and Robin interrupts saying they don't care and they only care about the animals. However Lumino says he knows nothing about any animals and The Titans fight him for answers and win.
Lumino still says he does not know anything and says he will stop all his plans if they let him go. A disappointed Robin says they hit a dead end, the other Titans are enraged saying he is not a master detective and has wasted their time. Robin breaks down and admits he is not a master detective and leaves. Raven rolls her eyes and teleports them back home. However, once they are all gone, Lumino escapes and opens up his cloak, showing the animals. Then the octopus comes and eats them all.
Characters
Trivia
Music from "Mr. Butt" and "Money Grandma" is recycled in this episode.
Raven mentions how the animals change every 52 adventures, referencing the series' 52-episode seasons.
Continuity
References
The black-and-white opening scene is done in the film noir style. This is a type of film based on detective novels that is usually done in black-and-white. The Maltese Falcon is the most famous film noir movie.
When Robin first proclaims himself a "Master Detective", he is seen in a green suit while wearing a communicating wrist watch. This is a reference to the long-running detective comic Dick Tracy.
The cave behind the rock is probably the same one from an episode of the original series, "Deep Six".
Robin sobbing that he didn't find the 3 animals might be a reference to the 1994 Jim Carrey movie "Ace Ventura: Pet Detective".
Robin's pose while he mentions the first skill of a true Master Detective is done in a style similar to Sherlock Holmes.
This episode references the 'illuminati' meme .
Errors
Running Gags
Raven doubting Robin.
Robin calling himself a "Master Detective" and leaping around.
Robin making absurd leaps of logic based on nothing and being right.
Transcript
The transcript for "Master Detective" can be found here.
Gallery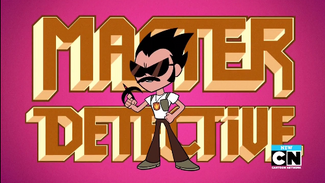 The image gallery for Master Detective may be viewed here.
Community content is available under
CC-BY-SA
unless otherwise noted.