"Matched" is the twenty-fourth episode of the first season of Teen Titans Go!, and the twenty-fourth overall episode of the series.
Synopsis
Cyborg's Love Matcher 5000 program pairs Raven with Beast Boy and Starfire with Aquaman. While Beast Boy does everything he can to get Raven to fall in love with him, Robin tries to be more like Aquaman to win Starfire's heart.
Plot
The episode opens with Beast Boy and Raven playing an "intense" game of chess. Beast Boy complains about how boring the game is. Raven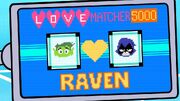 then takes a sip out of her mug, only to spit it out, realizing that Beast Boy had put root beer in her cup. He says it is better than the gross "chameleon tea" that she drinks. Raven corrects Beast Boy and tells him it is CHAMOMILE tea. Raven tries to explain that it takes patience, but Beast Boy doesn't listen. Raven then floats off to meditate, and Beast Boy takes part in several animal activities that are extremely annoying to Raven. She becomes frustrated and attacks Beast Boy with her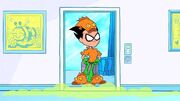 demonic powers. She is about to banish him to another dimension, when Robin suddenly enters the room with Cyborg who has a new invention, the Love Matcher 5000 program. Robin gets excited, trying it out first. He puts Starfire's name in, and the Matcher pairs her up with Aquaman. Robin looks at it in disbelief and laughs like it must be wrong; he then gets infuriated and assaults the Love Matcher 5000 program with his trusty staff, mutilating Cyborg. Beast Boy approaches the Matcher and, seeing his name and icon on the screen of the faulty Matcher, he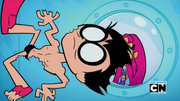 assumes it is his turn. The Matcher spins through a couple of heroes until it lands on Raven. Everyone
is shocked that the Matcher picked the two, especially Raven. Raven believes it is a mistake, but is refuted by Cyborg as-a-matter-of-factly claiming "computers never lie". However, Beast Boy believes in the program, prompting him to become infatuated with Raven. He gazes over at Raven with 'heart-shaped' eyes. Raven's exact words are, "You can't actually be taking this seriously." Beast Boy, however, just walks up to her, wrapping his arm around her neck, and tells her that he wants to give "them" a chance. Raven, angry at his statement, swats him with her demonic tentacle, knocking him out.
The camera pans into the Titan Tower, showing Raven as she approaches the refrigerator to get food. Closing the fridge door, Beast Boy is revealed with a "greaser" look, complete with shades and a leather jacket. Raven is shocked and drops her bowl of cereal after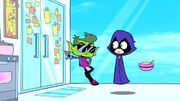 seeing him in that attire. Beast Boy fails as he tries to flirt with her, using a power she doesn't even possess for a flirt. Beast Boy makes up cheesy lines as Raven questions his attire, and he eventually gets slapped with a demonic tentacle for the fifth time.
In the next scene, Starfire is reading the Aquaman series as Cyborg walks in and mentions her pairing with Aquaman. Starfire exclaims that she gives no credit to the 'Love Matcher 5000 program.' However, Starfire states that he has several appealing qualities, letting her eyes scroll down the poster that flips out from the book. Giggling as she admires how he looks with his shirt discarded, she then puts the book down to see Robin, in his swimwear. Cyborg darts over to Robin, outraged about Robin's appearance while Starfire observes sadly that Robin is not wearing the shirt... or "the pants." Cyborg hysterically exclaims that 'he is going blind.' Starfire then flies up from the couch and away from Robin, telling him that she needs to feed Silkie. Robin decides to use his muscles, showing her the exits to the room with his pecks and cracking diamonds with his calves, a sign of true strength. Cyborg then  
begins to fly around the room, panicking about how petty Robin is. 
The following scene opens with Raven in her bedroom reading a demonic book. Beast Boy, in the form of a dove flies in her room, drops a rose on top of her head. Raven destroys the flower, watching as "the dove" perches on her book. Beast Boy then adopts a French accent, reciting a poem about him and Raven (You are a Raven and I am a dove. And even though we are different, we are meant to be in love). Romantic music plays in the background as Beast Boy flies up and creates a heart with his wings as he finished his poem. Raven's eyes glow red as she uses her magic to squish Beast Boy in her book, laying him on the ground at the end of her bed. Beast Boy complains that the poem took him all day to write, but Raven simply retorts with a negative comment. Beast Boy hops onto the bed with her, transforming into a horse, suggesting that she take a romantic horse back ride. Raven's response is, again, a demonic slap to the face.
Meanwhile, Robin is in his room devising a plan to become more like Aquaman, which results in the development of a fish suit, literally. Cyborg then walks down the hall whistling a tune when he is caught off guard by a horrible odor, demanding to know what the smell is. Robin exits his room, approaching Cyborg. Once Cyborg discovers that Robin is the source of the vile miasma, he darts away, screaming about how horrid the smell is. Starfire then greets Robin from behind, to which he responds, "Hey, Star!" However, the rotten fish smell knocks Starfire unconscious and, as Robin asks if she smells something she likes, a fish from his suit suddenly slides from his head smack onto her face.
In the next scene, Raven is meditating only to be interrupted by Beast Boy knocking on the door. She tells him to go away. Beast Boy doesn't listen and enters by slithering under the door as a snake. He tells Raven has never given up on anything, though Raven is quick to point out he always gives, using opening a pickle jar as an example. Beast Boy then states if Raven can give one reason why they aren't meant to be together, then he would leave her alone. Raven proceeds to list a numerous amount of qualities she dislikes about him. However, this only impresses Beast Boy, as he feels no one has ever known him like she did. He then moves in closer to her and puckers up for a kiss, only to have Raven smack him away again.
Afterwards, Robin is seen in his room studying Aquaman, and gets the idea to talk to marine life. The next scene shows Robin in a shark tank placed in the living room. Starfire and Cyborg arrive in the elevator, and Cyborg angrily questions Robin about the shark tank. Robin exclaims that chicks dig guys who can communicate with fish, a response obviously directed at Starfire. As Robin pretends to talk to the marine life, he gets attacked by the sharks. He claims it is simply a miscommunication, and Starfire asks Cyborg if they should help him. However, Cyborg decides to let Robin "talk his way out", and he walks away.
Starfire floats into the kitchen where she sees Raven teleport herself in,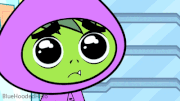 summon boards to seal the door, and enclose the windows. Starfire asks Raven what's wrong, and Raven explains that Beast Boy won't leave her alone ever since Cyborg's computer matched her with him. Starfire asks if Raven believes the computer, to which she responds that she wants a guy that thinks and acts like her. At that moment, Beast Boy enters wearing a purple hoodie and suspended by a rope from the ceiling. He greets Raven and Starfire with an emotionless face, and a grave voice. Raven confronts him, saying she knows what he was doing and cuts his rope. Beast Boy gets desperate and begs her to give him a chance, revealing he even painted his nails black for her (how pathetic!), but Raven angrily declares she wants nothing to do with him ever. She locks her hard gaze with his heartbroken one, only for hers to change into a sad and guilty face, as she saw that she truly broke his heart. She drops her rude gaze and her eyes start to water as she remembers all of his romantic attempts; dressing up as a '60s thug, reciting a poem in the form of a dove, and especially the last one of him showing that he can be just like her. She realizes that he was trying and willing to change and didn't even complain once about Cyborg's matchmaker. She smiles lovingly and tells him she'll try and make it work. Beast Boy, upon hearing this, cries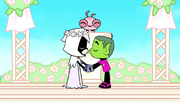 tears of joy and asks her to marry him. She is startled at first, but she happily accepts his offer.
On the roof of the tower, Raven (adorned in a white hood) finally believes that she and Beast Boy are meant for each other as she walks up the isle, passing Starfire and Aquaman on one side and Robin (sitting angrily and obviously jealous) on the other aisle, to meet Beast Boy at the altar. Joining hands, Beast Boy tells Raven that he's never been so happy. Just as they're about to share their first kiss, Cyborg interrupts, saying there was a teeny, tiny little glitch in his match making program. This causes Raven to worry that she might not be Beast Boy's ideal match, and her fear is confirmed when the Love Matcher 5000 reveals that Beast Boy's real match is... (suspense building) a scratching post! Raven grows extremely annoyed as Beast Boy starts flirting with his new crush. Robin then realizes that Starfire's pairing with Aquaman was also a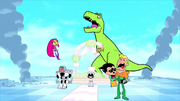 glitch, and the second test reveals her match to be a scratching post as well. Starfire then fights with Beast Boy for scratching post. Cyborg tries to fix the glitch in his program, ultimately causing it to explode. Robin jumps into Aquaman's arms, both heartbroken over Starfire's love for a scratching post. Raven is disappointed, and the episode ends with her wondering, "Why do I even try?"
Characters
Trivia
This is the first episode to air in its new timeslot, which aired on Wednesday nights at 7:30 PM.
This is the third episode to feature two plots, the others being "La Larva de Amor" and "Hey Pizza!"
Silkie is apparently an ordained priest, which is later shown in other various episodes.
The marriage ceremony of Beast Boy and Raven lasts eleven seconds before Cyborg interrupts them. 
The fourth wall is broken when Raven says the word "EVER", and the word physically appears and fall on top of Beast Boy, crushing him.
This is the first time Robin and Beast Boy both try to gain their unrequired crushes' (Starfire and Raven) affections.
When Robin is searching for Starfire's Profile in the Love Matcher 5000, it appears that Batman and Flash have a profile, too.
Continuity
This is the sixth time Cyborg's head has been detached from his body. ("Laundry Day", "Hey Pizza!", "Gorilla", "Tower Power", "Burger vs. Burrito")
This is the second episode to completely focus on Beast Boy and Raven's relationship ("Terra-ized"), and Robin's crush on Starfire ("The Date").
This is also the second time where Robin impersonates another super hero to impress Starfire. The first time was when he impersonated Speedy in "The Date".
In "Parasite", Robin was highly secretive of pictures of him in tight black shorts and nothing else. In this episode, however, he doesn't seem to have a problem with walking around semi-nude, wearing the same shorts in front of Starfire, regardless of it making her uncomfortable.
While Cyborg walks down the hall, he whistles the same tune Robin whistles while walking away with his "New Staff" in "Staff Meeting".
Music originating from "The Date" and music played in "Starliar", "Tower Power", and "Artful Dodgers" also plays in this episode. This music (also played in "Laundry Day" and "Staff Meeting") plays when Beast Boy says the "Love Matcher 5000" matching him up to Raven could change everything. Starliar's music plays before Raven slaps Beast Boy's sunglasses off his face when he pretends to be a greaser. Tower Power's music plays when Raven thinks about Beast Boy in a montage of him warming up to her before she tells him that she wants their relationship to work, and music from "Artful Dodgers" plays at the very end of the episode.
This is the second time Raven gives in to someone using puppy dog eyes. The first time was in "Girl's Night Out" by Starfire.
This is the second time Beast Boy is shown with combed hair, which he has when he tries to get married to Raven. He was first seen with it in "Girl's Night Out".
This is the fourth romantic-themed episode of the series.
References
Beast Boy transformed into a Dalmation similar to Pongo from 101 Dalmations when disturbing Raven's meditation.
When Beast Boy finds out that the Love Matcher 5000 matches him up with Raven, he goes into a love pose and his eyes turned heart-shaped. During this, he resembles when Himespetchi, a character from the Japanese anime Tamagotchi, daydreamed about Mametchi, the main character of the anime Himespetchi's crush.
The shark tank in the Titans' living room may be a reference to the TV show, Shark Tank.
When Robin is in his room devising a plan to become more like Aquaman, the music that plays is similar to the opening song for the cartoon Totally Spies!.
When Cyborg interrupts Beast Boy and Raven's wedding, it may be a reference to the original show, where sometimes Beast Boy and Raven would be having a touching moment, and Cyborg would interrupt them.
Errors
Robin fires a Batarang from his gun, rather than the usual Birdarang.
Beast Boy painted his nails black for Raven, but in the next scene, the black nails are gone.
The Love Matcher 5000 ends up pairing Beast Boy and Starfire up with the scratching post, even though Cyborg had stated earlier that it matches someone with their "superhero mate".

Although this may have been because Cyborg's program was malfunctioning

In the final scene, Silkie disappears for some mysterious reason.
Beast Boy was able to get into the kitchen, even though Raven had just boarded up the door.
Beast Boy and Raven couldn't have gotten married anyway because they're both underage.

Also, Starfire and Aquaman should of not been each other's dates because Aquaman is an adult whom is already married and Starfire is just a teenager. This type of relationship is inappropriate.
Running Gags
Beast Boy getting slapped by Raven.
Cyborg extending his neck while in disbelief at Robin's newest attempt to impersonate Aquaman.
Robin trying to be more like Aquaman in order to impress Starfire.
Beast Boy attempting to win over Raven's heart.
Robin getting enraged when Cyborg's match maker machine doesn't pair him up with Starfire and smashing him up to pieces.
Transcript
The transcript for "Matched" can be found here.
Gallery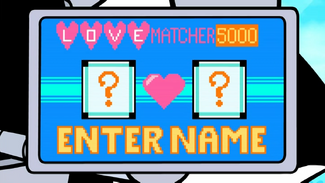 The image gallery for Matched may be viewed here.
v - e - d Episode Guide
Season 1: April 23, 2013 - June 5, 2014
Legendary Sandwich • Pie Bros • Driver's Ed • Dog Hand • Double Trouble • The Date • Dude Relax • Laundry Day • Ghostboy • La Larva de Amor • Hey Pizza! • Gorilla • Girl's Night Out • You're Fired! • Super Robin • Tower Power • Parasite • Starliar • Meatball Party • Staff Meeting • Terra-ized • Artful Dodgers • Burger vs. Burrito • Matched • Colors of Raven • The Left Leg • Books • Lazy Sunday • Starfire the Terrible • Power Moves • Staring at the Future • No Power • Sidekick • Caged Tiger • Second Christmas • Nose Mouth • Legs • Breakfast Cheese • Waffles • Be Mine • Opposites • Birds • Brain Food • In and Out • Little Buddies • Missing • Uncle Jokes • Más y Menos • Dreams • Grandma Voice • Real Magic • Puppets, Whaaaaat?

Season 2: June 12, 2014 - July 30, 2015
Mr Butt • Man Person • Pirates • Money Grandma • I See You • Brian • Nature • Salty Codgers • Knowledge • Slumber Party • Love Monsters • Baby Hands • Caramel Apples • Sandwich Thief • Friendship • Vegetables • The Mask • Serious Business • Halloween • Boys vs Girls • Body Adventure • Road Trip • Thanksgiving • The Best Robin • Mouth Hole • Hot Garbage • Robin Backwards • Crazy Day • Smile Bones • Real Boy Adventures • Hose Water • Let's Get Serious • Tamaranian Vacation • Rocks and Water • Multiple Trick Pony • Truth, Justice and What? • Two Bumble Bees and a Wasp • Oil Drums • Video Game References • Cool School • Kicking a Ball and Pretending to Be Hurt • Head Fruit • Yearbook Madness • Beast Man • Operation Tin Man • Nean • Campfire Stories • And the Award for Sound Design Goes to Rob • The HIVE Five • The Return of Slade • More of the Same • Some of Their Parts

Season 3: July 31, 2015 - October 13, 2016
Cat's Fancy • Leg Day • Dignity of Teeth • Croissant • Spice Game • I'm the Sauce • Hey You, Don't Forget about Me in Your Memory • Accept the Next Proposition You Hear • The Fourth Wall • 40%, 40%, 20% • Grube's Fairytales • A Farce • Scary Figure Dance • Animals, It's Just a Word! • BBBDAY! • Black Friday • Two Parter • The True Meaning of Christmas • Squash & Stretch • Garage Sale • Secret Garden • The Cruel Giggling Ghoul • How 'Bout Some Effort • Pyramid Scheme • Beast Boy's St. Patrick's Day Luck, and It's Bad • The Teen Titans Go Easter Holiday Classic • Batman v Teen Titans: Dark Injustice • Bottle Episode • Finally a Lesson • Arms Race with Legs • Obinray • Wally T • Rad Dudes with Bad Tudes • Operation Dude Rescue • History Lesson • The Art of Ninjutsu • Think About Your Future • TTG v PPG • Coconut Cream Pie • Pure Protein • Open Door Policy • Crazy Desire Island • The Titans Show • Booty Scooty • Who's Laughing Now • Oregon Trail • Snuggle Time • Oh Yeah! • Riding the Dragon • The Overbite • The Cape

Season 4: October 20, 2016 - June 25, 2018
Shrimps and Prime Rib • Halloween v Christmas • Booby Trap House • Fish Water • TV Knight • Teen Titans Save Christmas • BBSFBDAY! • The Streak • The Inner Beauty of a Cactus • Movie Night • BBRAE • Permanent Record • Titan Saving Time • The Gold Standard • Master Detective • Easter Creeps • Hand Zombie • Employee of the Month: Redux • The Avogodo • Orangins • Jinxed • Brain Percentages • BL4Z3 • Hot Salad Water • I Saw You Dance • The Story in Your Eyes • Playing Hard to Get • The Night Begins to Shine • Lication • Labor Day • Classic Titans • Ones and Zeroes • Career Day • TV Knight 2 • Justice League's Next Top Talent Idol Star • The Academy • Costume Contest • Throne of Bones • Demon Prom • Thanksgetting • The Self-Indulgent 200th Episode Spectacular! • BBCYFSHIPBDAY • Beast Girl • Flashback • Bro-Pocalypse • Mo' Money Mo' Problems • TV Knight 3
Season 5: June 25, 2018 - April 4, 2020
The Scoop! • Chicken in the Cradle • Kabooms • Tower Renovation • My Name is Jose • The Power of Shrimps • Monster Squad • Real Orangins • Quantum Fun • The Fight • The Groover • Justice League's Next Top Talent Idol Star: Second Greatest Team Edition • How's This for a Special? Spaaaace • BBRBDAY • Slapping Butts and Celebrating for No Reason • Nostalgia is Not a Substitute for an Actual Story • Business Ethics Wink Wink • Genie President • Tall Titan Tales • I Used to Be a Peoples • The Metric System vs Freedom • The Chaff • Them Soviet Boys • Little Elvis • Booty Eggs • TV Knight 4 • Lil' Dimples • Don't Be an Icarus • Stockton, CA! • What's Opera Titans • Forest Pirates • The Bergerac • Snot and Tears • Campfire! • What We Learned at Camp • Communicate Openly • Royal Jelly • Strength of a Grown Man • Had to Be There • Girls Night In • The Great Disaster • The Viewers Decide
Season 6: October 4, 2019 - May 1, 2021
Butt Atoms • TV Knight 5 • Witches Brew • That's What's Up! • Crab Shenanigans • Brobots • Brain Flip • Beast Boy on a Shelf • Christmas Crusaders • We're Off to Get Awards • Bat Scouts • Walk Away • Record Book • Magic Man • Titans Go Casual • Rain on Your Wedding Day • Egg Hunt • Justice League's Next Top Talent Idol Star: Justice League Edition • Mission to Find the Lost Stems • Drums • Guitar • Bass • You're The One • Where Exactly on the Globe is Carl Sanpedro? - Part 1 • Where Exactly on the Globe is Carl Sanpedro? - Part 2 • Where Exactly on the Globe is Carl Sanpedro? - Part 3 • Where Exactly on the Globe is Carl Sanpedro? - Part 4 • Ghost With the Most • Bucket List • TV Knight 6 • Kryptonite • Thumb War • Toddler Titans…Yay! • Baby Mouth • The Cast • Superhero Feud • Lucky Stars • Various Modes of Transportation • Cool Uncles • Butter Wall • BBRAEBDAY • Don't Press Play • Real Art • Just a Little Patience...Yeah...Yeah • Villains in a Van Getting Gelato • I Am Chair • Bumgorf • The Mug • Hafo Safo • Zimdings
Season 7: January 8, 2021-present
Justice League's Next Top Talent Idol Star: Dance Crew Edition • Feed Me • Pig in a Poke • P.P. • A Little Help Please • Marv Wolfman and George Pérez • Space House - Part 1 • Space House - Part 2 • Space House - Part 3 • Space House - Part 4 • Cy and Beasty • T is for Titans • Creative Geniuses • Manor and Mannerisms • Trans Oceanic Magical Cruise • Polly Ethylene and Tara Phthalate • EEbows • Batman's Birthday Gift • What a Boy Wonders • Doomsday Preppers • Fat Cats • Jam • DC • Pepo the Pumpkinman • Breakfast • Captain Cool • A Doom Patrol Thanksgiving • Glunkakakakah • Control Freak • A Holiday Story • The Drip • Standards & Practices • Belly Math • Free Perk • Go!
Top of the Titans: April 27, 2018 - July 20, 2018
Raddest Songs • Best Love Songs • Beast Boy & Cyborg Songs • Dance Party • Best Rivals