Menos is the twin brother of Más and is a member of Titans East and also a minor character in Teen Titans Go! who made a cameo debut in "Starliar" and made an official debut in "Más y Menos". He is voiced by Freddy Rodriguez.
Biography
Menos was first briefly seen in a flashback of a past party the Titans went to. In the episode "Mas y Menos," Robin dislikes Menos for having a "negative attitude," despite the fact that he had no attitude what so ever. Robin also accused Menos for ruining Mas's bright future. Robin lied to Menos, saying that Mas was in the hospital. Menos rushed away and was out, and Robin taught Mas. After Mas was taught, Robin dressed up as Menos. Moments later, Menos enters the Titans Tower with a get well balloon for Mas. He was happy to be with his brother again and gives him a high-five. However, due to being apart for a long time, they created a large amount of energy which could destroy the Earth. The Titans try in vain to stop them, but in the end, Robin stops them at the cost of getting seriously injured.
In "Yearbook Madness", he was seen dining at the Yum Yum Kitty Diner with his teammates. Robin forces him and his twin brother to sign his yearbook.
He is briefly seen with his teammates getting tortured by the Legion of Doom (the Titans villainous team counterpart) in "Snuggle Time". He and his brother compete in "Justice League's Next Top Talent Idol Star", with tap dancing being their act. In "Costume Contest", him and Más attend the Costume Party dressed as skeletons. Bumblebee, dressed as a Grim Reaper, scares them away, taking their candy.
He competed again with his whole team in "Justice League's Next Top Talent Idol Star: Second Greatest Team Edition".
He later attends the Super Summer Hero Camp. As revealed in "Forest Pirates", Robin gave him and the rest of the Titans East "poop yogurt" to get them sick and to not participate in the canoe race. The male Titans East members have recovered prior to "Snot and Tears", and they appear for the rest of the arc.
Abilities
Episode Appearances
Comics
Trivia
Gallery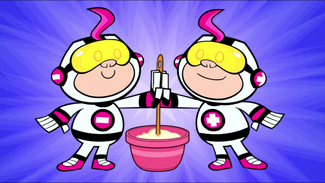 The image gallery for Menos may be viewed here.