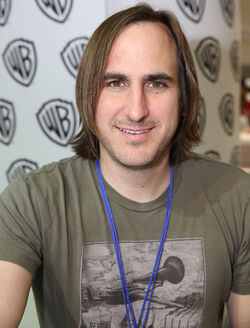 Michael Christopher Jelenic (born May 12, 1977) is the co-producer, writer, and director of Teen Titans Go!. He and Aaron Horvath are the creators of the series. His IMDb can be found here.
He is also known for being the producer and soundtrack of "Batman: The Brave and the Bold " from 2008 to 2011, "Wonder Woman " in 2009 as a screenplay and story writer, the executive producer on "Thundercats " in 2011 to 2012, and as the supervising producer on "Be Cool, Scooby-Doo!" in 2015.
Other Works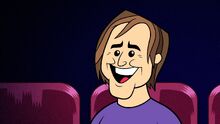 Producer in "Elf: Buddy's Musical Christmas ".
Producer in "Butterfly Blues".
Script coordinator, story editor, and assistant story editor in "The Batman " TV series.
Script coordinator and story editor in "The Batman vs. Dracula ".
Script coordinator in "Jackie Chan Adventures".
Assistant in "Men in Black: The Series".
Writer in "DC Showcase: Superman/Shazam!: The Return of Black Adam".
Writer in "Legion of Super Heroes ".
Writer in "Ben 10" series.
Trivia
He along with Aaron Horvath, admitted they never watched the entire Teen Titans original series, and merely watched selected episodes to get ideas for some Teen Titans Go! episodes.
A cartoon version of Michael Jelenic made a cameo in "Let's Get Serious", "The Academy" and "Kabooms". He had a major role in "The Self-Indulgent 200th Episode Spectacular!".

However, his design in the 200th episode slightly differs from the other design used in the previous two episodes he had appeared in. 

He has been nominated for one Pimetime Emmy.
During the 2018 Teen Titans Go! panel at WonderCon, Jelenic mentioned the strong possibility of the original Teen Titans series making a comeback. He also mentioned that if he could make another series for DC, he'd like to make one about the Legion of Doom.
Episodes written by him
Gallery