Mojo Jojo is a super-intelligent modified chimpanzee and a major enemy of the Powerpuff Girls. He enters the Teen Titans' dimension in an attempt to take it over with an army of monkeys and killer robots.
Bio
In "TTG v PPG", he enters the Titans' home in Jump City, planning to create his evil monkey army to take over the world. He enters Titans Tower and first discovered Beast Boy and Cyborg and assumed they were superheroes just by looking at their appearances and clothing choices.
In awe, Beast Boy and Cyborg took a liking to him and quickly befriended him and offered to help him with his monkey army. Surprised, Mojo Jojo accepts and they head for the zoo. At the zoo, Mojo Jojo, Beast Boy and Cyborg create an army of monkeys while moving along and singing a musical number. After Beast Boy and Cyborg turned his evil monkey army into a army of "party monkeys", Mojo Jojo cages them and awaits for The Powerpuff Girls and the other Teen Titans to show up.
Later, Robin, Starfire, and Raven pretend to be The Powerpuff Girls as Robin dressed as Blossom, Starfire dressed as Bubbles, and Raven dressed asButtercup to distract Mojo Jojo as the real Powerpuff Girls sneak up behind him and defeated him shortly afterwards.
Physical Appearance
Mojo Jojo is a green-skinned chimpanzee with dark hair, with a metal, white and purple turban, purple tunic and cape, with white gloves and boots. He also has pink eyes.
Personality
Mojo is an ego-stricken and violent criminal, willing to do whatever it takes to achieve his goals. Due to his ego, though, he often oversees the flaws in his plans, leading to his downfall. He does have a soft-side, however, caring for his dog, and one of his plans involved stealing the perfect birthday present for his unseen mother. He is also shown to be good with cooking.
Episode Appearance
Names in other languages
Macaco Louco - Brazilian Portuguese
モジョ・ジョジョ (Mojo Jojo) - Japanese
Quotes
"Big solider robot man and green boy wearing tights? You must be superheroes." -to Beast Boy and Cyborg
"You said you were going to finish my monkey army!" -to Beast Boy and Cyborg
"Mojo is not pleased!" -to Beast Boy and Cyborg
"You are not the Powerpuff Girls." -to Robin, Starfire, and Raven
Well, you must excuse me while I, Mojo Jojo carry out evil cybernetically enhanced battle monkey plan in a another dimension I, Mojo Jojo have discovered where superheroes do not care about stopping villians. Mojo out!" -to The Powerpuff Girls
Gallery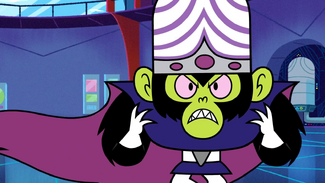 The image gallery for Mojo Jojo may be viewed here.
Designs
Community content is available under
CC-BY-SA
unless otherwise noted.