"Money Grandma" is the fourth episode of the second season of Teen Titans Go!, and the fifty-sixth overall episode of the series.
Synopsis
When Robin starts a smear campaign against all of the other Titans so that he can be reelected as Team Leader, Raven uses a time machine to bring a great leader from the past to teach Robin how to lead.
Plot
The episode begins with Raven, Starfire, Cyborg, and Beast Boy relaxing on the couch watching cartoons. A giant cloud of smoke appears in front of them, and Robin appears, announcing that he has spent the entire night making a special video for them to watch. The Titans eagerly encourage him to play the video immediately. Robin puts the video into the VCR, then sits down on the couch next to his friends.
The video begins to play, with Robin as the narrator. In the video, Robin introduces Cyborg. Cyborg becomes excited, assuming this is a video about him. Robin shushes him and tells him to wait. The video continues to play, explaining that Cyborg is a big jerk. The video then plays several clips of Cyborg talking that had been edited together to make it sound like he is insulting Beast Boy. The video then continues to show edited clips of Beast Boy insulting Cyborg. Cyborg and Beast Boy explode into an argument with each other. Raven tries to explain that Robin edited the clips to make them look bad, but the two continue to fight nevertheless. Robin shushes them, and the Titans continue watching the video. The video ends with Robin's voice announcing himself, telling them he is the only honest leader they could elect. Once the video finishes, only Starfire claps, after telling Robin it was very well made.
Cyborg and Beast Boy finally realize what Robin was doing in the video, and become angry with him. Cyborg explains that nobody is running against Robin anyway, so the video was completely unnecessary. Robin tells them that to win, he needs to crush his opponents before they even begin, just like George Washington did. Raven explains that George Washington didn't win through crushing his fellow candidates, he won because he inspired the country with his military leadership and humility. Robin tells Raven that sounds lame, and he would have been a better president than Washington. Beast Boy points out that he doesn't even remember voting for the team leader.
Robin has a flashback to last year's election, in which he is the only one who voted. He then begins to give himself a ceremony. Back in the present, Robin is acting out his ceremony from the flashback. Robin tells the other Titans that he is expecting a landslide victory. He asks them if he can count on their vote, and only Starfire begins to cheer for him. 
Starfire's cheers are cut short when the "Crime Alert" alarm sounds. Robin screams "TITANS, GO!" and the Titans speed to the Jump City bank. Once again, The H.I.V.E. Five is robbing the bank. This time, Billy Numerous has formed an assembly-line with his clones, handing the money down from the bank to the H.I.V.E. Five Monster Van. Raven suddenly flies along the line and punches all the clones against each other with her demon fist. Starfire begins shooting her laser eye beams at Gizmo, and destroys the H.I.V.E.'s van. Beast Boy transforms into a bull and begins to fight Mammoth. Cyborg puts See-More in a headlock and begins punching his face. Raven finishes with the clones and begins to chase Jinx with her demon fist. Robin, however, does not fight, but films the entire battle with his camera.
The next day, the Titans are shown relaxing on the couch. Starfire turns on the news, and the reporter announces that the Titans have once again saved the city. The reporter explains that this time, they have gotten footage of the battle to show the public. Robin explains to his friends that this must be the recording of "his battle with the H.I.V.E. Five the day before. The video footage shows the Titans' battle with the H.I.V.E. Five, with Robin's face photoshopped onto his friends' faces. Beast Boy asks Robin how he could do such a thing. Starfire, not realizing what Robin did, asks him how he could have kept his quadruplet brothers a secret from them. Raven angrily asks Robin why he would take credit for all of their work. Robin tells them that the video proves that he will be the best leader. Robin happily dances out of the room, determined that he has got the election in the bag. Once he is gone, Cyborg complains that Robin is taking his dedication to win the election way too far. Raven tells him that she knows someone who might be able to help.
Later that day, Robin is nailing campaign signs of his face all over the yard. The Titans walk up to him and explain that he has forgotten what is most important about being the leader. Raven explains that she has used a time machine to bring one of history's greatest leaders to them to help Robin out. The time machine opens up, and out steps president George Washington. George Washington sets his foot on a tree stump and tells Robin it is a pleasure to make his acquaintance. Robin is shocked to find himself face-to-face with George Washington himself.
Confused, Beast Boy asks Cyborg who the "old lady" is. Cyborg tells him to show some respect because it's the "grandma" who is on the dollar bill. Beast Boy becomes filled with excitement, as he gets to meet the "money grandma". George Washington walks over to Robin and sets his hand on his shoulder. He explains that being a leader is like being a gardener: Robin should tend to his friends like he would a tiny sapling. He explains that only by working together can a team as strong as a "mighty oak" be formed. Robin claims that he understands: Washington wants to run against him as team leader. Washington becomes insulted and, because of Robin's insolence, decides to run for team leader against Robin.
The campaign begins, and the two candidates plan to do whatever it takes to win. George Washington cuts down a cherry tree with an ax, collects the cherries, and makes a cherry pie for Raven and Starfire. Robin jumps on and off George's head, smothering his face in a pie. He places a Birdarang on George's face, causing the pie to explode. In the popularity polls, Robin slowly starts to make a comeback. Later, George puts up campaign signs along with the windows of the living room. As he puts up signs on one side of the room, he hears something behind him. He turns his head to see that the signs on the other side of the room have been vandalized. He turns his head forward again to see the signs on the side he is facing, including the one he is holding, have all also been vandalized as he was turned around. In the polls, Robin passes George by a tiny bit. After that, George gives a speech to the Titans. Robin uses his grappling hooks to rip George's pants off, and swings by to rip his wig off. Robin also sets down a bunch of arrow signs pointing at George, which say things like "dummy" on them. In the polls, Robin skyrockets past Washington. Even later, George Washington attempts to kiss a baby, but Robin lands on his back and sneaks away. George's face nearly smashes into the baby, causing his wooden teeth to start biting the baby. Not realizing it was Robin's fault, Cyborg and Beast Boy become disgusted with George Washington and begin to shake their heads at him.
Later that afternoon, Robin and George arrive for a debate in the living room, with Silkie as the moderator. George Washington begins telling the Titans that together they can form a more perfect team, with enough discipline to stop evil in its tracks to truly earn the name "Titans". Cyborg, Beast Boy, and Starfire begin to cheer for him, but Silkie silences the crowd. Robin begins by pointing out that it has been said that George Washington "cannot tell a lie." George modestly tells him that is true. Robin recalls earlier that day, where George did lie in regards to an odor, about where it came from. George confesses that he did produce said odor and that he did lie, causing the audience to gasp.
When the time finally comes for the counting of the votes, everyone gathers in the kitchen. Raven counts the results: one vote for George, one vote for Robin. Robin is upset to hear that not one of the other Titans voted. Robin decides there's only one other way to determine the winner, and George knows exactly what he about to say. Both of them agree to fight each other, and the winner will become the team leader.
Robin whips out his staff and gets ready to fight, while George whips out his wooden ax. Robin and George dive out of the kitchen window. George is saved by an eagle, but Robin lands in a bush. Robin somersaults out of the bushes and throws three Birdarangs at George. Out of thin air, George creates a "Freedom Shield," and blocks the incoming Birdarangs. George jumps over to Robin and gives him an uppercut in the chin. Robin pulls a Birdarang out of his belt and throws it at Washington. Before George can react, Robin detonates the bomb, causing an explosion that sends George into the air and causes him to land in the ocean. Robin smiles and happily walks toward the tower. Suddenly, the ground begins to shake, and the Statue of Liberty raises out of the ocean right behind him. From inside the head, George controls the statue and uses it to smash Robin into the ground with its giant torch. George jumps onto the island next to Robin, who is just barely alive. George asks Robin if he finally yields, and Robin does indeed yield. The other Titans approach the two and ask Robin if he is okay.
Robin explains that he finally sees that he was wrong. He explains that he wanted to win so badly that he forgot what being a leader truly meant. Robin officially hands his powers over as leader to George Washington. Just when it looks like he's going to apologize for his actions, he claims that they won't be around to see him become the greatest leader ever. So he jumps into the time machine and sets it to 1776. Before they can stop him, Robin transports back in time while claiming they can read all about his victory in the history books. Raven is shocked, and can't believe that Robin would do such a thing. Cyborg pulls out a dollar bill, and watches as George's face fades and changes to Robin's face. Cyborg watches a documentary about Robin, in which he does all of the things George Washington had originally done. This was Robin's plan all along: to become the first President of the United States of America. Starfire once again asks Raven if this was part of her plan, and she gives the same reply: more or less. The episode ends with Raven saluting with the American flag behind her.
Characters
Trivia
This is the third holiday episode of the series. The first was "Second Christmas" and the second was "Be Mine."
This is the first appearance of the H.I.V.E. Five in the second season.
Danny Jacobs, who voices George Washington, is also the voice of King Julien in the Nickelodeon show Dreamworks: Penguins of Madagascar. Including the Dreamworks Netflix original series All Hail King Julien.
This is the second time a person that actually existed has appeared in this series. The first was Benjamin Franklin.
This is the first episode to contain adult humor, as one of the signs Robin puts up as George Washington was giving a speech in the election montage has a rear end of an Equidae animal, such as a horse, a donkey, and a zebra. (Which actually means he's calling him a "butt")
This episode confirms that the show takes place in 2014.
George Washington's abilities include:

Axe Combat.
Calling on a bald eagle to fly
Freedom Shield: A shield with the same general design as the U.S. flag.
Liberty Punch: A punch strong enough to crack the Liberty Bell.
Monument Bash: Uses the Statue of Liberty as a giant robot.

The Statue of Liberty's inside looks very similar to the Titan Robot's interior.
This episode results in a time paradox. As Robin replaced George Washington in Colonial Times, it means Washington would never have become President in the first place, so he would never have been brought back by Raven, and hence Robin would have no reason to travel back in time in the first place.
Coincidentally, the names of both this episode and "Grandma Voice" are similar.
It was remembered by Beast Boy in a season 5 episode.
Continuity
This is Silkie's second "human" job, where he appears as a political debate moderator.

The first time was in "Matched" where he served as a wedding minister.

This is also the fifth time Silkie has worn human clothes, donning a suit and necktie.
Apparently, both Robin and George Washington understand Silkie when he asks questions.
This is the second episode to involve time-travel. It was first done in "Staring at the Future" and later again in "Sandwich Thief".
The sock puppet show first seen in "Staff Meeting" is seen again.
Gizmo is supposed to menacingly laugh, but accidentally says "...trol" before the laugh. This audio was originally used from "Laundry Day", but may have been poorly edited due to how fast Lauren Tom spoke the dialogue.
This is the second episode with Robin's status as team leader being threatened ("Gorilla").
This is the second time that Robin loses his status as team leader ("No Power").
The versus images from "Laundry Day", "Parasite", "Terra-ized", and "Brain Food" appears for the fifth time and the first time overall in the second season, but it was modified to look more patriotic with Betsy Ross' American flag in the background.
 This is the third episode where Robin is knocked off the top of the Tower. ("Laundry Day", "Puppets, Whaaaaat?")
This is the second episode where Robin fights a founding father. The first was in "Books".
Music from "Mr. Butt" is used in this episode.
References
When Robin draws pictures on Washington's posters, they resemble famous DC villains: Bizarro, The Joker, Catwoman and Bane.
Robin's campaign poster are spoofs of the Barack Obama "Hope" poster by Shepard Fairey. The end of Robin's campaign video depicts his head super imposed on top of Obama's.
Before Washington fights Robin, he raises his axe above his head shouting "By the power of America!" followed by a lighting bolt and him shouting "I HAVE THE POWER!!!". This is a clear reference to He-Man and Masters of the Universe, and He-Man's trademark transformation.
The name of the news program was called "52 News" which is an allusion to the New 52.
The Freedom Shield resembles Captain America's original shield from World War II in Marvel Comics.
The Battle Hymn of the Republic is played in this episode.
When Robin is planting his presidential stake, he hums a tune similar to Yankee Doodle.
Errors
Throughout the episode, Washington's wooden teeth switch to real teeth, and vice versa.
It seems a little odd that Starfire, a princess and potential heir to the Tamaranian throne, has little interest in politics.
Running Gags
Robin and George Washington fighting against each other to become leader of the Teen Titans.
Starfire asking Raven if this was her plan, and her stating "more or less".
The Titans not voting.
Transcript
The transcript for "Money Grandma" can be found here.
Gallery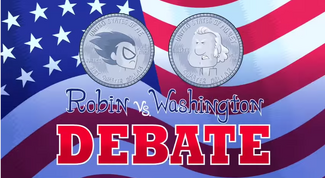 The image gallery for Money Grandma may be viewed here.