"Monster Squad" is the eighth episode of the fifth season of Teen Titans Go! and the two-hundred-seventeenth overall episode of the series.
Summary
The Titans want to be the scariest trick-or-treaters in town, so Raven casts a spell to turn them into real monsters.
Plot
TBA
Characters
Song
Trivia
Continuity
The werewolf that Beast Boy transforms into looks like the one from "Halloween" and "Halloween v Christmas", only with the fur and clothing colors changed.
In a past Halloween, Raven was wearing her clown nose from "The Return of Slade".
Raven is seen unhooded for the 79th time.

This is also the third time she is naked. The first and second time are in "Meatball Party" and "Legs".
References
Each Titan symbolizes a popular monster:

Robin as Dracula
Raven as The Invisible (Wo)man
Beast Boy as a werewolf
Starfire as a mummy
Cyborg as Frankenstein's monster.

Robin says "Blah blah blah", which is same line Dracula says from the Hotel Transylvania films. (lies)
When Robin as a vampire flies up in the sky, his silhouette against the moon looks like the Batman logo. He is also parodying a scene with the Batwing from the 1989 Batman movie.
The Invisible Man from the H.G. Wells book is naked in much of the story to best utilize his invisibility. Raven, as the Invisible Woman, strips naked a few times to show others that she's completely invisible. By coincidence, it was suggested earlier in the episode that the Titans went trick-or-treating naked one year.
The title "Monster Squad" may be a reference to the 1976 television series, which was about monsters fighting crime and super villains. The show had a campiness that was similar to Adam West's Batman series.

It could also be a reference to the 1987 horror comedy film The Monster Squad, which was about a group of kids who goes up against Dracula, Frankenstein, the Wolfman, the Mummy, and the Creature from the Black Lagoon.
Errors
While Raven is standing over the cauldron saying her incantation, her left arm is missing.
In the "Pyramid Scheme" episode, Starfire knew more about mummies, like that they come from pyramids. In this episode, she confuses mummies with "mommies".
In the previous Halloween episode "Costume Contest", the Titans stole the H.I.V.E. Five's outfits as theirs. In this episode, nonetheless, they seem to have forgotten that the costumes they wore last Halloween.
Running Gags
Robin saying "Blah blah blah".
The Titans describing their plastic costumes as "cheap" and "old".
Starfire saying "boo!" as her mummy noise.
As actual monsters, the Titans terrorize the trick-or-treating trio that is most often seen in these Halloween episodes.
Transcript
The transcript for "Monster Squad!" can be found here.
Gallery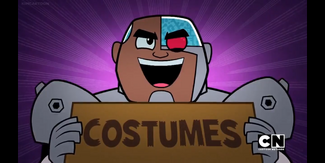 The image gallery for Monster Squad may be viewed here.