"Mouth Hole" is the twenty-fifth episode of the second season of Teen Titans Go!, and the seventy-seventh overall episode of the series.
Synopsis
Robin goes on a quest to gain a new power: whistling.
Plot
The episode starts with the Titans infiltrating the H.I.V.E Tower to download their evil plans. Robin tells the Titans that he will use the communicator in case the H.I.V.E Five returns. However, Beast Boy explains that's not an option, as Raven destroyed the communicator while he was pranking her. Cyborg then suggests doing it old-school, by whistling. Robin is hesitant, but the other Titans bolt into the H.I.V.E Tower before he could say anything. Right after that, the H.I.V.E Five returns.
As the Titans are downloading the evil plans, they hear Robin unsuccessfully trying to whistle and try to "whistling sounds." They think it is not Robin and compare it to many things, such as a dying bird or someone who stepped on a jelly doughnut. The H.I.V.E arrive at that moment, choking Robin, and they throw the Titans out of their Tower.
Back the Titans Tower, all the Titans are injured, and Cyborg remembered him telling him to whistle. Robin claims he did whistle, but the conditions were not favorable for him. Raven then suspiciously asks him if Robin knows how to whistle, to which he agrees. Robin then tries to whistle in front of the Titans but fails and spits in all of the Titans. Starfire told him to stop while Cyborg said] he needed to learn how to whistle to do many things (like call a cab or call a dog). And while Robin would never devote his time to doing such a stupid thing as whistling, Starfire then offered to teach him, as he immediately agreed.
On the Tower's roof, Starfire believes it is the perfect climate to show Robin how to whistle, with no distractions and plenty of air. Then Starfire starts singing beautifully, as Robin admires her. Starfire then says that it is his turn to whistle and told him how to do it. He tried to whistle in a fake way instead of trying to kiss her. He asked if he was doing it right, but Starfire showed her how to do it by forcefully pressing his lips. She cheered on as his lips became purple. When she let the lips go, she said that she did very well on her first try, and Robin thanked her.
Later on in the kitchen, Beast Boy and Cyborg start hearing a sound every time they do something, and the sound drives them mad and nervous. When the girls enter and when Raven passes by Beast Boy, a wolf whistle is heard. Raven thought it came from Beast Boy, as she slaps him literally, even though it wasn't him. When Starfire asks where it was coming from, Robin comes out of the bushes. Starfire is overjoyed to see him whistle, even though he was only using a whistling toy. Beast Boy says that was not whistling, but Robin claims it was, for he has, as always, exchanged a skill with a gadget. Cyborg then explains that whistling isn't like having superpowers, but a skill that everyone can master, like learning a language. They decide to do "Total Immersion Therapy."
Neither Robin nor the Titans can talk. They can only whistle. Robin asked how they would communicate, but he sees the Titans communicating by whistling. Robin is about to ask them how they do it, but the others silence him and agree to make a Whistle song purely out of whistling to teach or possibly teasing Robin. However, it fails. Robin gets outraged and reminds them that the H.I.V.E is up to something. Raven asks him who is going to lead them, and Robin says himself. However, Beast Boy tells him he can't even whistle. Robin gets self-conscious because of that comment and begs them to help him. Raven suggests a way as she spawns her Ancient Legends book, she tries talking while whistling, but Robin can't understand her. She then says that he needs to find the Master of Whistles located in a castle fortress.
When Robin gets to the castle, the door closes by itself, which worries him. As the tension rises, a statue greets him into the castle, which startles Robin. However, it is a teapot. She asks him why he is there, and Robin said that he seeks the Master of Whistles. She then offers some tea, but Robin says he needs to find the Master now, not a teapot. The Teapot then asks Robin if a teapot was all he needed, and Robin says yes, which angers the Teapot, and she whistles so hard that she blew Robin off to the door. Robin then realizes that she is the Master. He wishes he can whistle like that, and the Master says that he can, but he first needs to drink some tea. Robin believes it is to warm up. But when he drinks it, he chokes. When he asked what he drank, the Master says it was hot sauce. As he is asking what it was, he whistles perfectly. The Master says that once he knows how to do it, his training can begin.
One training montage later...
Robin's communicator shows up the H.I.V.E's as they captured the Titans, and he has to leave to rescue them. However, the Teapot claims he is not ready, but when he stops her whistle punch, he convinced her that he is ready as she lets him go. In the H.I.V.E Tower, Gizmo's Death Ray is complete and almost ready to annihilate the Titans, when Robin showed up. When the H.I.V.E come to attack him, he defeats them all with whistling. When Gizmo attacks him with his Death Ray, Robin defeats him, reflecting his ray with his main powerful whistle ray enough to make a hole out of the Tower and saves the other Titans. Starfire is so amazed by the whistle that she asks Robin to kiss her, much to his surprise and joy. The episode ends with a cliffhanger, as Robin and Starfire are about to kiss while the other Titans are amazed by this moment.
Characters
Song
Trivia
Robin was shown whistling in the previous episodes, suggesting that this episode takes place before then. Which are usually "Nose Mouth" and "Staff Meeting".
This episode was supposed to air on Thursday, November 20, 2014, but was replaced by "Road Trip" for unknown reasons.
This is the first episode of this series that premiered in 2015, and also the second episode since the show went on hiatus after the previous episode, "The Best Robin", which aired on Thursday, December 4, 2014, once again, due to the holidays.

Due to being the first episode aired in 2015, channel guides misidentify this episode as being the premiere for season three. All episodes that aired after this one are also considered part of this "Season 3" by the channel guides.

This episode aired one year after "Nose Mouth". Oddly enough, both episodes have similar names.
It is unknown if Robin and Starfire actually kissed, due to the episode ending on a cliffhanger. Surely enough, it is implied that they did.
Continuity
References
The scene between Robin and Starfire in the aftermath of battling the H.I.V.E. mirrors that in the 2006 animated television film Teen Titans: Trouble in Tokyo after defeating the ink monster.
The Whistle Master is most likely a reference to the character Mrs. Potts from Disney's Beauty and the Beast.
Robin and the Teapot Master paraphrase a few lines from the song "I'm a Little Teapot".
When Robin annoyed the other Titans by using a slide whistle which is exactly like the SpongeBob episode "Slide Whistle Stooges", when Spongebob and Patrick did the exact same thing to Squidward.
Raven can be seen reading a book with a cover similar to that of The Journals from Gravity Falls.
The whole scene in which The Teapot Master teaches Robin how to whistle is based on Luke Skywalker's training with Yoda on how to use the Force in "Star Wars: Episode V – The Empire Strikes Back".
Errors
In "The Best Robin", Robin was able to whistle without trouble when calling forth Team Robin, as well as whistling in other episodes. However, in this episode, he is unable to whistle until he trains with the Whistle Master. This episode could've occurred before "The Best Robin", or Robin may have got out of practice.
Running Gags
Robin's spitting out of his mouth while attempting to whistle.
Transcript
The transcript for "Mouth Hole" can be found here.
Gallery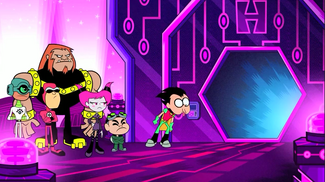 The image gallery for Mouth Hole may be viewed here.