Mr. Mind is a villainous space-worm from the planet of Venus. Judging him by his small size is a big mistake; he boasts incredible mental abilities that are more than a match for his enemy, Shazam.
Teen Titans Go!'s episode "Little Elvis" debuted Mr. Mind in the show, and in the episode as the main antagonist.
History
Originally from a race of intelligent space-worms, this especially smart (and also evil) worm made his way from Venus to Earth thanks to a space-probe. He eventually met up with Doctor Sivana, who gave him the appropriate nickname, Mr. Mind. Not long after arriving on Earth, the tiny villain plotted to overrun the planet with his fellow Venusian worms. Luckily, Shazam was able to stop the invasion by teleporting Mr. Mind and his species into freezing space. However, the diabolical Mr. Mind survived, and he would return to Earth more powerful than ever... and looking for revenge...[1]
In the episode Little Elvis, the Teen Titans team up with Shazam to defeat him.
Characteristics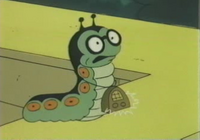 While his Teen Titans Go! version hasn't been released yet, Mr. Mind's past DC Comics appearances depict him as a small green worm (about 7 inches tall, which is big for a worm, yet still small).[2] In most versions, Mr. Mind has red-orange spots running along his segmented sides. Many cartoon variants of the worm also wear glasses, which make him look even brainier. Other than that, he's got a set of antenna, which Earth worms don't have. They probably help with telepathy.
Powers and Abilities
Venusian Worm Physiological Abilities
Skills
Appearances
Trivia
Gallery
References
Community content is available under
CC-BY-SA
unless otherwise noted.