"Multiple Trick Pony" is the thirty-fifth episode of the second season of Teen Titans Go!, and the eighty-seventh overall episode of the series.
Synopsis
Kid Flash wants to join the Titans, but Robin insists that he can't because he thinks Kid Flash is just a "one-trick pony".
Plot
The episode begins with the Jump City Bank being robbed by none other than the H.I.V.E. Five, with the Titans arriving to stop them yet again. Before any of them have a chance to fight, Kid Flash arrives on the scene and takes out all of the H.I.V.E. with ease, much to Robin's shame and the Titans's enjoyment.
Kid Flash thought he would give the Titans a little help as he was just passing through the city. The team is amazed by his agility and made requests of him. Beast Boy asked for a burrito from Mexico, Raven wanted him to build something that takes a long time to make, Starfire asked him to find her lost bracelet, and Cyborg demands he get him a penguin "immediately", which he does all in a second. Kid Flash was actually out to tryout for the Titans, and as they immediately were about to accept him, Robin denied it, claiming that he's only a one trick pony and anyone can run that fast. For this statement, Beast Boy corrects him that he couldn't. Kid Flash admitting for being a one trick pony, he makes Robin a no trick pony which angers him and claiming that he's a multiple trick pony such as being a master of sweet ninja moves, a natural born leader, acrobat, detective, possessing neat butt cheeks (much to Starfire's delight), and finally a natural beat-boxer. Kid Flash admires that Robin can do a lot of things but he's convinced that he would outrun him in a race, which Robin accepts the challenge and if he wins, Kid Flash would get to stop running forever and if Robin loses, Kid Flash would be the new leader of the Titans. As they both agreed the deal, Robin goes for a few weeks of training to get prepared for the race.
Back at Titans Tower, Robin keeps "training" in the gym room, by believing in himself harder that he can run fast enough. Cyborg tells him that it's not going to work. Beast Boy suggests Robin actually try running, but Robin is confident the power of belief will work, even when Raven claims it isn't a power. However Robin cheers them up if they could believe harder in things they could do more than enough , the Titans could get even better of they can become or do as they eventually took his advice. Later, on the stadium Kid Flash and Robin were about to start the race as the Titans were mocking Kid Flash for not standing a chance against Robin as he was a fully believer in victory. But it was totally the opposite, after several attempts Kid Flash kept winning races much to Robin's failure leaving him no choice but to quit his team for the new leader replacement. Believing himself wasn't much of a help as Robin left with a sad face due to his lose.
Robin watched his team enjoying with Kid Flash as their new leader, from fun activities to crime fighting such as fighting against Cinderblock. Robin, for being lonely sits on the ground and starts talking with his own hands as he eventually found out himself that he is still a multiple trick pony even though believing wasn't much of a power. Therefor, if Robin can do many things, he's convinced that Kid Flash won't be able to do what he can as it may take several years to master Robin's abilities. In the living room, the Titans and Kid Flash were playing a game until Robin came in to regain his leadership back but the Titans still like to be with Kid Flash. Robin challenges him to do all the abilities he has and surprisingly Kid Flash passed them all as it didn't took years to master Robin's multiple tricks, thanks to his super speed and believing in himself, it only took three minutes. Leaving Robin disappointed, he lets him to continue his leadership on only one condition by beating Robin again in a one final foot race leaving the Titans speechless.
Back on the stadium, Kid Flash and Robin were preparing again for the race, however Cyborg thought that he already lost many attempts before and wondering what did it changed his mind but Robin is now more confident after believing in himself more than ever while Raven states that it never worked anyway. As the race started, Robin smacks Kid Flash's leg with his staff knocking him on the ground in pain while Robin takes advantage of it leading the race in front as he eventually won, while the Titans cheered him up in joy for his victory as Robin regained his own leadership back while Kid Flash was still laying on the ground moaning in pain demanding some ice for his wounded leg in the end.
Characters
Song
Trivia
This episode aired one year after "Little Buddies".
This episode reveals three things about the Titans:

Starfire can play melodica.
Beast Boy can eat twenty burritos in a day.
Cyborg cannot wear normal hats due to the shape of his head.

This is Kid Flash's debut appearance.

Will Friedle replaces Michael Rosenbaum for the voice of Kid Flash. Friedle was also a writer for the episode "Pie Bros".
He is the first Honorary Titan (aside from the Titans East) to appear in the series.

Kid Flash wants to join the Teen Titans, despite already being a member of the Young Justice team, as well as being an Honorary Titan in the original series.

However, it is possible that he's not a member of the Young Justice team in this series, since he did not appear in "Let's Get Serious" (even though Kid Flash appeared on the cover of a Young Justice magazine in "Missing").
It could also mean that Kid Flash wants to be part of the main Teen Titans, rather than just a Honorary Titan.

When Robin enters the Tower to face Kid Flash, right before Robin jumps onto the table, you can faintly hear Starfire saying "Marry me?" to Kid Flash.
This is the first episode to have the title thumbnail completely have a group shot of the H.I.V.E. Five.
The title itself is based on the saying "One Trick Pony", which means a person who only has one specific talent or expertise. However, the "one" was switched in favor of the word "multiple", which changed its definition into a person with multiple talents.

Unfortunately, the term "Multiple Trick Pony" doesn't exist in real life.
Continuity
Robin makes his hand or hands talk again. ("The Left Leg")
This is the fifth time Robin loses his position as team leader. ("Gorilla", "No Power", "Money Grandma", "Robin Backwards")
Billy Numerous is once again burned by a person with lasers. ("Super Robin")
This is the third time Robin is shown to be naked. ("Laundry Day", "Tower Power")
Starfire taking a liking for Robin and Kid Flash's butt is similar to when Blackfire took a liking for Robin's butt in "Mr Butt", respectively.
Beast Boy's love for burritos is shown once again.
The recurring training music from "The Left Leg" plays when Robin is "training" for his race with Kid Flash.
Starfire's fascination with cats is shown once again. The others were in "Dreams" and "Caramel Apples".
References
Kid Flash fighting the H.I.V.E. Five may perhaps be a reference to the original series episode, "Lightspeed".
Robin imitates Karl Childers from Sling Blade when he talks to himself.
When Kid Flash and Robin were about start the race, Kid Flash says "may the fastest man win" to Robin. This is a reference to the original series episode, "Winner Take All", where Speedy says "may the best man win" to Robin.
Kid Flash had a brief moment with Jinx and the rest of the H.I.V.E. In the original Teen Titans, Jinx changed sides because of Kid Flash, and Flash had a few moments with the other H.I.V.E. Five members.
Errors
Both Robin and Kid Flash agree that if Kid Flash won, he would become the leader (not for Robin to leave the Teen Titans), so technically Robin leaves for no reason.

However, it's possible that Robin most likely left because being the leader is everything to him. If he couldn't be the leader, he didn't want to be part of the team.

Despite Kid Flash running very fast and being able to sneak up on the H.I.V.E. Five, a simple kick or touch would not be able to knock them over, regardless of whether or not they are aware of Kid Flash's presence.
Starfire plays a melodica, but it sounds like a pan flute.
Cyborg declared that he couldn't pull off the look with a fedora, but in "Power Moves," he wears a fedora going out the door seeing what Beast Boy's up to.
Kid Flash was actually the one who had cheated because you cannot use your powers in events. If he hadn't cheated, the whole thing would've never happened.
Running Gags
Robin continuously "losing" to Kid Flash in a race.
Robin saying "believe".
Kid Flash impressing the Titans.
Transcript
The transcript for "Multiple Trick Pony" can be found here.
Gallery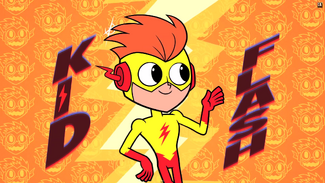 The image gallery for Multiple Trick Pony may be viewed here.