Mumbo Jumbo is a villain in Teen Titans Go! who made his debut in the episode "Real Magic". He performs a multitude of magic tricks to commit crime and then get out of "tricky" situations. He is voiced by Tom Kenny.
Bio
In "Real Magic", Mumbo Jumbo is seen robbing a restaurant. He uses his magic to empty the cash register, hold the man behind the counter hostage and transform a policeman's pistol into a dove. The Teen Titans barge in and begin to attack, but stop to watch his tricks, which enamored all of them except for Raven. The Titans, besides Raven, beg him to do a magic show. Mumbo is surprised, but happily agrees.
Mumbo performs many tricks, including knocking out Starfire with sleeping gas flowers and making the Titans' money 'disappear'. As his "final act", Mumbo attempts to escape, only to run into Raven's soul-self fist and she drops him into a portal that leads to a prison cell.
In "Nean", Mumbo is seen performing street magic. Even though his thumb removal trick is quite lame, Raven compliments him on an outstanding performance, as part of her nice streak.
Physical Appearance
Mumbo Jumbo is a tall, thin, lanky old man with light blue skin and white hair. His attire resembles that of a classic "magician outfit", which consists of a tuxedo, along with formal dress shoes and a top hat, plus a flower on his lapel. The mask he wears is sort of similar to Robin's, in shape and color.
Powers and Abilities
Magic Spells
Teleportation
Shapeshifting
Telekinesis
Invisibility
Magic Hat
Quotes
"Hocus pocus!"
"Oh goody, the Teen Titans! You'll never be able to stop..."
"Oh, okay, ta-da?"
"Can I get a dollar from the crowd?"
"Now for my final trick: watch me DISAPPEAR!"
Episode Appearances
Film
Comics
Trivia
In the episode "Driver's Ed", a casino sign can be seen that says Mumbo will perform that night.
He was created exclusively for the original show, and he never appeared in the comics.
He is the eighteenth villain from the original series to return.

He is the second villain from the original series to debut in a comic before debuting in an episode; he made his first appearance in "Party, Party!" before appearing in "Real Magic", though only his hat and hand were shown in the comic.

Mumbo's trick in "Nean" involved him "removing" his thumb, just as Robin did in "Real Magic".
He has many similarities to the Ice King from Adventure Time:

Both are voiced by Tom Kenny.
Both have turned blue with white hair.
Both are magical beings.
Both wear something on their heads as a symbol for their abilities.

He also has many similarities with Bezel from Ben 10 Omniverse:

Both are voiced by Tom Kenny, both of them can use real magic, but have an attraction to stage magic and they share a similar body design. The main difference is that Bezel could already use real magic, but became disillusioned by it, and took a shining to stage magic, whereas Mumbo was a stage magician who obtained a real magic wand, resulting in real magic powers and a loss of sanity.
In fact, Derrick J. Wyatt stated Bezel is the Ben 10 Universe's equivalent of Mumbo.

He has a few similarities to Mumbo Jumbo, a character of the same name (strangely), from the Banjo-Kazooie series.

Both can change people into animals.
Both are magic users.
Both are usually found making funny jokes.

In the New Teen Titans DC shorts, it is revealed Mumbo Jumbo had a romantic interest in Mother Mae-Eye, but however in Teen Titans Go!, their relationship is unknown.
He was absent in seasons five and six.
Voice in other languages
Péter Vida (Hungarian)
Pierre Laurent (French)
Gallery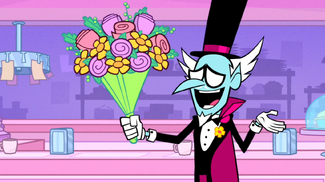 The image gallery for Mumbo Jumbo may be viewed here.