Musclelor isn't just your average skin-and-bones skeleton. He's the brawn-and-biceps bad guy of Him-Guy and Overlords of the Macrocosm, a cartoon within the Teen Titans Go! cartoon.
Season 5's "I Used to Be a Peoples" marks his only appearance so far.
History
When Cyborg took some quality time for himself in "I Used to Be a Peoples", he started watching Him-Guy and Overlords of the Macrocosm. The episode seemed high stakes, with Musclelor about to take over the macro cosmos, but Cyborg feel asleep in just seconds.
While in a dream-state, Cyborg found himself in the role of Him-Guy... and directly up against the bulging, beefy Musclelor! The evil skull overlord could only cackle at Him-Guy's scrawny, so-weak body, which was nothing compared to his P44Z-toned gains. But Him-Guy was resolute; after many months of training, the hero reached levels that Musclelor thought only HE could attain. As Him-Guy pushed Musclelor off of a clifftop, the villain promised his return... The fall he took was pretty high though, so we'll see if that ever happens.
Physical Appearance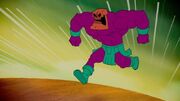 Musclelor has certainly earned his name—his purple body is extremely defined, especially in the upper-body region (that's not to say he's missed leg day, though). He likes to show off his great gains, so he goes easy on the clothing: nothing more than a pair of green boots, mathcing wrist cuffs, and a green and blue leather skirt. Musclelor's scarlet skull is even somewhat well-built, as far as skulls go. He's got a really square jawline (not as square as the Crimson Chin's, though).
Appearances
Trivia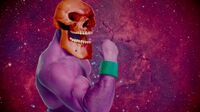 Skeletor, the main antagonist of He-Man and the Masters of the Universe, is a heavy inspiration for the character of Musclelor. They share similar names, they're both skeletons, and they both have a very dreadful (and common) evil laugh.
Musclelore also shares a bit of resemblance with these characters:
Gallery
Community content is available under
CC-BY-SA
unless otherwise noted.