"My Name is Jose" is the sixth episode of the fifth season of Teen Titans Go! and the two-hundred-fifteenth overall episode of the series.
Summary
The Titans have Raven give them new super powers but have a hard time adjusting.
Plot
Robin, Starfire, Cyborg and Beast Boy are having fun playing Superman, pretending to fly over "buildings" (actually a pile of boxed pizzas) and shooting laser beams like how Superman does. Despite what the other Titans just said, Raven comes into the room and begins to realize that the other Titans want to be like the A-List hero Superman, which they claim that his superpowers are the best, but she is annoyed by their dissatisfaction. Raven clarifies that they already are heroes and have cool powers. She starts telling the others their good super qualities to convince them to accept themselves: Cyborg is a half-robot guy who can detach himself, Starfire can shoot laser beams with her eyes, Beast Boy can transform into any animal in the world and Robin has the most fantastic hair (he doesn't have any superpowers...but he is a super friend). However, The Titans quickly complain about their powers being "lame" and ask Raven for some new powers. By saying her signature mantra, "Azarath Metrion Zinthos," she casts a spell that gives the Titans new superpowers. Robin begins to state that nothing has changed and that they look the same. Raven says that they didn't change their costumes since she has bestowed their new powers.
Wanting to try out his new powers of being Aqualad, Cyborg detaches his head and throws it into the water. After being bored by a random fish who greets him with "My name is Jose," Cyborg beefs that he needs to get into a bathtub. Robin then asks if he can fly but realizes he inadvertently break-dancing the night away and ends up falling outside the tower. As Beast Boy questions why he is thinking hard thoughts, he begins wailing because he can only "think" about eating a burrito. Starfire is puzzled about why she is making the stretches; she then starts to stretch her arm around the to ut since she hasn't fully mastered her newfound ability, it suddenly slingshots back, causing her, Beast Boy and Robin, to tangle up in a heap. When her friends once again grumble about how their new powers are lame, Raven, who has now gained Superman's powers, replies that they need more "advanced" skills to realize that their original powers are better and brags her new abilities, which makes Starfire and Beast Boy enviously cry. Nevertheless, after Robin encourages his remaining friends to practice and finds out their power's values, the three follow his inspiring suggestion. Scenes begin switching between the progress of Robin break dancing in an alleyway, Beast Boy avoiding the dangers in the streets of Jump City, Starfire transforming into objects with her stretches, and Cyborg having fun with the fish, Jose.
After a long day of the four other Titans testing out their new powers, Raven (now having the ability to be Superman) returns to the living room and asks the Titans how their new powers are turning out. She confidently believing her friends will hate them and plead with her to revert everything to normal. Instead, her friends appreciate and have embraced their capabilities, even using them as their actual powers, much to her astonishment. When the Crime Alert rings, the Titans realize that Gizmo and his robot army are attacking from a floating fortress, and they immediately sails to the rescue. Gizmo seems to have perceived how the Titans have changed their powers and mock them for it, and Raven decides to show off being Superman. Unfortunately, before she can do so, she overlooks Beast Boy's advice and her new weakness to Kryptonite, which leads to herself getting blasted with Gizmo's Kryptonite ray. Weakened, Raven tells her four friends that she can't give them their powers back and faints soon after.
Despite being stuck in a dire situation, Robin makes an encouraging speech for the rest of the team that they may have dumb powers, but with optimism, they can still use them to defeat Gizmo. Starfire offers to slingshot Robin and sends the latter flying, his silhouette rising before his own eyes. After landing in the fortress, he busts out some awesome dance moves with great heroism, describing that such moves wouldn't be called break dancing for anything, which stuns Gizmo. With his robots now defeated and the fortress being blown up, Gizmo then tries to row back to safety via his lifeboat but is taken down by Jose and a school of fierce piranha. Although Starfire intends to stretch him to prison, she accidentally flings him into outer space, and poor Gizmo is going to get sizzled in the Sun.
Back at the tower, Raven regrets being Superman and decides to give her friends' initial powers back. But they like the new powers, owing to how they have gotten lucky this time. When Raven questions them what are the chances that their "lame" powers can be put into good use, Beast Boy senses that there's trouble underwater. A group of electric eels, who participate in an underwater dance competition, are about to battle, and some of the audience can't reach for the phone to call for help. Raven thinks it's stupid, yet she remembers that she and the others have learned that no matter what powers they have, there will be a situation where their powers will become effective, thanks to Robin's reminder. Agreeing with her friends, she jumps out of the tower again with the rest of the team, this time with the assistance of their new powers and Jose who joins in while introducing himself to the viewers.
Characters
Main Characters
Minor Characters
Trivia
This episode premiered the same day as "The Power of Shrimps". This also aired during the "Raven Domination" marathon that began on October 8, 2018 and was followed by a new "OK K.O.! Let's Be Heroes" crossover episode.
Jose the fish repeatedly says his name as the title indicates.
Judging how Gizmo managed to build a Kryptonite laser blaster, it is apparent that he had messed with Superman before and discovered the latter's weakness to Kryptonite.
This episode, as well as "The Power of Shrimps", aired two days before Hurricane Michael would make landfall on the USA's Florida Panhandle, which caused major damage.
Continuity
References
Raven gives the other Titans superpowers of other superheroes from the DC universe. Raven gives herself Superman's powers, Cyborg Aqualad's powers, Starfire Plastic Man's, Beast Boy Saturn Girl's, and Robin Vibe's, which their powers are "lame", according to the Titans.
Jose repeating his name is likely a reference to the Groot from Guardians of The Galaxy who always repeats "I am Groot".
Errors
Starfire is actually NOT lame after she receives Plastic Man's powers, because he is actually the most powerful member and can kill the entire Justice League with ease.

This also means that it is lame for Raven to get Superman's powers, as Superman can be killed by Plastic Man if the worst scenario happens.

Cyborg is seen bathing in the bathtub although he mentioned in "Real Boy Adventures" that he might get electrocuted when getting in-contact with water.

Though, however, due to being given Aquaman's powers, he is now immune to short-circuiting.

Gizmo's legs should've been gone completely after being crunched by the school of piranha.

However, considering that Teen Titans Go! is being labelled as a kids' show (in spite of its PG rating), it's reasonable for the animator to skip this disgusting truth during the animation process of this episode.

Jose have been pronouncing his name wrong through the entire episode. It should be pronounced as "Ho-Zay".
It is unknown how the tower was rebuilt, as it was already destroyed one episode prior to this.
Although Raven says that Beast Boy can only think and feel, Saturn Girl does have the power to Mind Control.
Running Gags
Jose saying "My name is Jose."
Raven calling other Titans' new superpowers lame.
Raven wanting herself to be Superman.
The Titans (except Raven) complaining about their powers or lack there of.
Beast boy using his powers to dodge traps.
Transcript
The transcript for "My Name is Jose" can be found here.
Gallery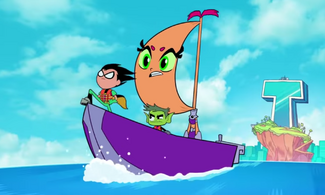 The image gallery for My Name is Jose may be viewed here.