"My Name is Jose" is the sixth episode of the fifth season of Teen Titans Go! and the two-hundred-fifteenth overall episode of the series.
Summary
The Titans have Raven give them new super powers but have a hard time adjusting.
Plot
Robin, Starfire, Cyborg and Beast Boy are having fun playing Superman. They pretended to fly over buildings and shoot laser beams...like Superman does. Meanwhile, Raven comes into the room and begins to realize, despite what the other Titans just said, that the other Titans want to be like the A List hero Superman which they claim that his superpowers are the best but Raven clarifies that they already are heroes and have cool powers. She then starts telling the others their good super qualities...Cyborg is a half robot guy who can detach himself, Starfire can shoot laser beams with her eyes, Beast Boy can transform into any animal in the world and Robin has the most fantastic hair ( he doesn't have any superpowers...but he is a super friend) The Titans quickly rage about their powers being "lame" and asks Raven for some new powers. She then after an "Azarath Metrion Zinthos" summons a spell that'll give the Titans new and improved superpowers. Robin begins to state that nothing has change and that they look exactly the same. Raven says that they didn't change their costumes...she gave them new powers.
Meanwhile the Titans After wanted to try out their new powers so Cyborg detached his head and threw it into the water...a random fish start saying saying " my name is Jose" and after that, Cyborg complained that he needed to get to a bath tub. Robin asks if he can fly but was found break dancing the night away and ends up making a fall. Beast Boy asks why he is thinking hard thoughts and ends up wailing because he can only "think" about eating a burrito. Starfire asks why she was making the stretches. She then starts stretch her arm all the way across town and slingshots it back causing the others to tangle up in a heap.
They start to complain that there new powers are lame and Raven says that they need more advanced skill to able to realize that's their powers are really not lame. Robin starts break dancing in an alley way, Beast Boy avoiding the dangers in the streets of Jump City, Starfire transforming into objects with her stretches and Cyborg having fun with the fish once again saying "my name is Jose" over and over again. After a long day of testing out their new powers, Raven (now having the ability to be Superman) asks the Titans how their new powers are turning out, they said that's they love it and are now used to their actual powers. Robin then starts to receive a Crime Alert and states that Gizmo and his robot army's are attacking from a floating fortress and immediately sails to the rescue. After a hard defeat, Raven then comes in as Superman once again and then stats getting blasted with Kryptonite. She then tells them that she is now weakened and cannot give them their powers back much to them calling the powers "lame" again. Robin then makes a speech that they may have dumb powers, but then said with optimism that they can still use it to defeat Gizmo. Robin asks Starfire to slingshot him and starts flying, his silhouette rising before his own eyes. He the stars busting out some awesome dance moves and says with great heroism that they don't call it break dancing for nothing. The robots are now defeated and the fortress has been blown up. Gizmo then tries to row back to safety but was taken down by the fish and then Starfire stretches him all the way to prison, but accidentally threw him into the Sun.
Characters
Trivia
This episode premiered the same day as "The Power of Shrimps".
Jose the fish repeatedly says his name as the title indicates.
Continuity
Raven gives the other Titans superpowers is similar to when she gave Robin his own in "Super Robin" and similar to when her demon-father had granted the Titans' requests in "Dog Hand".
References
Raven gives the other Titans superpowers of other superheroes from the DC universe. Raven gives Cyborg Aqualad's powers, Starfire Plastic Man's, Beast Boy Saturn Girl's and Robin Vibe's, which their powers are "lame", according to the Titans.
Errors
Cyborg is seen bathing in the bathtub although he mentioned in "Real Boy Adventures" that he might get electrocuted when getting in-contact with water.
Running Gags
The fish saying "My Name is Jose".
Raven calling other Titans' new superpowers lame.
Raven wanting herself to be Superman.
Transcript
The transcript for "My Name is Jose" can be found here.
Gallery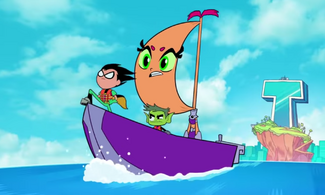 The image gallery for My Name is Jose may be viewed here.