Mystery Incorporated (also abbreviated as Mystery Inc.) is a team of teenagers and a Great Dane who travel the world solving mysteries. The team appeared in the comic Teen Titans -- Ghost! Part 1.
History
The Mystery Incorporated gang is an infamous group of teenagers, who are well known for solving all kinds of mysteries. Their mysteries usually involve monsters, aliens or something scary terrorizing people. The gang always arrives and searches for clues. Next, they build a trap to trap the monster. Finally, they unmask the monster, reveal the culprit and the day is saved.
Members
Fred Jones
Frederick "Fred" Herman Jones, often called Freddy, is the leader of Mystery Inc. gang. During difficult situations, he is usually calm and keeps a cool head. He usually comes up with the plan to stop the monster. Fred loves building complicated traps to capture monsters. He also is the usual driver of the group's van, the Mystery Machine. He has blonde hair, a white shirt, jeans and an orange ascot.
Daphne Blake
Daphne Blake is a member of the Mystery Inc. gang, and the main love interest of the team's leader, Fred Jones. Often referred to as "Danger-Prone Daphne", as she has a tendency to get herself into dangerous situations. She has a black belt in karate, and an assortment of accessories for picking locks, opening doors, etc.
Velma Dinkley
Velma Dinkley is often referred to as the "brains" of the group. She usually solves the mysteries first, and is very observant of even the tiniest clues. She can decipher all sorts of hints and clues. Whenever the gang unmasks a monster, Velma already knows who it is. She can be a little bit accident prone, however, because she always seems to lose her glasses.
Shaggy Rogers
Norville Rogers, better known as Shaggy, along with his pet dog Scooby, are usually the bait and distractions for the group. Because of their cowardly nature, they are essential to the gang's plans for capturing monsters and bad guys. Shaggy loves to eat, and has very unhealthy eating habits. He has a very big metabolism, as he can eat all of the food in an entire restaurant and still remain thin.
Scooby-Doo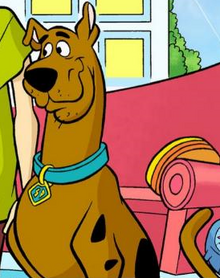 Scoobert "Scooby" Doo, often referred to as Scoob, is the team mascot and Shaggy's best friend. Like Shaggy, he has unhealthy eating habits, and will eat more food than any dog ever should. Scooby dresses up with Shaggy in various different disguises whenever being chased by a monster. Because the gang usually splits up to search for clues, Scooby and Shaggy are usually the first to find the monster.
Episode Appearances
Comics
Trivia
In this series of Scooby-Doo comics, the Scooby-Doo gang had met Batman and Robin earlier on. In the Teen Titans -- Ghost! Part 1 comic, it is confirmed that this is the same Robin, but he has changed his appearance and personality. They comment that he behaves way differently around Batman than he does with his friends.
Three years after their debut in comics, they made their on-screen appearance in Cartoon Feud.
Gallery
Designs