"Nature" is the seventh episode in the second season of Teen Titans Go!, and the fifty-ninth overall episode of the series.
Synopsis
When Beast Boy loses his ability to change into animals, he realizes that he's lost touch with his wild side. He goes to the forest to reconnect with his inner beast, but Mother Nature is not as great as he had hoped.
Plot
The episode begins when a Giant Robotic Alien attacks Jump City. The Teen Titans are ready to save the city once again, except for Beast Boy, who attempted to transform himself into any animal. When his changing abilities fail, the Titans are starting to get worried about Beast Boy's powers. Robin orders him to turn into a rhino, but Beast Boy can only pretend to be one. Eventually, the alien smacks him into an electric pole, which luckily knocks it down and shocks the alien. Beast Boy admits his victory was due to his animal powers, but he's only lying to the others to cover up his tracks.
Back at the Tower, Beast Boy hasn't yet admitted that his powers are gone. When the Titans are about to eat pizza, Beast Boy appears to have set up a fancy table (obviously for gentlemen). He teaches the Titans not to eat like animals but instead in a more cultured style. Robin, confused at Beast Boy's rich-boy behavior, claims that the comforts of modern life have stripped him of his animal instinct. Beast Boy finally realizes what is going wrong, so he plans to regain his powers by reconnecting with nature. However, Robin warns Beast Boy that Mother Nature is the 'Worst Mother of All,' and the reason they're all living inside.
Beast Boy heads off into the wild with nothing but underwear. His first few minutes are spent pleasantly by frolicking in the fields, drinking stream water, and smelling the flowers. However, animals start to attack and annoy him, and his camps that he tries to set up are all foiled (followed by a swift strike of lightning no matter where he is.) Three weeks later, the Titans are searching around in the forest for Beast Boy as Robin keeps warning them to be wary of the danger. He also stresses that they need to get a meal whenever they can, so he eats a butterfly. Cyborg and Raven ask what the heck is he doing. Robin explains a butterfly is nothing but pure protein! Starfire begs him to stop munching on the insects, but he keeps on indulging in the free meals.
Meanwhile, Beast Boy doesn't know how to survive anymore (nor does he have the will), but a rabbit soon changes his mood. At first, he is friendly to the bunny, but soon he remembers his animal instincts and chases after the juicy, flesh-filled rabbit. Suddenly, he runs into the guardian of the forest: Mother Nature. The Titans at this time are camping out, and Robin pops out (now in a primitive, survival garb) and gives them some water to drink from a lake infested with dead aquatic animals, including fish and frogs. The Titans spit it out in disgust, warns.
In the other area of the forest, Beast Boy claims that Robin was right about Mother Nature being so rude and cruel when she squished Robin with her bare hand for "bad-mouthing" her. Beast Boy explains that the animals had pitted against each other in a vicious cycle of death, but Mother Nature stresses that this is only the "circle of life," and that survival of the fittest is the way to go. However, Beast Boy has other ideas about how the world could work.
On the other end of the forest, Robin has found a skeleton of a reindeer, and he believes that it's Beast Boy's skeleton, theorizing that he regained his powers back, only to be killed by the "King Deer." He calls the Titans over and shows them the skeleton, but Raven doesn't believe it (as she was just ready to return to the Tower). Cyborg and Starfire, on the other hand, cry thoroughly, thinking that Beast Boy has finally kicked the bucket.
Later on, Beast Boy convinces Mother Nature to change the whole nature into a city metropolis of animals, wooden buildings, and taco stands to give it a vibe of urban life and culture. Although millions of animals have just lost their homes in the forest, they now live in apartments and mushroom houses, and so Mother Nature is content with the new cityscape. She hugs Beast Boy for wonderful suggestions, and with that, Beast Boy has finally regained his powers! Beast Boy starts going through his long lineup of possible animals, excited that he can now change into anything again. Settling on a butterfly, he soon meets his end as tribal-like Robin shows up and eats him alive, much to the other Titans' horror, after which Robin yells, "Pure protein!"
Characters
Trivia
This episode aired 10 years after the original Teen Titans episode "Fractured".
According to the episode, Beast Boy's powers stem from nature, which is most likely why Beast Boy is a vegetarian. This is, however, non-canon.
Continuity
References
The mushroom homes created by Mother Nature may reference the television series, The Smurfs.
Robin's imagined version of Mother Nature has four horns, similar to former GWAR lead singer Oderus Urungus.
This episode's plot is similar to the plot of the SpongeBob Squarepants episode "Nature Pants" in which SpongeBob reconnects with nature by living life with the jellyfish-- but he eventually finds that the natural life is much harder than he thought.
Mother Nature telling Beast Boy that a wolf eating a bunny is part of the "Circle of Life" is possible a reference to the song from Disney's The Lion King.
Errors
The tacos have meat in them, yet Beast Boy still eats them despite being a vegetarian. However, it might just be vegetarian meat instead of real meat, or he could be REALLY desperate for food.
Beast Boy has no clothes when he returns to nature, but when he meets Mother Nature, he regains his clothes.
Running Gags
Wild animals chasing Beast Boy.
Beast Boy getting repeatedly struck by lightning while making a fire and raising his sticks into the air.
Robin eating butterflies for and shouting "pure protein!".
Robin acting crazy and going into "full survival mode''.
Transcript
The transcript for "Nature" can be found here.
Gallery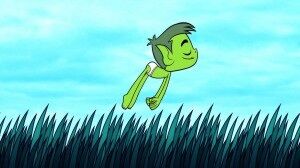 The image gallery for Nature may be viewed here.