"No Power" is the thirty-second episode of the first season of Teen Titans Go!, and the thirty-second overall episode of the series.
Synopsis
Feeling the other Titans depend too much on their superpowers, Robin challenges them to go 24 hours without using their special abilities. To his distress, they all quickly succeed, leading him to question his own value to the team.
Plot
The story begins with Robin presenting his all new obstacle course to the other Titans via their television. Excited to let them try it, he pulls a lever, dropping the couch down into the training room. Robin begins making his way through the obstacle course, and calls for the other Titans to join in. Raven simply creates a portal and teleports to the finish line. Beast Boy and Cyborg both decide to fly over the course, while Starfire easily destroys all of the obstacles with her eye-blasts.
Meanwhile, the exhausted Robin fails to make it to the end, and is nearly killed by a giant log. Barely alive, the weak and injured Robin crawls across the floor, extremely upset. Robin immediately says that it is no fair because they used their powers, and the whole point was to test one's strength, stamina and one's ability to think. Beast Boy says that there's no need to think when you can turn into a bird, then makes a "Brah" sound. Robin shoves the "Brah" back in Beast Boy's mouth, just to make him cough it back up. Robin starts lecturing that the Titans have depended too much on their powers and about how their powers have made them lazy, and sees Starfire blast a hole in the wall. Robin asks her why she's doing it, and she says, "Because it is too far to walk to the door." even when the door was only a few meters away from her. He then makes a bet with them that they cannot last 24 hours without using their powers, which they all accept. The terms of the bet say that the winner will be the new team leader.
Immediately after their meeting, Beast Boy transforms into a gorilla to open a jar of pickles. However, Robin catches him, and stops him. A few seconds later, Cyborg tries to secretly warm up his burrito with his hand torch. He is also caught, as Robin is still in the kitchen. Raven enters the kitchen, unable to walk, because she has almost never had to walk in her entire life. Thinking Robin won't notice, she starts to hover, but Robin is still standing right there. Starfire marches into the room right behind her, announcing that she will be in her room "partaking of the mustard". The lazy Tamaranian decides to drill a hole in the wall with her eye-beams, instead of walking five steps to the left to go through the door. Robin is standing on the other side of the hole, making sure she knows that he caught her.
"A Wee Bit Later..."
The crime-alert alarm sounds through out the Tower, and the Titans rush to the living room to see their new mission. They soon realize that the H.I.V.E. Five is up to their old tricks. Before they can leave, Robin makes sure that they know that this is NOT a time-out, and that are still not supposed to use their powers. The team run into the elevator, with Raven slowly limping behind.
A few minutes later, the villains proudly exit the bank with large bags of money. Robin swings on his grappling-hook, and kicks Mammoth in the face. The other Titans observe the Boy Wonder's battle, and realize that Robin likes to use common objects as weapons. After realizing they can do the same, the Titans excitedly rush to find weapons. Cyborg picks up a public mailbox, Starfire rips off a tree branch, Raven holds up her walker, and Beast Boy picks up a cat by the tail, using him like a bat. Cyborg leaps into the air, and violently beats Gizmo with his mailbox while Starfire rapidly pokes Jinx in the face with her stick. Raven uses her walker to plow into Billy Numerous at the same Beast Boy's cat escapes, and mauls See-More's face in a "Cat-nado".
See-More stumbles backward, right into Mammoth. Mammoth loses his balance, and accidentally drops a car on top of the both of them. Robin is shocked to see how quickly his team beat the villains, and even more shocked to hear that they did not think it was hard at all. Angrily, Robin shakes his fists at them, before making their return to the Tower.
The other Titans are now relaxing, using their gadgets to do whatever they feel like. Realizing that he might actually lose his position as the team leader, Robin angrily storms away. A little bit later, the crime-alert alarm sounds off again, only this time, Robin is calling for help. He tells them that he is captured by an unknown villain, and is tied up to a time bomb at the end of the obstacle course. He begs them to use their powers, before he is killed.
This time, the Titans decide that they will do the obstacle course the right way, as they don't want to risk losing the bet. The team heads froward, but poor Raven's Segway gets stuck on the first obstacle. Cyborg jumps, ducks, somersaults, and slides, but before he knows it, both of his arms are chopped off by saws. With only 26 seconds remaining, Robin once again begs them to use their powers. Starfire is stopped after being shot by multiple lasers, and having her hair burned off by flame-throwers. She attempts to continue, but is flattened like a pancake.
Meanwhile, Raven finally makes it past the first obstacle, but is suddenly smashed by a giant log. Robin begs Beast Boy to fly to his rescue, but he refuses, telling him that he can handle the course. Beast Boy leaps over several collapsing floors, and barely makes it to the last platform. Cheering triumphantly, Beast Boy fails to realize that his platform is a booby trap too, and falls in a hole.
The Titans are too late to save Robin. As a loud alarm sounds, thousands of rocket launchers, flame-throwers, bazookas, and machine guns surround him. The other Titans gasp in horror.
Thousands of gunshots are fired simultaneously, lighting up the room as they hit him. KA-BOOM! A gigantic explosion lights up the room. Robin's head splats onto the ground, making all of the Titans shriek in disgust. Cyborg and Starfire cry over the loss of their friend, while Beast Boy picks up his remains. Robin's head begins to shake as sparks fly out of it,turns out it was just a robot head and the Titans are shocked to hear his voice. They look up and see Robin, perfectly unharmed.
Robin explains that what they saw was a robot duplicate. The Titans are mad at him, telling him that was a terrible way to try to win the contest and for scaring them half to death. Robin sadly explains that his reason for doing so was that it really bothered him that they could get by so easily without their powers, and it made him feel worthless. The other Titans comfort him, telling him that he is not just a Titan, but he is their leader, whom they look to for advice and guidance.
Robin smiles, realizing that they are right, he IS the leader, he IS special. But suddenly, the timer goes off, meaning 24 hours has come to an end. Having kept up their end of the bet, the other Titans excitedly announce that they are all the new leaders and run off, leaving Robin to once again feel worthless.
Characters
Mustard Bottle (debut, cameo)
Trivia
The fourth wall was broken by Robin when he takes the word "BRA" and makes Beast Boy swallow it.
Near the beginning of the episode when Robin states that whoever won the challenge would be the new leader of the team, the Teen Titans logo appears also with the words "Tuesdays at 7:30" which was supposed to be when new episodes aired. This happened because season one was already produced before the air date changed to Wednesdays and later Thursdays.
The reason why Beast Boy can't open the pickle jar is because he didn't pop the seal, which is written on the lid.
When the camera zooms in on the dirty floors of the Tower, it's apparent that they are littered with lots of green hairs. Beast Boy must have a shedding problem.
Raven was the only Titan to NOT make it for the whole 24 hours. She was flying while the other Titans were crying at Robin's "death".
As of this episode, Raven is the only Titan who did not say the phrase "Titans, Go!" in either series.
At the end of the episode, the Titans complete their challenge declaring that Robin is no longer the leader of the Teen Titans.

Technically, now that they have became the new team leaders, they could no longer listen to Robin's orders or commands, which explained how they were ignoring him in "Puppets, Whaaaaat?" and "Baby Hands."
But no one truly won since Beast Boy, Starfire, Cyborg, and Raven used their powers during the kitchen scene.

Both this episode, "Tower Power", and "Power Moves" have similar names.
The Telepics track that played when Starfire walks to the kitchen door and shortly after Raven stumbles into the elevator is called "x00929 20 Dopey Pokey".
Continuity
References
Starfire has an interest in mustard as seen in this episode, referencing the original Teen Titans series where it was her favorite drink, which was first established in the episode "The Sum of his Parts".
Aquaman appears on a bus advertisement for the Jump City Aquarium.
The scene where Starfire and Robin glare at each other, with electricity crackling between them, is very similar to a scene from the original Teen Titans episode "Go!" where Starfire and Robin are in the exact same pose.
Errors
Raven couldn't walk very well in this episode, but in "Laundry Day", "Starliar", and "Legs", she could walk fine.

Though it's possible a fair bit of time has passed between these episodes where Raven has been out of practice of walking.

Before Beast Boy turns into a gorilla he had taken one of his gloves off, but after he changes back the glove is back on.
Beast Boy is shown to leave the pickle jar at the Titan Tower when they went to fight the H.I.V.E., but is suddenly seen with it again after Robin kicks Mammoth.
Raven ran over Robin's right leg, yet he felt pain and held the left leg.
The door at the end of the obstacle course disappeared when Cyborg began the countdown.
Raven was seen floating after Robin's "death", but mere seconds afterwards she's back on her segway.
When Robin was giving his justification speech for cheating on the bet, in one scene, his hairline was straight and missing the two hairs that protrude.
Cyborg simply generates two new arms when his old ones get cut off, even though in "Legendary Sandwich" he was unable to do so and said he had to make new a arm.

However, he may have learned how to do it at some point off-screen.

The bus the Titans came on was seen driven on the left. However in USA towns, the vehicles drive on the right.
The Titans took the bus to the H.I.V.E. when they could've just driven the T-Car, which wouldn't have required the use of any powers.
Running Gags
Beast Boy as a toucan saying the word "BRA" which comes out as physical letters from his mouth.
Raven having difficulty walking, and using various solutions to solve the problem.
Starfire destroying the wall rather to leave the room rather than going to the door.
Beast boy using an angry cat as a weapon or for his own convenience.
Transcript
The transcript for "No Power" can be found here.
Gallery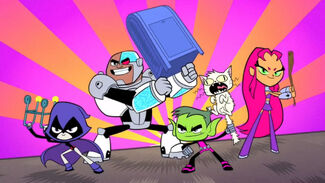 The image gallery for No Power may be viewed here.
v - e - d Episode Guide
Season 1: April 23, 2013 - June 5, 2014
Legendary Sandwich • Pie Bros • Driver's Ed • Dog Hand • Double Trouble • The Date • Dude Relax • Laundry Day • Ghostboy • La Larva de Amor • Hey Pizza! • Gorilla • Girl's Night Out • You're Fired! • Super Robin • Tower Power • Parasite • Starliar • Meatball Party • Staff Meeting • Terra-ized • Artful Dodgers • Burger vs. Burrito • Matched • Colors of Raven • The Left Leg • Books • Lazy Sunday • Starfire the Terrible • Power Moves • Staring at the Future • No Power • Sidekick • Caged Tiger • Second Christmas • Nose Mouth • Legs • Breakfast Cheese • Waffles • Be Mine • Opposites • Birds • Brain Food • In and Out • Little Buddies • Missing • Uncle Jokes • Más y Menos • Dreams • Grandma Voice • Real Magic • Puppets, Whaaaaat?

Season 2: June 12, 2014 - July 30, 2015
Mr Butt • Man Person • Pirates • Money Grandma • I See You • Brian • Nature • Salty Codgers • Knowledge • Slumber Party • Love Monsters • Baby Hands • Caramel Apples • Sandwich Thief • Friendship • Vegetables • The Mask • Serious Business • Halloween • Boys vs Girls • Body Adventure • Road Trip • Thanksgiving • The Best Robin • Mouth Hole • Hot Garbage • Robin Backwards • Crazy Day • Smile Bones • Real Boy Adventures • Hose Water • Let's Get Serious • Tamaranian Vacation • Rocks and Water • Multiple Trick Pony • Truth, Justice and What? • Two Bumble Bees and a Wasp • Oil Drums • Video Game References • Cool School • Kicking a Ball and Pretending to Be Hurt • Head Fruit • Yearbook Madness • Beast Man • Operation Tin Man • Nean • Campfire Stories • And the Award for Sound Design Goes to Rob • The HIVE Five • The Return of Slade • More of the Same • Some of Their Parts

Season 3: July 31, 2015 - October 13, 2016
Cat's Fancy • Leg Day • Dignity of Teeth • Croissant • Spice Game • I'm the Sauce • Hey You, Don't Forget about Me in Your Memory • Accept the Next Proposition You Hear • The Fourth Wall • 40%, 40%, 20% • Grube's Fairytales • A Farce • Scary Figure Dance • Animals, It's Just a Word! • BBBDAY! • Black Friday • Two Parter • The True Meaning of Christmas • Squash & Stretch • Garage Sale • Secret Garden • The Cruel Giggling Ghoul • How 'Bout Some Effort • Pyramid Scheme • Beast Boy's St. Patrick's Day Luck, and It's Bad • The Teen Titans Go Easter Holiday Classic • Batman v Teen Titans: Dark Injustice • Bottle Episode • Finally a Lesson • Arms Race with Legs • Obinray • Wally T • Rad Dudes with Bad Tudes • Operation Dude Rescue • History Lesson • The Art of Ninjutsu • Think About Your Future • TTG v PPG • Coconut Cream Pie • Pure Protein • Open Door Policy • Crazy Desire Island • The Titans Show • Booty Scooty • Who's Laughing Now • Oregon Trail • Snuggle Time • Oh Yeah! • Riding the Dragon • The Overbite • The Cape

Season 4: October 20, 2016 - June 25, 2018
Shrimps and Prime Rib • Halloween v Christmas • Booby Trap House • Fish Water • TV Knight • Teen Titans Save Christmas • BBSFBDAY! • The Streak • The Inner Beauty of a Cactus • Movie Night • BBRAE • Permanent Record • Titan Saving Time • The Gold Standard • Master Detective • Easter Creeps • Hand Zombie • Employee of the Month: Redux • The Avogodo • Orangins • Jinxed • Brain Percentages • BL4Z3 • Hot Salad Water • I Saw You Dance • The Story in Your Eyes • Playing Hard to Get • The Night Begins to Shine • Lication • Labor Day • Classic Titans • Ones and Zeroes • Career Day • TV Knight 2 • Justice League's Next Top Talent Idol Star • The Academy • Costume Contest • Throne of Bones • Demon Prom • Thanksgetting • The Self-Indulgent 200th Episode Spectacular! • BBCYFSHIPBDAY • Beast Girl • Flashback • Bro-Pocalypse • Mo' Money Mo' Problems • TV Knight 3
Season 5: June 25, 2018 - April 4, 2020
The Scoop! • Chicken in the Cradle • Kabooms • Tower Renovation • My Name is Jose • The Power of Shrimps • Monster Squad • Real Orangins • Quantum Fun • The Fight • The Groover • Justice League's Next Top Talent Idol Star: Second Greatest Team Edition • How's this for a Special? Spaaaace • BBRBDAY • Slapping Butts and Celebrating for No Reason • Nostalgia is Not a Substitute for an Actual Story • Business Ethics Wink Wink • Genie President • Tall Titan Tales • I Used to Be a Peoples • The Metric System vs Freedom • The Chaff • Them Soviet Boys • Little Elvis • Booty Eggs • TV Knight 4 • Lil' Dimples • Don't Be an Icarus • Stockton, CA! • What's Opera Titans • Forest Pirates • The Bergerac • Snot and Tears • Campfire! • What We Learned at Camp • Communicate Openly • Royal Jelly • Strength of a Grown Man • Had to Be There • Girls Night In • The Great Disaster • The Viewers Decide
Season 6: October 4, 2019 - present
Butt Atoms • TV Knight 5 • Witches Brew • That's What's Up! • Crab Shenanigans • Brobots • Brain Flip • Beast Boy on a Shelf • Christmas Crusaders • We're Off to Get Awards • Bat Scouts • Walk Away • Record Book • Magic Man • Titans Go Casual • Rain on Your Wedding Day • Egg Hunt • Justice League's Next Top Talent Idol Star: Justice League Edition • Mission to Find the Lost Stems • Drums • Guitar • Bass • You're The One
Top of the Titans: April 27, 2018 - July 20, 2018
Raddest Songs • Best Love Songs • Beast Boy & Cyborg Songs • Dance Party • Best Rivals