"Nose Mouth" is the thirty-sixth episode of the first season of Teen Titans Go!, and the thirty-sixth overall episode of the series.
Synopsis
Raven succumbs to pressure to use her magic to solve problems around the Tower, but becomes more and more evil with each spell, leading her to change not only the Titans, but the entire world.
Plot
The episode starts out with Robin sleep fighting, dreaming he is battling villains to save Starfire, but in reality he is waking up all the other Titans by whacking them in the head with his staff. Beast Boy wakes up early and tries to trick Robin into thinking he is in the cardboard box, but in reality he is laying on the top of a scratching post. Robin still manages to get him, destroying the scratching post in the process. He then starts hitting the other Titans, including Starfire, who is annoyed.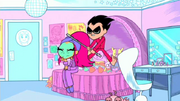 It is finally morning when Robin awakens, he enters the kitchen and greets the other Titans by asking them how they slept. However all of them look terrible, due to being sleep-deprived thanks to him. They tell Robin that he needs to stop, but Robin replies by saying that they all snore like crazy and shouldn't judge, however he finally admits it was a problem. The other Titans then plead to Raven to use her dark magic to fix the issue. She warns them that using the magic improperly could cause issues. However they accuse her of saying that to get out of doing things, so she gives in and casts the spell on Robin.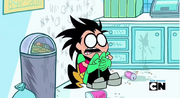 The next morning they wake up all rested and come into the kitchen again, only to find Robin on the floor, tired, but unable to sleep due to some demonic arms slapping him whenever he dozes off. They do the "You Were Wrong" dance on cue and Raven gets slightly angry. Starfire asks if maybe now they could change anything annoying with her powers. Raven looks down at her Pretty pretty Pegasus toys and says they are the only things that keep her sane in the house. 
Afterwards, Raven is in her room trying to play with Pretty Pretty Pegasus when she hears Cyborg practicing his "boo-yahs" very loudly. She teleports into his room and uses her magic to remove his mouth. Cyborg is then seen running into Beast Boy's room and trying to communicate with him. Beast Boy is trying to understand when Raven teleports into the room. Beast Boy then realizes that it was her who did the crime. Raven torments Cyborg by opening a box of pizza, making Cyborg unable to eat it. Deciding Beast Boy is annoying too, she turns him into a green balloon and then changes him into a poodle shape. 
Cyborg, Beast Boy and Robin are now all sulking in the kitchen when they hear a terrifying shriek from Starfire. She runs into the room with bandages around her head and face and starts screaming about her beautiful hair. She then unwraps the bandages to reveal huge poofy blonde hair and she screams that she looks like a banana. She then starts rocking on the floor, horrified and upset. 
They decide they must confront Raven about the issue, but when they see her, she looks different. She then goes crazy and tells them there's no way to make them less annoying. With a needle, she pops Beast Boy making him fly away into the air, and the demon that slaps Robin awake sends him flying off the building. Before it gets any worse, Cyborg and Starfire are on the case with the couch and her Pretty Pretty Pegasus dolls. Pretending to be her dolls, they tell her they miss the old Raven. She tries to fight it, but eventually she gives in and hugs her toys. 
She is so happy that she accidentally turns the other Titans into ponies and apologizes for going overboard with the changes that happened. They forgive her, and Raven happily rides off with all her now pony friends.
Characters
Song
Trivia
An alternate title for this episode is "Unintended Consequences."
This is the first episode of Teen Titans Go! that premiered in 2014, and also the first episode since the show went on hiatus after the previous episode "Second Christmas", which aired on Wednesday, December 4, 2013, due to the winter holidays.
Raven is the protagonist and antagonist in this episode.
This is the first episode that Raven completely loses control of her powers.
This is Kyd Wykkyd and Control Freak's first appearance in Teen Titans Go!

Killer Croc, however, had some cameo appearances before this episode. This is his first time that he appears in person.

This is the first episode Robin is seen wearing crimson red pajamas instead of his regular T-shirt and boxer shorts.
The reasoning behind the episode title is the fact that Cyborg used his nose as a mouth when Raven used her magic to get rid of Cyborg's mouth.
Raven says that the Pretty Pretty Pegasus dolls are the only things that keep her sane in the house, but she actually lives in a tower.
Cyborg in his nose mouth voice is voiced by Tom Kenny.
This is the first time Robin dreams of rescuing Starfire.
Continuity
This episode is similar to "Dog Hand" in a number of ways.

Both episodes focused heavily on Raven's demonic heritage.
Also in both episodes, Robin, Starfire, Beast Boy, and Cyborg were altered in some way due to demon sorcery. However, in "Dog Hand", they liked their alterations whereas in this episode, it was torturous to them.
Both of the episode titles are a play on Cyborg's physical alterations in those episodes (when Raven takes his mouth he learns to talk out of his nose instead) and are not the main focus of the episode.

The song playing at the beginning of the episode when Robin is "sleep-fighting" is a song that is also used in the game Housebroken Hero.
The music that plays during the Pretty Pretty Pegasus scenes is the same one heard in "The Date" and "Laundry Day".
Raven mentions magic shouldn't be used for "stupid things", which is similar to what Robin said in "Double Trouble" that magic shouldn't be used for "petty reasons".
Silkie reprises his role of Princess Silkiesoft from "Legendary Sandwich".
Robin liking Starfire's new hairstyle is similar to how he liked her shortened hair in "Legendary Sandwich".
When the Titans are turned into pegasi, each has a little symbol on their face. Similar symbols appeared on the Titan's gravestones in the episode "Salty Codgers". This is likely a reference to cutie marks in My Little Pony: Friendship is Magic.
This is the first time that Raven either directly or indirectly physically transforms every Titan except herself. The second time is in the episode "Salty Codgers". The third time is in "Halloween".

You can't count the episode "Dog Hand" because Raven had no intentions to transform them; it was all Trigon's doing.
References
The various writings on the wall next to Robin contain various references:

One of the writings says "sleep is a lie", which is a reference to the Portal games, in which on some of the walls it's written "the cake is a lie".
Another writing on the wall reads, "No Sleep Til' Brooklyn", which is a song by The Beastie Boys.
Along with the other writings on the wall, there's a small image of Morpheus, better known as Dream from the infamous The Sandman comic series by Neil Gaiman.

When Starfire is talking about Robin's sleep fighting, the text "Sleep Fighter II" comes up, referencing the fighting video game Street Fighter II.
When Starfire has the bandages around her head,  it's clearly a reference to an episode of The Twilight Zone known as "Eye of the Beholder." Her blonde hair, however, refers back to Zirral: a blonde-haired female Tamaranian who was a member of the Omega Men.
"Princess Silkie" has the same clothes of Princess Bubblegum from Adventure Time, who is voiced by Hynden Walch (the voice of Starfire).
When Robin punches Raven's Sparkleface doll in his sleep, it makes a "squee" sound. This could be a reference to the frequent use of the same "squee" stock sound in the television show My Little Pony: Friendship is Magic.
Robin sleep fighting may be a reference to the Regular Show episode, "Sleep Fighter", where Muscle Man was sleep fighting.
Errors
When Raven changes Starfire's hair from pink to blonde, Starfire's eyebrows also become blonde. However, when Cyborg and Starfire are running to get the couch and the Pretty Pretty Pegasus dolls, her eyebrows become pink again, and stay pink for the rest of the episode.
In Robin's dream when he takes off his shirt, somehow he seems to have gotten his gloves off, too.
Running Gags
Robin repeatedly hitting everyone with his staff, while sleep walking and saying, "Fresh!"
Every time Raven tries to play Pretty Pretty Pegasus, Silkie throws up. (The running gag of Silkie throwing up randomly has continued in every episode he appears in from this episode on.)
Robin trying to nod off, but gets hit in the face by a dark magic hand.
Cyborg talking through his nose
Cyborg eating through his nose.
Raven becoming increasingly evil.
Transcript
The transcript for "Nose Mouth" can be found here.
Gallery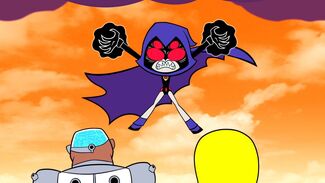 The image gallery for Nose Mouth may be viewed here.
v - e - d Episode Guide
Season 1: April 23, 2013 - June 5, 2014
Legendary Sandwich • Pie Bros • Driver's Ed • Dog Hand • Double Trouble • The Date • Dude Relax • Laundry Day • Ghostboy • La Larva de Amor • Hey Pizza! • Gorilla • Girl's Night Out • You're Fired! • Super Robin • Tower Power • Parasite • Starliar • Meatball Party • Staff Meeting • Terra-ized • Artful Dodgers • Burger vs. Burrito • Matched • Colors of Raven • The Left Leg • Books • Lazy Sunday • Starfire the Terrible • Power Moves • Staring at the Future • No Power • Sidekick • Caged Tiger • Second Christmas • Nose Mouth • Legs • Breakfast Cheese • Waffles • Be Mine • Opposites • Birds • Brain Food • In and Out • Little Buddies • Missing • Uncle Jokes • Más y Menos • Dreams • Grandma Voice • Real Magic • Puppets, Whaaaaat?

Season 2: June 12, 2014 - July 30, 2015
Mr Butt • Man Person • Pirates • Money Grandma • I See You • Brian • Nature • Salty Codgers • Knowledge • Slumber Party • Love Monsters • Baby Hands • Caramel Apples • Sandwich Thief • Friendship • Vegetables • The Mask • Serious Business • Halloween • Boys vs Girls • Body Adventure • Road Trip • Thanksgiving • The Best Robin • Mouth Hole • Hot Garbage • Robin Backwards • Crazy Day • Smile Bones • Real Boy Adventures • Hose Water • Let's Get Serious • Tamaranian Vacation • Rocks and Water • Multiple Trick Pony • Truth, Justice and What? • Two Bumble Bees and a Wasp • Oil Drums • Video Game References • Cool School • Kicking a Ball and Pretending to Be Hurt • Head Fruit • Yearbook Madness • Beast Man • Operation Tin Man • Nean • Campfire Stories • And the Award for Sound Design Goes to Rob • The HIVE Five • The Return of Slade • More of the Same • Some of Their Parts

Season 3: July 31, 2015 - October 13, 2016
Cat's Fancy • Leg Day • Dignity of Teeth • Croissant • Spice Game • I'm the Sauce • Hey You, Don't Forget about Me in Your Memory • Accept the Next Proposition You Hear • The Fourth Wall • 40%, 40%, 20% • Grube's Fairytales • A Farce • Scary Figure Dance • Animals, It's Just a Word! • BBBDAY! • Black Friday • Two Parter • The True Meaning of Christmas • Squash & Stretch • Garage Sale • Secret Garden • The Cruel Giggling Ghoul • How 'Bout Some Effort • Pyramid Scheme • Beast Boy's St. Patrick's Day Luck, and It's Bad • The Teen Titans Go Easter Holiday Classic • Batman v Teen Titans: Dark Injustice • Bottle Episode • Finally a Lesson • Arms Race with Legs • Obinray • Wally T • Rad Dudes with Bad Tudes • Operation Dude Rescue • History Lesson • The Art of Ninjutsu • Think About Your Future • TTG v PPG • Coconut Cream Pie • Pure Protein • Open Door Policy • Crazy Desire Island • The Titans Show • Booty Scooty • Who's Laughing Now • Oregon Trail • Snuggle Time • Oh Yeah! • Riding the Dragon • The Overbite • The Cape

Season 4: October 20, 2016 - June 25, 2018
Shrimps and Prime Rib • Halloween v Christmas • Booby Trap House • Fish Water • TV Knight • Teen Titans Save Christmas • BBSFBDAY! • The Streak • The Inner Beauty of a Cactus • Movie Night • BBRAE • Permanent Record • Titan Saving Time • The Gold Standard • Master Detective • Easter Creeps • Hand Zombie • Employee of the Month: Redux • The Avogodo • Orangins • Jinxed • Brain Percentages • BL4Z3 • Hot Salad Water • I Saw You Dance • The Story in Your Eyes • Playing Hard to Get • The Night Begins to Shine • Lication • Labor Day • Classic Titans • Ones and Zeroes • Career Day • TV Knight 2 • Justice League's Next Top Talent Idol Star • The Academy • Costume Contest • Throne of Bones • Demon Prom • Thanksgetting • The Self-Indulgent 200th Episode Spectacular! • BBCYFSHIPBDAY • Beast Girl • Flashback • Bro-Pocalypse • Mo' Money Mo' Problems • TV Knight 3
Season 5: June 25, 2018 - April 4, 2020
The Scoop! • Chicken in the Cradle • Kabooms • Tower Renovation • My Name is Jose • The Power of Shrimps • Monster Squad • Real Orangins • Quantum Fun • The Fight • The Groover • Justice League's Next Top Talent Idol Star: Second Greatest Team Edition • How's this for a Special? Spaaaace • BBRBDAY • Slapping Butts and Celebrating for No Reason • Nostalgia is Not a Substitute for an Actual Story • Business Ethics Wink Wink • Genie President • Tall Titan Tales • I Used to Be a Peoples • The Metric System vs Freedom • The Chaff • Them Soviet Boys • Little Elvis • Booty Eggs • TV Knight 4 • Lil' Dimples • Don't Be an Icarus • Stockton, CA! • What's Opera Titans • Forest Pirates • The Bergerac • Snot and Tears • Campfire! • What We Learned at Camp • Communicate Openly • Royal Jelly • Strength of a Grown Man • Had to Be There • Girls Night In • The Great Disaster • The Viewers Decide
Season 6: October 4, 2019 - present
Butt Atoms • TV Knight 5 • Witches Brew • That's What's Up! • Crab Shenanigans • Brobots • Brain Flip • Beast Boy on a Shelf • Christmas Crusaders • We're Off to Get Awards • Bat Scouts • Walk Away • Record Book • Magic Man • Titans Go Casual • Rain on Your Wedding Day • Egg Hunt • Justice League's Next Top Talent Idol Star: Justice League Edition • Mission to Find the Lost Stems • Drums • Guitar • Bass • You're The One
Top of the Titans: April 27, 2018 - July 20, 2018
Raddest Songs • Best Love Songs • Beast Boy & Cyborg Songs • Dance Party • Best Rivals