The Titans are still waiting...

Information or images on this article are from upcoming content. Information may be incorrect, unclear and may have spoilers. The article will be improved after the media is released.
Spoiler Alert!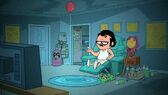 This article contains unreleased material of the
Teen Titans Go!
series.
Spoilers may be encountered. You have been warned...
"Nostalgia is Not a Substitute for an Actual Story" is an upcoming episode of the fifth season of Teen Titans Go! that does not yet have an official Cartoon Network airdate.
Summary
The Titans time travel back to the 1980s to determine whether or not it was the best decade ever.
Plot
TBA
Characters
Trivia
Continuity
References
The show that the Titans are watching at the beginning is an obvious reference to the Netflix series Stranger Things.
Starfire's 80s hairstyle is very similar to her hairstyle from the New Teen Titans comics (which debuted in the early 80s), created by Marv Wolfman and George Perez.
The title screen and the scene where the Titans are riding their bikes in the sky is a reference to the 1982 film E.T. the Extra-Terrestrial.
The "80s Jerks" blond guy in the karate uniform has similar physical characteristics to Johnny Lawrence from the 1984 film The Karate Kid.
Near the beginning of the episode, Cyborg is seen dressed up as the boxer Apollo Creed in Rocky IV.
Cyborg's nerdy character is based on the character Steve Urkle from the 80s sitcom Family Matters.
When Cyborg talking about how great things the 80s have, you can see Beast Boy as ALF from the series of the same name.
Raven is depicted as a "Trashheap Kid", a parody of a popular series of collectible trading cards called "Garbage Pail Kids". Interestingly, her actress once lent her voice to a short-lived animated GPK series back in the 80s.
Errors
Running Gags
Robin and Cyborg arguing about which decade is better.
Transcript
The transcript for "Nostalgia is Not a Substitute for an Actual Story" can be found here.
Gallery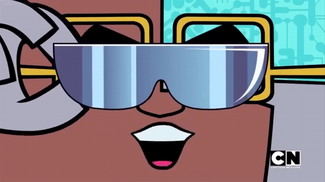 The image gallery for Nostalgia is Not a Substitute for an Actual Story may be viewed here.