"Obinray" is the thirty-second episode of the third season of Teen Titans Go!, and the one-hundred-thirty-sixth overall episode of the series.
Summary
Cyborg, Beast Boy, Starfire and Raven speak Pig Latin to keep Robin from eavesdropping.
Plot
The episode begins with Starfire eating breakfast. Cyborg joins her and notes that she is looking sparkly. Starfire tells Cyborg something was missing in her life, and it was sparkling. Cyborg is dazzled and tells Starfire to do it to him.
After that, they are both covered in sparkles and glitter. They both agree that tassels are a great idea. A breathing sound is shown coming from a cabinet, and Robin is revealed hiding inside. He tells Cyborg and Starfire that tassels and glitter are against costume regulations, and throws a handbook at them. Cyborg asks Robin what he is doing, and Robin says he's doing nothing and they should continue talking like he's not there. He then shuts the cabinet door.
Raven and Beast Boy are relaxing on the couch, and Cyborg lets them know that Robin is hiding in the kitchen cabinet again. Starfire asks if it's because he's friends with the cereal, but Beast Boy lets her know that Robin was eavesdropping on them like a creep. Starfire is puzzled and asks how one would eavesdrop, and Raven tells her that Robin was just secretly listening to their conversation like a creep.
Much to the four Titans' surprised as Robin comes tumbling out of a drawer. Robin angrily proclaims that he isn't being a creep, he was listening to their private and personal conversations from a hiding place, which was apparently what any normal person would do. He then tells them he is not a creep since he just hates secrets. He goes back into a drawer and tells them to continue talking.
When the Titans hesitate to start talking, Robin yells at them to say something because he wasn't listening anymore. Starfire tells them she doesn't feel comfortable conversating, and Cyborg tells them to mouth the words. Beast Boy says that they are running out of toilet paper because Robin is on some weird new diet and is destroying the bathroom. Robin slowly slides up from under the couch and tells them he can still hear them. Cyborg tells Robin that if he likes reading lips, then he should read his. Robin freaks out, throws soap at Cyborg, and tells him to wash his filthy mouth. When Beast Boy questions what he said, Cyborg claims that he just responded "I like pizza." Raven accepts the fact that Robin will always be listening in on their conversations. Beast Boy tells them that there is another way. They ponder if it is wise to speak in the "Old Tongue" and decide that it is settled. Robin, hiding in the couch cushions, rubs his hands together and is very intrigued.
The next morning, Robin greets the Titans and is expecting to receive a regular answer. The Titans speak in Pig Latin, which exceedingly confuses him. Out of all of what appears to be gibberish they are talking, he realizes that they keep saying "Obinray" at him. Since they are referring to him when saying this, Robin figures it must mean tight buns. Robin tells them that he'd take his "Obinray" and decipher their whole language. But to Robin's surprise, the words "Obinray" and "Tight Buns" don't match up. Robin struggles to find how the letters in the word Obinray match up to create a word. After a few rearrangements, he finds that "Rainboy" is a perfect match. Robin visits the Titans, who are hanging out by the pool. He tells them that it's just him, Obinray, or should he say Rainboy. In Pig Latin, Raven explains Robin to try again because he is wrong. Robin doesn't understand what she is saying so he takes it that he is right. The Titans shake their heads, and Robin grows angry.
Robin begs the other Titans to teach him Pig Latin and show him by singing the Pig Latin Song. Robin doesn't exactly catch on, thinking that the language consists of saying "be" after every spoken word. Raven is confused about what he is doing, and Robin continuing speak in his twisted version of Pig Latin. Cyborg tells Robin he is wrong and calls him Obinray again. Once again, Robin freaks out, confused with the "Obinray" situation. He tells the Titans he now knows they aren't speaking of his tight buns, and Starfire appears convinced that Robin will never talk in the old way. Raven tells the other Titans they should go, and Robin grows frustrated.
Robin is sitting at his desk, still stumped. He is frustrated since he knows there is a way to crack the code that he can't seem to figure out. Someone knocks on the door, and Robin asks who it is in his version of Pig Latin. Nobody answers, but a note with a pig on it slides under the door, and he is shocked. Robin heads to the library and appears still stumped. He has read all the library books but is still no closer to finding the truth about the language. Suddenly, a book falls on top of him. He opens it up and looks at a photograph of George Washington in desperation. He discovers a pig hidden in the image and finds pigs in all the history books in the library. He realizes that every event in human history comes back to pigs and notices a symbol that keeps popping up. Not knowing what it means, he continues to research.
The scene switches to the T.V. room, where the other Titans are shown relaxing. A bomb is thrown, and Robin appears in a puff of smoke. Beast Boy asks him what's up in Pig Latin, and the others start laughing. Robin responds in Pig Latin, and the Titans are shocked. He reveals to them he found the secrets of their language and tells them that he believes to have uncovered a secret society. He believes the goal of this society to be dangerous. Cyborg tells him they'll stop with the Pig Latin, but Robin shouldn't be crazy. Raven agrees, telling Robin that there is no secret society, it's all just for fun. Robin notices a pin with the society's symbol on her cloak, and Raven quickly covers it. Beast Boy whispers that Robin is on to them, and Robin asks what he said. The other Titans say they were just talking about a trip to the supermarket, and head into the elevator with fake smiles plastered on their faces.
Robin decides to track them on the security system to see where they're headed. He discovers that they didn't leave the Tower, so he steps into the elevator. He notices a button that wasn't there before, and peels off a note saying "Outway Ofway Orderway." He presses a button, and a talking pig appears on the small screen. The elevator starts going downwards, and the jerky ride causes Robin to go crashing against the walls. When the elevator stops, Robin enters a temple where the other four Titans and some mysterious cloaked figures appear to be bowing down to some sort of cult. Robin walks up to them and sarcastically asks if they bought their eggs yet. Robin lets them know once again how he feels about secrets. Raven is impressed at what a short time it took him to follow the clues Starfire planted.
Robin is angered and saddened to hear that Starfire, the love of his life, could be a part of something so evil. She tells Robin she is sorry and that he should run now before it's too late. The door slams shut, tightly secured with many layers. A massive cloaked figure comes out and lets them know in Pig Latin that it most certainly is already too late. Robin yells at The Master that he must be the one behind this. Cyborg slaps him and tells him to show the "Wise One" respect and speak in the Old Tongue." The Evil Master of Pig Latin tells Robin to be at ease because, although it is distasteful, he can speak Robin's language.
Robin yells at the Master that he wants the truth. The Master tells him that he will give Robin the truth if he believes himself ready. Robin grows anxious as the Master pulls off his cloak. He then revealed to be a pig, and Robin points at him, telling the Master he knew pigs were behind this. The Master reveals the truth that they weren't pigs, they were aliens. The Master tells Robin all about the society's plan to destroy mankind, and how they would nap afterward.
Robin tells the Titans this is why he hates secrets and asks how they could be a part of this. The Titans all make lame excuses and reveal they don't care about society. They take off their cloaks and join Robin. The Master is angered by this and tells his minions to destroy the Titans. The small cloaked figures were then revealed to also pigs. Robin stops them all and tells them to listen. He proceeds to deliver a moving speech in Pig Latin about how they should stand together and be at peace. The Master tells him it was a moving speech, but doesn't care and once again orders his piglets to destroy them. The piglets chase the Titans, but they fight back. When the war is over, all left of the pigs is a pile of pork chops.
Later, at the Tower, the Titans are talking about how Robin saved them from the evil society. Beast Boy asks where Robin is, and he suddenly pops out of Cyborg's body and tells them he's not there and isn't listening to their conversation. Raven jokingly calls Robin a creep in Pig Latin, and the Titans start laughing. A pig peeks out from behind the couch, and the episode ends.
Characters
Songs
Trivia
The title of this episode, "Obinray", is "Robin" in Pig Latin.
Beat Box makes his first appearance in Season 3.
When Cyborg mouths "I like pizza", he appears to mouth "motherf***er", which explains why Robin washed his mouth with soap.
Music from "Two Parter" is reused.
Robin's inspirational speech toward the end of the episode is delivered in Pig Latin. Roughly translated, he says: "I may not be a pig, but I am a man. And my own language may be ugly and crude, but it is a language I speak from the heart. I ask you, my brothers and sisters, to stand with me against the swine oppression. Only together can we speak the true language of this world…. Peace."
The symbol in the middle that makes up most of the symbol itself is shown to be an ohm, a unit of electrical resistance and conductance.
Scott Menville replies to a tweet that "I made it about 95% of the way through Take 1 and then I stumbled. Nailed it on Take 2." when being asked on how he executed the Pig Latin during the recording of this episode.

The season 3 part 2 dvd Get In, Pig Out cover was based off of this episode.
Continuity
Raven is seen unhooded for the thirty-seventh time in the series.
Part of the video where Robin becomes president in "Money Grandma" is seen when Robin says pigs have been in every important event in human history.
During the Pig Latin Song, the whimsy background from "The Fourth Wall" can be seen.
References
When Robin punches the Evil Pig Master of Pig Latin, the villain explodes into a pile of ham shanks. This may be a reference to old Popeye cartoons, where he punches a bull so hard that it turns into deli-ready cuts of meat.

Also, the way he punches the latter is very similar to the 1974 anime series "Chargeman Ken!" episode "The Delinquent's True Colors" when the main antagonist of that episode angrily punches the titular character after he refuses to compete against him.

"Rainboy" is a reference to the 1988 movie Rain Man starring Dustin Hoffman as an autistic savant and Tom Cruise as his estranged brother. The movie won the Oscar award for Best Picture. The significance of the reference is unclear, as Robin acts much differently from Hoffman's character.
The "Secret Society" is most likely a reference to the popular conspiracy of the "Illuminati."
Errors
In some scenes, Raven's broach on her bathing suit is missing.
Every time the Titans speak in Pig Latin, the captions spell "[SPEAKING SECRET LANGUAGE]" and then, "[SPEAKING PIG LATIN]". However, this may simply be since it was not revealed to be Pig Latin yet.
Running Gags
The Titans (except Robin) speaking in Pig Latin.
The other Titans calling Robin "Obinray".
Robin trying to figure out the meaning of "Obinray".
Robin believing that Pig Latin consists of saying "be" after every word (which is actually a play language called LUL).
Robin thinking that Obinray means "tight buns".
Transcript
The transcript for "Obinray" can be found here.
Gallery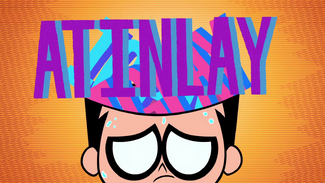 The image gallery for Obinray may be viewed here.