"Oh Yeah!" is the fiftieth episode of the third season of Teen Titans Go!, and the one-hundred-fifty-fourth overall episode of the series.
Summary
Cyborg tells the other Titans that pro wrestling on TV is fake and tries to teach them about real wrestling.
Plot
The episode starts with the Titans (except for Cyborg) watching wrestling on TV. Robin says that there is no way that one of them will get up, and Cyborg is right. His body slams the other wrestler making the Titans sure he will not get up. Cyborg, however, is sure he will, and he is surely correct enough. Starfire wonders if he is a psychic, but he tells her he knows because wrestling is super fake. She questions it but is again reassured by Cyborg that wrestling is super fake. Raven asks why Cyborg has to ruin this for them, and Beast Boy asks what he has against wrestling. Cyborg says he likes wrestling but real wrestling. Then he says he can teach them the real way and says it has the cool costumes and sweet moves of fake wrestling, but none of the ridiculousness.
The scene then goes to the Titans all dressed in singlets and headgear. Cyborg says they look cool, but Raven thinks otherwise, Starfire thinks it's old man underwear, and Beast Boy thinks it's too tight. Robin, however, thinks it's snug in all the right places. Beast Boy then asks when he can come off the top rope on someone, but Cyborg says there is no rope or ring only a mat. He then says that it will teach morals and self-confidence, but Beast Boy insists he doesn't want these things. Cyborg puts the other Titans in position while Beast Boy and Raven blush and smile awkwardly at each other while Robin and Starfire start wrestling. Starfire complains it feels like a hug and asks to fake choke someone out, but Cyborg insists no choke outs, pile drivers, flying elbows, and any other non-sportsmanship-like behavior. Raven gets mad, and Cyborg says that there is no crazy drama in real wrestling and dodges the chair she throws at him. He also says no yelling, and the other titans say that yelling is the best part.
Robin then says that they will become pro wrestlers, and they all introduce that they were asters, aka The Deadly Dandy, The Wild Man, and The Yeller and The Grave Mistake. Cyborg, still trying to teach them about real wrestling, says that he is Victor Stone and is happy to be here. The other Titans work on their crazy talk with Beast Boy aka Wild Man giving a crazy and non-understandable speech which they applauded then "wrestle" (keeping three feet between them, of course), and Cyborg says it's fake. To prove it real, the Titans all perform their special moves (which do no real bodily harm), and Cyborg is still unimpressed.
The next morning, Beast Boy (still dressed as The Wild Man) sets the toaster on, and The Yeller comes in and, liking the smell, tries to eat it. The Dastardly Dandy comes in, and Cyborg asks them to stop screaming. The Grave Mistake says that the screams will stop when she puts him Six feet Und...but Cyborg cuts her off and tells them that they have become too melodramatic, but in the process spills coffee on the Dandy who gets mad. Cyborg then tells them that he challenges them to a battle royal.
Then we see all the Titans except for Cyborg ready to fight in a big arena. Then Cyborg shows up and gives a moving speech, and Beast Boy decides to join him but quickly double-crosses him. The Titans quickly attack and cream Cyborg, but he quickly realizes that he isn't hurt but was caught up in the drama. He then calls upon discipline and self-confidence to win, and he does easily.
In the end, Cyborg takes the championship belt and tells all the kids to eat their vegetables and drink their almond milk, but is soon knocked out by Raven with a chair.
Characters
Major Characters
Minor Characters
Trivia
Cyborg refers to himself by his real name (Victor Stone) and Raven calls him by it, making him the second Titan to have their real name spoken on the show.

Raven is always the first one though since her name has always been her real one from the start.

This is the first episode so far to be rated TV-G.
This episode premiered the same day as "Riding the Dragon".
This episode was originally scheduled to air on September 15, 2016, but was replaced by "Oregon Trail". It was also scheduled to air again on September 22, 2016, but got replaced by "Snuggle Time".
This is the last episode to use the 2012 DC Comics closing logo, which was first used when the series premiered in 2013.
This episode is named after the "Oh Yeah!" shouted by Beast Boy (the Wild Man).
Continuity
Raven is seen unhooded for the 48th time in this series.
Raven and Beast Boy retain their feelings for each other.
Scenes of Cyborg from "Let's Get Serious" are seen in the weight room.
References
This episode makes several references to the World Wrestling Entertainment (WWE).

Robin's persona The Deadly Dandy appears to parody Shawn Michaels (Heartbreaker Kid)'s outfit choices, and Mick Foley's wrestling style.
The Wild Man's crazy rant about being the "Vegan Cream of the Crop" is a reference to a similar rant made by Macho Man Randy Savage during a WrestleMania promo. A similar rant was made by Wonder Wizard in LISA: The Painful RPG.
Raven's persona, The Grave Mistake, appears to be a parody of another macabre-themed pro wrestler, The Undertaker.
Starfire's persona The Yeller is likely a reference to The Ultimate Warrior, a former WWE wrestler who died in 2014 due to a heart attack.
Cyborg challenges the four wrestlers to a Battle Royal, which is one of the events of WWE.
Beast Boy's persona, The Wild Man, appears to be a parody of WWE Superstar Dean Ambrose and Hulk Hogan, as well as having elements of a less known DC character The Creeper.
When Beast Boy, or The Wild Man, said "Do you smell what The Wild Man is cooking?" is a reference to the popular catchphrase "If you smell what The Rock is cooking" said Dwayne "The Rock" Johnson.
The way Beast Boy (Wild Man) burst that wall and cried "Oh Yeah!" which is the catchphrase from a flavored drink mix Kool-Aid and from Macho Man Randy Savage.
When Beast Boy (Wild Man) said "The Wild Man just ran wild on you fool." it is a reference to Hulk Hogan's catchphrase "Whatcha gonna do when Hulkamania runs wild on you!"
Barry is likely based on wrestler "The Snake" Jake Roberts, and his face seems to be based on the style of Jeff Hardy's.
The opponent Handsome Lad in which Barry wrestles bears a strong resemblance to Ric Flair.
Cyborg's wrestler persona is likely based on former WWE wrestler Kurt Angle.

Robin's persona, The Deadly Dandy's hairstyle looks very similar to the Joker's.
Errors
On the Cartoon Network App, this episode is rated TV-G, but on the premiere, it's rated TV-PG.
Running Gags
Beast Boy yelling about the vegan cream.
Raven using a foldable chair to hit someone.
Transcript
The transcript for "Oh Yeah!" can be found here.
Gallery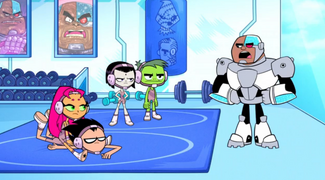 The image gallery for Oh Yeah! may be viewed here.